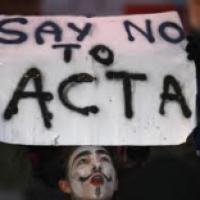 Big business agenda defeated by mass campaigning
ACTA (the Anti-Counterfeiting Trade Agreement) was defeated in the European Parliament today by an overwhelming majority of 478 votes against. 165 Members of the European Parliament (MEPs) abstained on this controversial Treaty and a small minority of 39 MEPs voted in favour. This represents a big blow to the European Commission's pro-big-business agenda, which would have been forced through as usual if not for large public pressure against them. The main political allies of the European Commission are represented in the biggest political group in the European Parliament, the European People's Party (EPP) and in the group of the European Conservatives and Reformists (ECR) to which the British Tory party belongs.
Just before the vote on the agreement was due to take place, in a last attempt to save ACTA from being defeated here and now, the EPP asked for the postponement of the vote. However, that request was defeated. The fact that only 39 Members of the European Parliament dared to publicly vote in favour of ACTA is first and foremost the result of the massive public campaign against ACTA. In just the last four days before the vote, Paul Murphy received another 1600 emails with a request to vote against ACTA. The public pressure forced MEPs who had initially been in favour of ACTA to vote against or abstain on the agreement. Only the Green group and the European United Left/ Nordic Green Left (GUE/NGL) group, of which Paul Murphy is a member, opposed ACTA right from the outset.
Below we re-publish the text of a press statement from the office of Paul Murphy, MEP, Socialist Party (CWI Ireland).
Click here for a video and transcript of Paul Murphy's speech against ACTA in European Parliament yesterday.
Socialistworld.net
_________________
Speaking in response to the defeat of ACTA (Anti-Counterfeiting Trade Agreement) in the European Parliament, Paul Murphy MEP (Socialist Party / United Left Alliance) commented:
"This is a big victory for the millions of people across Europe who have campaigned against this Agreement which represents a big attack on internet freedoms and civil liberties in the interests of the major entertainment corporations. The European Commission, its political allies in the Parliament and in particular Trade Commissioner de Gucht tried everything possible to avoid a final vote of the European Parliament on ACTA tomorrow because they were scared that it would be defeated.
"The Commission has behaved with a contempt for democracy throughout the process. When de Gucht spoke at the International Trade Committee two weeks ago, he effectively said that regardless of how the Parliament votes, the Commission will try to push ahead regardless.
"I applaud the anti-ACTA campaigners, the tens of thousands who took to the streets and the millions who signed the online petition. They have won an important victory today. However, the struggle against ACTA and measures like ACTA is not over as the Commission will come back with other proposals. We will need to continue to fight and struggle for an economy and society based on the free sharing of information, knowledge and research for the benefit of the world's population."