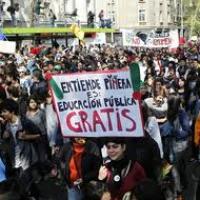 El problema de la educación debe ser asumida por los trabajadores y sus organizaciones sindicales.
Es bueno preguntarse ¿Que pasa con los trabajadores y sus organizaciones sindicales? Por que no están luchando junto a sus hijos en las calles de este país, entendiendo que no solo los estudiantes están siendo robados y estafados por los comerciantes de la educación, sino también sus padres y sus familias.
¿Por que los adultos no están dispuestos a defender el futuro de sus hijos?, el fin del lucro y la estafa no será resuelto por el gobierno y menos en el Parlamento, donde están muchos de los que lucran con la educación, ya quedo claro que las solución al problema de la educación solo se dará con lucha y movilización, como hoy lo están demostrando los jóvenes que han salido nuevamente a las calles a luchar.
La educación privada es la mayor estafa de la historia de este país.
Los estudiantes no están perdiendo nada con faltar a clases, como creen algunos, dado que no están recibiendo gran cosa en sus colegios, donde solo se les ve como clientes a los que hay que sacarles el jugo económicamente, pero no intelectualmente. Todas las familias que vivimos en este país estamos siendo victimas de una de las mayores estafas de la historia, que esta condenando a nuestros hijos a ser mano de obra barata para otros empresarios tanto o más inescrupulosos que los que hoy están lucrando con la educación y se están robando la posibilidad de que nuestros hijos puedan avanzar en esta sociedad.
Los trabajadores deben tomar como suya esta lucha.
El problema de la educación debe ser asumida por los trabajadores y sus organizaciones sindicales, la situación que tenemos ahora es inaceptable y como quedo demostrado en los 20 años de gobiernos de la Concertación y los casi tres años de gobierno de la Alianza ultraderechista, estos personajes no tienen la menor intención de solucionar, dado que si lo hicieran afectarían las ganancias que ellos mismos tienen o sus familias.
Los trabajadores deben exigir que sus sindicatos asuman la lucha por una educación pública, gratuita y de calidad para todos los estudiantes de este país, calidad que en este momento solo reciben los hijos del 10% más rico de la población.
Los padres, apoderados y las familias de los estudiantes debemos ser parte de esta lucha y salir con nuestros hijos a la calle, para ayudarlos en los enfrentamientos con los criminales que hoy integran las fuerzas especiales de carabineros.
La lucha solo finalizara cuando se termine con el lucro y los estudiantes por fin tengan una educación pública, gratuita y de calidad.
Special financial appeal to all readers of socialistworld.net

Support building alternative socialist media

---

Socialistworld.net provides a unique analysis and perspective of world events. Socialistworld.net also plays a crucial role in building the struggle for socialism across all continents. Capitalism has failed! Assist us to build the fight-back and prepare for the stormy period of class struggles ahead. Please make a donation to help us reach more readers and to widen our socialist campaigning work across the world.

Donate via Paypal

CWI- Please inform us if you are reproducing any material from this site.