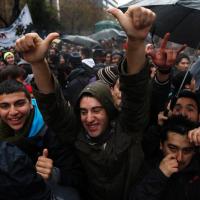 Mega marcha por la defensa de la educación en Chile.
Este martes 28 de agosto más de 180 mil personas, estudiantes, padres, apoderados, abuelos, trabajadores y profesores marcharon por las calles de Santiago y más de 230 mil por todo Chile, esto hecha por tierra todas las declaraciones del gobierno, del presidente Piñera, del ministro de educación Harald Beyer de que solo una minoría defendía la demanda por una educación pública, gratuita y de calidad para todos los estudiantes de este país.
Pero a pesar de la contundente respuesta de la mayoría de la población, que en más de un 80% apoya las demandas de los estudiantes, el gobierno seguirá intentando aprobar sus políticas pro educación privada y todo lo que trae consigo este modelo, el robo, la estafa y el aumento del lucro en la educación, junto al pésimo nivel de la educación chilena, que deben sufrir la mayoría de las familias de este país, para el gobierno de los empresarios lo único importante es asegurarle las ganancias a los empresarios privados de la educación.
El ministro de Educación Harald Beyer no pasa de ser un representante de los empresarios de la educación privada en ese ministerio, con su caradura de siempre, sigue insistiendo en la privatización de la educación y la necesidad que exista el lucro e incluso la necesidad de aumentarlo.
Todo lo anterior demuestra que no tiene ningún sentido seguir conversando con el Gobierno o el Parlamento, donde hay muchos representantes de los empresarios de la educación, desde el año 2006 los estudiantes secundarios se están movilizando para exigir una respuesta a sus demandas y como única respuesta han recibido una fuerte represión, junto a muchas promesas, pero ninguna solución.
La necesaria organización territorial.
La respuesta la han dado los propios estudiantes secundarios, la Asamblea Coordinadora de Estudiantes Secundarios, ACES en la movilización del día 23 de agosto llamaron a los alumnos a organizar marchas a las municipalidades de su comuna y pudimos ver varias movilizaciones territoriales bastante exitosas.
Entendiendo que no podemos esperar respuestas del gobierno, los diputados o senadores, es necesario potenciar nuestra propia fuerza y obligar a la clase política a entregar soluciones reales y concretas.
Necesitamos potenciar la organización territorial, levantando asambleas comunales por la defensa de la educación de nuestros hijos, que deben integrar los estudiantes, los profesores, los trabajadores y sus organizaciones sindicales, las organizaciones vecinales, los colectivos sociales y políticos. Sobrepasando las limitaciones de la necesaria unidad del conjunto de la clase trabajadora, detrás de uno de los movimientos más dinámicos que hemos tenido en el último tiempo.
El movimiento estudiantil puede ser un factor relevante en la necesidad de empezar a sentar las bases de la construcción de una nueva alternativa política de clase, que se oponga a las dos derechas, Alianza y Concertación, que han cogobernado el país los últimos 23 años en contra de los intereses de los estudiantes, trabajadores y pobladores.
Una nueva alternativa política de la clase trabajadora que se oponga al actual sistema económico capitalista, que lo único que persigue es que unos pocos lucren con el esfuerzo y el trabajo de las grandes mayorías, llegando a los groseros niveles de desigualdad que tiene este país. Condenando a las grandes mayorías a vivir en la permanente zozobra de un salario miserable que no le alcanza para cubrir las necesidades de su grupo familiar y las permanentes deudas que lo persiguen cada fin de mes.
Necesitamos construir una sociedad más justa y solidaria, que ponga fin a un sistema capitalista que condena a las grandes mayorías a vivir en la miseria, construyendo una sociedad socialista democrática que tome en cuenta las necesidades de las grandes mayorías y no solo el privilegio de unos pocos.
Special financial appeal to all readers of socialistworld.net

Support building alternative socialist media

---

Socialistworld.net provides a unique analysis and perspective of world events. Socialistworld.net also plays a crucial role in building the struggle for socialism across all continents. Capitalism has failed! Assist us to build the fight-back and prepare for the stormy period of class struggles ahead. Please make a donation to help us reach more readers and to widen our socialist campaigning work across the world.

Donate via Paypal

CWI- Please inform us if you are reproducing any material from this site.