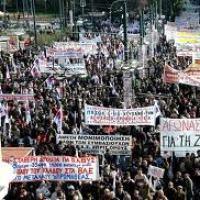 Avances hacia una huelga de toda Europa
Se está ganando impulso alrededor del llamamiento de los sindicatos por un día europeo de lucha contra la "austeridad" para el 14 de noviembre. En un número creciente de países, se están decidiendo huelgas y protestas sobre lo que será un evento significativo, la primera huelga coordinada en Europa. Millones de trabajadores de diferentes países se unirán en protesta contra la estrategia internacional de intentar resolver la crisis del capitalismo a costa de los trabajadores, los pobres, los jóvenes, y muchas capas de la clase media.
El CIT, en nuestra última declaración sobre el día europeo de lucha, dijimos que el hecho de que el 14N incluya al menos una huelga general ibérica, era un hecho histórico, un posible punto de inflexión en la situación en Europa, y en la resistencia de la mayoría de la clase trabajadora contra el desastre que se está desarrollando. Esta inmensa importancia del anuncio se reflejó y probó en el impacto que ha tenido en los pocos días desde la convocatoria.
Un catalizador en toda Europa
Hemos visto como al igual que se unían las luchas explosivas de los trabajadores de España y Portugal en un importante golpe unitario, esta acción internacional también puede servir como catalizador para empujar a la acción a los líderes sindicales de otros países. El empujón a la confianza y a la militancia que da esta convocatoria, la de la expresión más avanzada de acción organizada de los trabajadores vista durante décadas, ha dado un impulso a los trabajadores de numerosos países para moverlos a una movilización seria, en algunos casos con importantes resultados.
En Italia, después de dudas iniciales en la confederación mayoritaria CGIL, el resultado ha sido el de una huelga general, aunque solamente de medio día, mientras la confederación más pequeña CO.BAS, ha votado por una huelga general de 24 horas. En Grecia, poco después de la inmensa parálisis que provocó el paro de 48 horas del 6 y 7 de noviembre, los líderes del GSEE también han declarado que se podría convocar una huelga general. Si se consigue, esto podría dar lugar a una huelga general coordinada en el sur de Europa, en todo excepto en el nombre.
Sin embargo, al mismo tiempo, la convocatoria de acciones en toda Europa ha tenido un impacto fuera de la "periferia". En Bélgica, una serie de pérdidas de puestos de trabajo, incluyendo el cierre completo de la planta de Ford en Genk, ha producido una fuerte oleada de presión desde las bases que ha tenido a su alcance la convocatoria de una huelga general. Organizaciones regionales y sectoriales de todas las federaciones más importantes han convocado huelgas coordinadas, incluyendo una huelga general en la región de Lieja, y huelgas importantes de los trabajadores de los sectores del transporte y el metal. No se puede descartar que, más tarde, se convoque una huelga general. En Francia, una plataforma ha anunciado un día de "movilizaciones masivas", aunque aún no se conoce su alcance.
Hacia una huelga general europea
En muchos países hay planeadas, al menos, acciones limitadas o simbólicas para el 14N. En Gran Bretaña, además, la campaña iniciada por el NSSN (siglas en inglés de "Red Nacional de Representantes Sindicales") por una huelga general de 24 horas, que está ahora considerando la confederación británica de sindicatos (TUC), está ganando impulso. En Francia, el gobierno de Hollande está girando hacia su propia ofensiva de austeridad, con el anuncio de subidas de impuestos y recortes. Incluso en los países con calificaciones de crédito "triple A", está cambiado la situación. Junto con el repentino resurgimiento de la lucha en Bélgica, estos hechos muestran como se podría abrir el camino después del 14N hacia la intensificación de acciones coordinadas, con huelgas coordinadas en un número cada vez mayor de países.
Como ha destacado anteriormente el CIT, el catalizador para la movilización internacional, junto con la extensión del sufrimiento por la crisis del capitalismo a los países centrales de Europa, abre el camino para una huelga general en toda Europa. Sin embargo, para que esto sea una realidad, se necesita que al 14N le sigan un plan serio de luchas sostenidas y escaladas tanto para resistir los ataques en cada país como para vincularlos internacionalmente. Después de la movilización del 14N se necesitan planes para la continuación de las acciones. El 14N debe ser solamente el comienzo. Se necesita construir presión ahora para convocar una huelga general de 24 horas a principios de 2013. El anuncio de paquetes de austeridad salvajes en una serie de países significa que un llamamiento como éste, con seguridad, tendría eco.
La Confederación Europea de Sindicatos (CES) ha convocado esta acción, lo que es positivo. Sin embargo, para luchar por una continuación, con incluso acciones más decididas, los trabajadores necesitan establecer vínculos directos en los centros de trabajo sobre fronteras nacionales, especialmente en las compañías multinacionales como Ford, para coordinarse y organizar acciones de solidaridad y lucha.
La lucha de los trabajadores a nivel estatal contra los paquetes de austeridad también significa la lucha por una intensificación de la lucha internacional después de la huelga general de la semana que viene. Los socialistas pelearán por vincular esta lucha con un programa para derrocar a los gobiernos pro-capitalistas y reemplazarlos por gobiernos de izquierda verdaderamente socialistas que rompan con el capitalismo.
Al mismo tiempo, el movimiento de los trabajadores internacionalmente debe vincular estas luchas, trabajar para escalar acciones coordinadas, y extender el alcance geográfico en futuros días de acción, para ir avanzando en el camino hacia una huelga general de 24 horas. El CIT trabajará para asegurar que se lucha por un plan como éste, y que se vincule a la lucha por una Europa socialista de los trabajadores, los jóvenes y los desempleados, construida sobre la tumba de la UE capitalista y de las rivalidades entre las diferentes clases dirigentes europeas en competencia.
Special financial appeal to all readers of socialistworld.net

Support building alternative socialist media

---

Socialistworld.net provides a unique analysis and perspective of world events. Socialistworld.net also plays a crucial role in building the struggle for socialism across all continents. Capitalism has failed! Assist us to build the fight-back and prepare for the stormy period of class struggles ahead. Please make a donation to help us reach more readers and to widen our socialist campaigning work across the world.

Donate via Paypal

CWI- Please inform us if you are reproducing any material from this site.