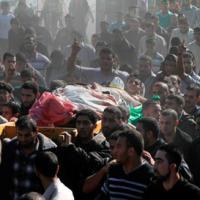 Derrotar la desesperada ofensiva electoral de Netanyahu, Lieberman y Barak
El gobierno israelí ha declarado que su asalto brutal y chocante en la franja de Gaza, la Operación Pilar de Defensa ', será una" campaña generalizada "y amenaza con un" conflicto prolongado ". Entre sus primeros golpes estuvo el asesinato del jefe militar del partido islamista Hamas, Ahmed Jabari, y más de diez otros palestinos, mientras una lluvia terrible de misiles fue lanzado desde el aire.
El ataque se dirigía claramente a escalar el conflicto. El régimen israelí dió la espalda a un acuerdo de alto el fuego que acababa de ser negociado para detener los ataques militares de ambos bandos. Los asesinatos de palestinos por las fuerzas armadas israelíes de los últimos meses han jugado un papel central en la escalada de los conflictos en el sur de Israel y Gaza.
Ya algunos gobiernos, entre ellos, por ejemplo, Gran Bretaña, a través de su ministro de Exteriores, William Hague, le echan la culpa a Hamas como teniendo la "responsabilidad principal" a causa de los ataques con cohetes desde Gaza. Es evidente que se están preparando para repetir el "silencio durante el asalto anterior del régimen israelí contra Gaza", la Operación Plomo Fundido ', en 2008-09.
"Yo soy responsable entre nosotros de elegir el momento adecuado para exigir el precio más alto y que así sea", fue el mensaje escalofriante del primer ministro israelí, Benjamin Netanyahu. Los palestinos temen que se repita el bombardeo Plomo Fundido y la invasión de Gaza, cuando cerca de 1.400 personas fueron asesinadas, entre ellos 314 niños, y se encuentran en un estado de terror y pánico. Hay signos ominosos de que una invasión terrestre se está considerando, con permisos de soldados israelíes cancelados y algunos reservistas llamados a filas.
Además de las terribles consecuencias de palestinos muertos y heridos, tras el asesinato de Jabari, tres civiles israelíes perdieron la vida en la ciudad israelí de Kiryat Malaquías cuando su edificio fue alcanzado por un misil palestino. Netanyahu y compañía sabían que su asalto iba a provocar este tipo de respuesta, sin embargo, su objetivo no era fomentar la paz y la seguridad para los israelíes o los palestinos, sino servir a sus propios intereses.
Buscando votos
En una declaración emitida el 14 de noviembre, el Movimiento de Lucha Socialista (la sección del CIT en Israel / Palestina) explicó que un factor clave en el calendario de este asalto es el intento del gobierno israelí de aumentar su apoyo antes de las elecciones generales previstas para enero. Desea aparecer fortaleciendo la seguridad en Israel. En las últimas semanas, las encuestas de opinión han mostrado que Beytenu Likud, el partido recién fusionada formada por Netanyahu y Lieberman, fue perdiendo apoyo.
Por lo tanto, el Movimiento de Lucha Socialista argumentó que "el gobierno capitalista de Netanyahu está haciendo esfuerzos desesperados por cambiar el orden del día de las elecciones previstas para enero con el fin de marginar a los problemas candentes sociales, Lieberman dijo que está" harto de oír todos los gritos acerca de ellos'. Los asesinatos cometidos por el gobierno en los últimos meses tuvieron un papel central en la escalada de los conflictos en el sur y Gaza.
"La decisión del gobierno de responder a proyectiles de la guerra civil siria mediante la devolución de fuego, y la maximización de las amenazas de acciones militares de represalia junto a las amenazas de acciones punitivas en contra de la Autoridad [de Cisjordania] Palestina, así, forman parte de la campaña electoral de los políticos nacionalistas fracasados. Temen perder sus escaños y están dispuestos a apostar la vida de los israelíes de a pie."
"El Gobierno espera profundizar aún más la brecha entre los israelíes y los palestinos en un intento de ganar más votos. Sin embargo, esta es una apuesta particularmente grande que definitivamente podría salir del control de Netanyahu, Lieberman y Barak. Todavía no está claro en este momento cuál será la magnitud de los ataques aéreos en Gaza por un lado (se ha declarado que durará por lo menos varios días) y la respuesta de las milicias palestinas en Gaza, por otra. Un número de niños y adolescentes en Gaza ya han pagado con sus vidas en la semana que pasa por la cruel campaña electoral del Likud Beytenu y el ministro de Seguridad Barak, y hoy, 14 de noviembre, otro bebé y una niña inocente de cualquier crimen fueron asesinados. "
Los líderes de los principales partidos de "oposición" de Israel Yachimovich (Trabajo), Lapid (Yesh Atid) y Mofaz (Kadima) se apresuraron a ponerse al lado del gobierno y hablar con una sola voz, sin ningún atisbo de reserva, ya que ni siquiera pretenden ofrecer una alternativa real a la agenda estrecha, loca y peligrosa del gobierno actual.
Además de su objetivo de reelección, los dirigentes israelíes quieren impedir la reactivación del reconocimiento de Palestina por la ONU a finales de este mes, prevenir cualquier presión por conversaciones de paz de Obama, el reelegido presidente en los EE.UU. y tratar de contrarrestar cualquier fortalecimiento de Hamas como consecuencia de los grandes cambios y tensiones en la región – en Egipto, Siria, Líbano, etc
El Movimiento de Lucha Socialista sostuvo que el gobierno israelí apuesta "que la ofensiva en Gaza no producirá fuertes protestas regionales e internacionales. El Gobierno espera explotar la guerra civil Siria y la creciente tensión en el Líbano con el fin de asestar un golpe a Hamas en Gaza. Pero los acontecimientos en Siria y el Líbano no necesariamente prevendrá el posible desarrollo de importantes protestas en Egipto y la llamada a defender a los residentes de la Franja contra otro baño de sangre similar al de 2008-09 durante la "Operación Plomo Fundido".
Pero la estrategia de sangre de Netanyahu, Lieberman y Barak puede salirse de su control y rebotar en ellos masivamente e inflamar las relaciones entre los países y las situaciones de los mismos; ya hay protestas y manifestaciones estallando a través de los países árabes y en todo el mundo, así como en los territorios palestinos. En Egipto, que comparte una frontera con Gaza, una llamada a defender a los habitantes de Gaza se está haciendo en las manifestaciones.
Dentro de Israel, el Movimiento de Lucha Socialista inmediatamente sostuvo que "la oposición a los planes de guerra de Netanyahu, Barak y Lieberman podía y debía ser organizada, también dentro de Israel y en los Territorios Palestinos, con el fin de evitar una escalada aguda en el conflicto militar. Los primeros pasos de la protesta han comenzado a organizarse y conviene ampliarla".
Así como llamando a manifestaciones de protesta, el Movimiento de Lucha Socialista hace un llamamiento a las organizaciones de los trabajadores israelíes, entre ellos la federación sindical Histadrut y los movimientos sociales, para denunciar públicamente la ofensiva y para iniciar y participar en las protestas en su contra.
• Detener la masacre! Poner fin a los ataques con misiles y otros ataques contra Gaza!
• No a la guerra del gobierno israelí de las grandes empresas y los asentamientos!
• Poner fin al bloqueo israelí de Gaza. Abrir la frontera entre Gaza y Egipto!
• Por la retirada inmediata del ejército israelí de los territorios palestinos.
• Por una lucha de masas de los palestinos, bajo su propio control democrático, para luchar por la liberación nacional auténtica.
• Por el apoyo de la clase trabajadora, en todo el Oriente Medio y a nivel internacional, a la lucha de los palestinos.
• Por organizaciones independientes de trabajadores en Palestina e Israel.
• Por gobiernos de los representantes de los trabajadores y los pobres para terminar la opresión, defender los derechos democráticos y romper con el capitalismo y el imperialismo.
• Por el socialismo democrático en Palestina, Israel y en todo Oriente Medio, garantizando los derechos democráticos para todas las minorías nacionales.
Special financial appeal to all readers of socialistworld.net

Support building alternative socialist media

---

Socialistworld.net provides a unique analysis and perspective of world events. Socialistworld.net also plays a crucial role in building the struggle for socialism across all continents. Capitalism has failed! Assist us to build the fight-back and prepare for the stormy period of class struggles ahead. Please make a donation to help us reach more readers and to widen our socialist campaigning work across the world.

Donate via Paypal

CWI- Please inform us if you are reproducing any material from this site.