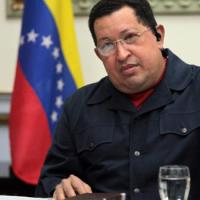 First time Chavez has spoken of the possibility of not being able to continue as president
During a televised national address yesterday, Chavez announced that he will again be returning to Cuba for surgery after tests showed a return of cancerous cells. The announcement follows his return only a day earlier from Cuba where he reportedly underwent hyperbaric treatment and radiotherapy.
Although the exact nature of the cancer remains undisclosed, Chavez was clear that he urgently needs to undergo another operation and further tests. Despite being first diagnosed in June 2011 yesterday was the first time Chavez has spoken of the possibility of not being able to continue as president. He named Chancellor Vice president Nicholas Maduro as his successor if this should happen.
After winning the presidential elections on October 7th Chavez is due to commence his next term as president on the 10th of January 2013. Two articles in the 1999 constitution relate to the inability of the president to finish their presidential terms. In the scenario that he cannot start the term or that within the first 4 years of the next term he has to leave elections must be called within 30 days.
The only difference relates to who takes power during the 30 day period. In the case of the former scenario, it would be the Vice President, Nicholas Maduro, but in the later it would be the President of the National Assembly, Diosdado Cabello.
In his address, Chavez emphasised several times the need for unity. Stating that without it advantage would be taken to restore capitalism. He also called several times for unity of the armed forces and the navy. Chavez referred to Maduro as a man of the fatherland and told the population that they must vote for him if he, Chavez, cannot continue.
With only 7 days out from regional elections and less than a month away from Chavez taking on a 3rd term, the government would be extremely reluctant to make this announcement if the situation wasn't serious.
Chavez stated that the 'revolution doesn't depend on one man', however the questions of who has the capacity to succeed him and the problems of government leadership without Chavez have once again been highlighted.
Disunity within the PSUV would be unlikely in the event that elections are called, the bureaucratic layer that exists within it will push to have the representative who best looks after their interests. These issues will be sharpened in the next year which will be marked by economic uncertainly and instability internationally and here in Venezuela.
Although nothing is certain at the moment, the coming weeks will be crucial for the Bolivarian Government.