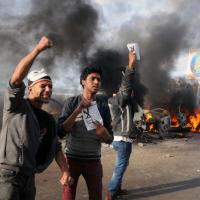 Regime squeezed between workers' opposition to austerity and ruling class
President Mursi's referendum on a new constitution for Egypt has not produced the strong vote in favour he hoped for. Ten out of 27 governorates (regions) voted on Saturday 15th December, with 4.6million (56.5%) voting in favour and 3.5million (43.5%) against.
What was striking was that barely one in three turned out to vote. 52% voted in the second round of the presidential election in June when Mursi was elected. The numbers not voting were increased by new measures requiring residents to go to their registered district to vote. This is estimated to have deprived ten million of their right to vote, particularly those who have moved to cities to work who could not take time off to travel back to their original home. Clearly the regime's aim is to strengthen the relative weight of the generally more conservative rural areas.
The vote is being taken over two days (with the rest of the country voting on 22nd December) because the Judges' Club refused to supervise polling stations in opposition to Mursi's attempted power grab that made him unchallengeable in the courts. In the face of mass opposition on the streets, Mursi partly backed down, conceding that his extra powers would not continue beyond the referendum. Opposition parties have reported many cases of vote-rigging and absence of independent supervision at polling stations.
Voting analysis of the first round shows major cities, where the concentration of the working class is highest, opposed the constitution. Cairo governorate voted 43.1% for the constitution, and 56.9% against. Gharbiya governorate in the Nile delta, including the industrial cities of Mahalla Al-Kubra and Tanta, voted 47.9% for and 52.1% against. A narrow majority voted against in Alexandria. Meanwhile, in more rural Assiut 76.1% voted for.
The vote also shows a fall in support for Mursi and right-wing political Islam since the parliamentary elections twelve months ago, when over 70% voted for the Muslim Brotherhood's Freedom and Justice Party or the more conservative Salafist party, Nour. A full analysis of trends will need to wait until the whole country has voted.
Little support for new constitution
It seems the new constitution will be passed, but by little more than about one voter in five. That is a very weak position for Mursi and his government, who are being squeezed between growing opposition to his attempts to impose austerity from workers and the poor and pressure from the ruling class.
The government attempted to introduce new taxes and raise existing ones, as part of a deal to get a $4.8billion loan from the International Monetary Fund. Within hours, the government reversed its announcement and postponed any tax rises until after the constitution referendum was out of the way and asked the IMF to postpone the loan.
The most prominent opposition leaders in the newly-formed National Salvation Front are not talking about tax rises for the poor while big business continues to make huge profits. Limiting their campaign to constitutional issues means they will not build mass support among the workers and poor masses. The daily struggle to survive, as food and cooking gas prices rise, is a higher priority for the millions who did not vote.
After two years of upheavals there are many who wish for a more stable life. The jobs situation remains desperate, especially as tourism will be hit again by the recent street battles, as well as continuing recession in Europe.
The poor who did vote for the constitution can be won away from support for right wing political Islam if the growing independent trade unions organise together, building a political party based on the interests of the working class and campaigning for a clear socialist programme. That would refute attempts by Mursi to paint the opposition as supporters of the old Mubarak regime. Notwithstanding Mursi's conflicts with some parts of the old elite, his government is defending the interests of big business, who continue to take profits from out of the pockets of the working class and poor, just as under Mubarak and SCAF. A second, socialist revolution is needed to end their rule.
Special financial appeal to all readers of socialistworld.net

Support building alternative socialist media

---

Socialistworld.net provides a unique analysis and perspective of world events. Socialistworld.net also plays a crucial role in building the struggle for socialism across all continents. Capitalism has failed! Assist us to build the fight-back and prepare for the stormy period of class struggles ahead. Please make a donation to help us reach more readers and to widen our socialist campaigning work across the world.

Donate via Paypal

CWI- Please inform us if you are reproducing any material from this site.