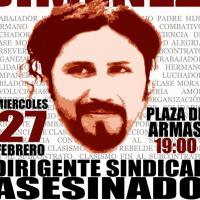 Los asesinos de este dirigente sindical deben ir a la cárcel, verdad y justicia es lo mínimo que debe exigir el movimiento sindical frente a este alevoso crimen.
La muerte en extrañas circunstancias de un dirigente sindical en su lugar de trabajo nos obliga a exigir una investigación seria y responsable por parte del gobierno y de los organismos responsables, algo que lamentablemente hasta ahora no se ha dado.
No se puede aceptar el informe a la rápida realizado por la PDI, que lo menos que se puede decir que es poco serio y muy poco profesional, no dándole la importancia que amerita el crimen de este dirigente sindical, no se puede hablar de una "bala loca", más bien parece una "bala dirigida" con nombre y apellido, esto se parece demasiado a los métodos utilizados bajo la dictadura, cuando se hablaba de balas perdidas.
Este crimen es extremadamente amenazante, dado que de confirmarse las sospechas de los trabajadores, estaríamos entrando en una situación muy peligrosa y no podemos aceptar que el asesinato de trabajadores y dirigentes sindicales se vuelva algo "normal", como ocurre en Colombia y en otros países latinoamericanos.
La actitud prepotente de los empresarios de AZETA.
El abuso y la prepotencia empresarial y las prácticas anti-sindicales de los dueños de la empresa eléctrica AZETA, ya es de larga data y es la principal razón de las dudas que han surgido frente a este asesinato y quiénes son los que realmente están detrás de este alevoso crimen.
El abuso permanente de los empresarios sigue siendo una práctica normal por parte de los empresarios chilenos desde los tiempos de la dictadura (40 años de abuso patronal) y algo que se ve agravado con el tema de los subcontratistas, que más que empresarios, funcionan como mafias al interior de las grandes empresas. La existencia misma de los subcontratistas en los hechos viene a ser una práctica anti-sindical de los grandes grupos económicos, que de esta forma dividen a los trabajadores para una mejor explotación y abuso patronal.
Claramente lo que se necesita es una mayor voluntad política para esclarecer este crimen, la posición del gobierno de los empresarios sigue siendo ambigua, algunas declaraciones mostrando su preocupación frente a este hecho, pero pocas acciones concretas para esclarecer lo sucedido.
Los trabajadores deben organizarse y movilizarse.
Si realmente queremos justicia por este asesinato, los trabajadores debemos organizarnos y movilizarnos para obligar al gobierno y a los organismos encargados de investigar, que lo hagan de una forma realmente seria y responsable y no como ha sido hasta ahora, que como mínimo podemos llamar muy poco profesional.
Los asesinos de este dirigente sindical deben ir a la cárcel, verdad y justicia es lo mínimo que debe exigir el movimiento sindical frente a este alevoso crimen.
Special financial appeal to all readers of socialistworld.net

Support building alternative socialist media

---

Socialistworld.net provides a unique analysis and perspective of world events. Socialistworld.net also plays a crucial role in building the struggle for socialism across all continents. Capitalism has failed! Assist us to build the fight-back and prepare for the stormy period of class struggles ahead. Please make a donation to help us reach more readers and to widen our socialist campaigning work across the world.

Donate via Paypal

CWI- Please inform us if you are reproducing any material from this site.