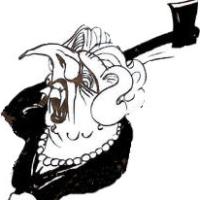 Thanks for installing the Top of every post plugin by Corey Salzano. Contact me if you need custom WordPress plugins or website design.
"Ella es vista por muchos como una especie moderna de Gengis Khan. Elegida en 1979 desató un feroz asalto contra el nivel de vida y los derechos democráticos de la clase obrera."
Peter Taaffe secretario general del Partido Socialista, dijo:
Es una respuesta humana estar triste cuando alguien muere. Sin embargo, muchas personas de la clase trabajadora estará celebrando su muerte a causa del efecto duradero absolutamente destructivo y a largo plazo que tuvo en la vida de millones de la clase trabajadora y el pueblo pobre.
Margaret Thatcher, como ella siempre será recordado, dibujo por Alan Hardman
Ella es vista por muchos como una especie moderna de Gengis Khan. Elegida en 1979 desató un feroz asalto contra el nivel de vida y los derechos democráticos de la clase obrera.
Los sindicatos fueron atacados con el fin de despejar el camino para la destrucción de las industrias de propiedad pública y la reducción de los salarios y condiciones.
La Tendencia Militant, Precursora del Partido Socialista (CIT), estaba en la vanguardia de la lucha contra sus políticas podridas.
Dirigimos la famosa lucha de 1983-87 en Liverpool como parte del gobierno de la ciudad, que se negó a aplicar recortes sociales.
Ese consejo movilizó una campaña masiva de sindicalistas y de la clase trabajadora en apoyo del presupuesto de "necesidades" del ayuntamiento.
Esa campaña ganó £ 60 millones del gobierno que se gastaron en la construcción de miles de nuevas viviendas sociales y nuevas instalaciones para las comunidades de clase trabajadora. Un comentarista se lamentaba de que Militant había provocado a Thatcher una "hemorragia nasal".
A finales de 1980 y principios de 1990 encabezamos la lucha contra el odiado impuesto de capitación (Poll Tax). Este impuesto habría visto un duque pagar lo mismo que un basurero.
Iniciamos la "Unión de toda Gran Bretaña contra el Poll Tax", que dirigió la campaña que llevó a 18 millones de personas a no pagar el impuesto.
Como resultado, el impuesto fue revocado. Thatcher dejó en claro que ella renunció a raíz de la enorme manifestación contra el impuesto, el 31 de marzo de 1990, a la que asistieron 250.000 personas.
Thatcher creó una serie de "mini" Thatcher no sólo en el partido Tory (Conservador), sino también en el Nuevo Laborismo.
Tony Blair era su heredero al igual que Cameron y Clegg lo son ahora. Están llevando a cabo su trabajo y, de hecho, van incluso más lejos, y se han atrevido a ir al ataque despiadado de los empleos del sector público y servicios.
Su verdadero legado se ve claro hoy en las políticas del gobierno Con-Dem. Son abanderados hoy de sus ideas neoliberales.
El día que Thatcher ha muerto los ricos están a punto de recibir una reducción de impuestos y la clase trabajadora enfrentada a un nuevo asalto con el impuesto de dormitorio. Al mismo tiempo, estamos viendo un ataque sin precedentes en los empleos y servicios.
Dave Nellist, Partido Laborista MP para Coventry South-West 1983-1992 y portavoz del Partido Socialista, dijo:
Las personas por la que tengo simpatía hoy son las personas de la clase trabajadora cuyas vidas han sido arruinadas por sus políticas.
La verdadera tragedia es que mientras ella esté muerta, sus ideas todavía están vivas y bien vivas en la forma de la coalición Con-Dem y el Nuevo Laborismo.
Era una luchadora determinada por su clase, el 1% de las personas muy ricas en la parte superior de la sociedad. El Partido Socialista quiere construir un movimiento que haga lo mismo con el 99%, la clase trabajadora.
Queremos construir un movimiento de masas que tome la riqueza de los super-ricos y que desmantele el proyecto que ella emprendió.
Queremos usar esa riqueza para proveer puestos de trabajo, servicios y un futuro para la gente de clase trabajadora.
The CWI relies on the donations from working class people around the world to fund our campaigns.Please donate towards building the CWI.