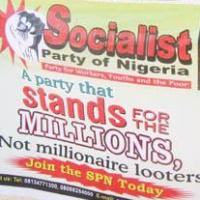 DSM comrades arrested and detained
Twelve members of Democratic Socialist Movement (DSM) have been today arrested in Abuja, Anambra, Oyo, Niger and Kaduna states at May Day events. While those arrested Ibadan and Minna have been released those in Abuja, Anambra and Kaduna are still (May 1) being detained variously by State Security Service (SSS) and police.
Taiwo Hassan Soweto and Odun Eniayekan were arrested at Eagle Square Abuja by operatives and detained at State House's SSS office. Sadare Dimeji and Sefiu Amusat are detained in Kaduna by SSS while Francis Nwapa is being detained at the Anambra State SCID Awka. Abiodun Bamgboye and 4 others were arrested in Ibadan by SSS.
We call for the immediate and unconditional release of DSM members still being incarcerated. The activists are arrested for circulation of the Socialist Party of Nigeria (SPN) leaflet and selling of Socialist Democracy, the paper of Democratic Socialist Movement, whose contents the security operatives termed seditious. The leaflet is critical of monumental corruption and pension fraud and highlights the shameless endorsement of corruption by Jonathan government with state pardon granted to Diprieye Alamieyesiegha. The paper has bold headline on pension fraud. All materials such as leaflets, newspaper etc., were forcefully seized.
The venues of May Day rallies this year were heavily militarized. While this may be under the guise of providing security, in reality the huge presence of the security operatives is primarily to harass and intimidate anybody or groups who are critical of the government. It is a fact that the Jonathan government and state governments have become highly intolerant of divergent view. Indeed, there is rapid descent into civilian dictatorship by Jonathan government. This is not unconnected to its growing unpopularity as a result of egregious corruption and anti-poor conducts and policies the government has been characterized with.
It should be recalled that just recently the government bans the circulation of a documentary film titled "Fueling Poverty" and threatened the producer with arrest. Shortly earlier four journalists with Leadership newspaper were arrested and detained for publishing a story while a professor was arrested at Ahmadu Bello University, Zaria, for a comment he made at lecture.
We call on Labour, socialist and human right activists and organizations as well as the media to condemn this brutal attack on democratic right and join us in demand for the immediate and unconditional release of all those currently detained.
See also on the DSM website: As workers celebrate May Day, workers and the poor must unite to save Nigeria!