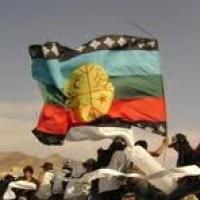 Los mapuche no pueden votar por sus verdugos.
Frente a una declaración del sábado 18 de mayo (en Cañete) del Frente Indígena de Oposición, que según ellos reúne a dirigentes indígenas del PC, PS, PPD, PR, PDC e IC, es necesario clarificar algunas cosas.
No es posible leer una declaración así y no reflexionar sobre si es posible para los mapuche apoyar a un futuro gobierno de la Concertación (ahora disfrazada de "oposición" o "Nueva Mayoría"), como es posible olvidar la represión y los asesinatos cometidos contra nuestros hermanos bajo los gobiernos de la Concertación y especialmente bajo el gobierno de Michelle Bachelet.
Precisamente fue bajo el gobierno de Michelle Bachelet, cuando más comuneros mapuche fueron asesinados, como podríamos olvidar los asesinatos de Matias Catrileo. Johnny Cariqueo, Jaime Mendoza Collio, entre otros hermanos que fueron asesinados bajo el anterior mandato de la señora Bachelet.
Algunos pretenden justificar estos hechos diciendo que se cometieron algunos "errores", debemos recordar que nunca los asesinatos son errores, son parte de una política represiva y criminal implementada por los gobiernos de turno.
La represión criminal implementada contra los mapuche bajo el gobierno de Bachelet perseguía allanar el camino a las transnacionales y también defender el modo de producción neoliberal de los capitalistas criollos, para los cuales los mapuche y su propiedad colectiva de la tierra son un estorbo.
El mandato de Bachelet cuenta con una cifra negra, fue el gobierno que más mapuche encarcelo bajo su periodo, incluso más que los anteriores gobiernos de la propia Concertación.
Fue también bajo el gobierno de Michelle Bachelet que se estableció como norma aplicarle la ley antiterrorista a los mapuche y de aplicarla en forma indiscriminada contra la lucha de las comunidades, para hacer más efectivo el encarcelamiento de nuestros hermanos, convirtiéndolos de esta forma en nuevos presos políticos.
Seria difícil estar en contra de los siete puntos planteados por el Frente Indígena de Oposición (Pacto Nueva Mayoría), pero plantear que estas demandas se pueden lograr apoyando a un "futuro" gobierno de la Concertación, es llamar a un engaño a nuestros hermanos y a la vez intentar engañar al resto de la población tratando de hacer creer que esta vez sí jugaran un rol "progresista", los mismos que han reprimido y aplastado brutalmente las demandas de los mapuche.
Todos sabemos que la Concertación defendió y sigue defendiendo las mismas políticas económicas y represivas que heredaron de la dictadura, por todo esto está claro que los mapuche no podemos apoyar a la señora Bachelet, no podemos seguir votando a favor de nuestros verdugos.
Special financial appeal to all readers of socialistworld.net

Support building alternative socialist media

---

Socialistworld.net provides a unique analysis and perspective of world events. Socialistworld.net also plays a crucial role in building the struggle for socialism across all continents. Capitalism has failed! Assist us to build the fight-back and prepare for the stormy period of class struggles ahead. Please make a donation to help us reach more readers and to widen our socialist campaigning work across the world.

Donate via Paypal

CWI- Please inform us if you are reproducing any material from this site.