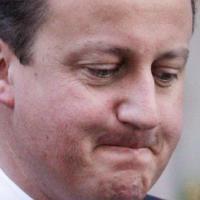 Los "tories" británicos atrapados en el cenagal de la discusión sobre la pertenencia a la UE
El pasado Mayo sucedió un hecho que provocó cierta agitación en la Cámara de los Comunes en Londres: más de la mitad de los diputados conservadores británicos votaron contra el discurso de la reina (y contra su propio gobierno) sólo porque éste no anunciaba un referéndum sobre la continuidad en la UE.
El primer ministro británico David Cameron se había limitado a respaldar una propuesta de ley a iniciativa del parlamento para un plan de referéndum en 2017. Seguramente no sea aprobada, dado que los tories no tienen mayoría en el parlamento. Este problema sobre la permanencia en Europa también contribuye a ampliar diferencias entre los conservadores y sus socios de gobierno los demócratas-liberales – a quienes se culparon por no incluir dicho referéndum – a pesar de líder liberal-demócrata, Nick Clegg, ha tratado de mitigar esto diciendo que un referéndum será inevitable en algún momento dado.
Los demócratas liberales están padeciendo caídas en las encuestas mientras los conservadores están en crisis e inmersos en una amarga y agria división en la actualidad tanto sobre el matrimonio gay, así como la cuestión europea. Muchos conservadores empiezan a ver a su líder como débil e incompetente.
Sobre la cuestión de la permanencia en la UE se han visto ciertas grietas dentro del partido tory, como el golpe político del ex ministro tory de finanzas Nigel Lawson, admitiendo públicamente que Gran Bretaña debería abandonar la Unión. También ministros del gabinete como Michael Gove (Educación) y Philip Hammond (Defensa) han admitido que en caso de referéndum hoy ellos votarían por abandonar la UE.
Como contrapeso al debate dentro de los tories apareció otro antiguo ministro de finanzas conservador, Geoffrey Howe, criticando y burlándose de Cameron por sus vaivenes y falta de rigor en el debate sobre la pertenencia a la UE. Howe teme que si los conservadores pierden las siguientes elecciones éstos se atrincherarán en una posición electoralista antieuropea.
Por otra parte, 18 importantes hombres de negocios británicos (entre ellos el célebre fundador de Virgin, Richard Branson) firmaron una carta, publicada en el Independent (uno de los periódicos británicos con más tirada nacional y abiertamente pro-UE) pidiendo la permanencia en la UE por ser "la unión comercial más grande del mundo". Desde un punto de vista comercial es una posición entendible dado que la UE es una organización que respalda los grandes intereses comerciales y los principios neoliberales en sus tratados, permitiendo operar y comerciar a las grandes corporaciones británicas en él con libertad de capitales, bienes y servicios. Para muchos intereses comerciales británicos, salir de la UE significa salir de esa esfera de influencia, perdiendo mercados y poder de decisión.
LOS EUROESCÉPTICOS BRITANICOS
Por otra parte, ciertos tories euroescépticos y miembros del naciente UKIP (Partido por la Independencia del Reino Unido, marcadamente anti-europeísta) lanzan consignas viscerales contra la UE y claman por el abandono total de ella. Sin embargo, no se puede ver que sus consignas y discurso vayan más en beneficio de la clase trabajadora británica que aquellos que claman la permanencia en la unión.
Las consignas centrales de los euroescépticos es el temor a la "pérdida de soberanía" si se profundiza la integración, rechazando "la subordinación" a Bruselas. También muestran temor a un mayor contagio de la crisis económica que sacude Europa.
No obstante, es importante resaltar que cualquier discurso que realicen estos sectores euroescépticos al margen de una oposición frontal a los recortes presupuestarios en la UE y las privatizaciones debe ser visto como una cortina de humo. Los llamados euroescépticos británicos, que dominan el debate público en los medios, han apoyado entusiasmadamente los recortes y la austeridad en la economía británica.
Para los socialistas, los jefes de la Unión Europea deberían oponerse al proceso de escisión, ya que las contadas cesiones que se conceden en derechos de los trabajadores en el marco de la UE son sobradamente compensadas con las ventajas para los intereses capitalistas que trae la Unión.
Dicha unión fue concebida como un proyecto de superación de las barreras y límites al desarrollo que suponían las fronteras de los estados-nación en Europa, así como una unión económica y comercial frente a otros poderes capitalistas y bloques comerciales (EEUU, Asia, etc.). Pero se ha demostrado a lo largo del tiempo la imposibilidad de eliminar las diferencias entre las clases dominantes y las barreras entre estados miembros.
Por el contrario, los socialistas consideran que sólo una unión de estados socialistas democráticos – una confederación socialista – será capaz de desarrollar las fuerzas productivas a un nivel significativamente más alto y el uso de la riqueza generada en los intereses de la mayoría de la sociedad.
El secretario general de RMT (sindicato de ferroviarios, estibadores y transporte), Bob Crow, tenía razón al decir oficialmente en un comunicado de prensa el pasado 13 de Mayo que su sindicato "no va a quedarse sentado y permitir que este debate sea dominado por el UKIP y el ala derecha del partido Conservador". "El RMT continuará con un apoyo a la retirada de la UE pero con una política de izquierdas y de apoyo a los trabajadores, que vuelva a poner en el centro de atención el recuperar puestos de trabajo, estándares de vida y servicios públicos de calidad".
Bob Crow, unos días más tardes en el periódico laborista The Guardian, describió gráficamente la situación de muchos trabajadores de Europa: "En los países más afectados por la Troika de los bancos y los burócratas, el desempleo juvenil supera el 60% de la población activa, y lo que ello implica: millones de tragedias personales por casas perdidas, trabajos perdidos, pensiones reducidas y servicios mermados. Son el testimonio de la broma de mal gusto de la "Europa Social".
Los socialistas y sindicatos británicos deben oponerse a las medidas neoliberales y capitalistas que vienen del seno de la UE, mientras que a la vez se debe construir un movimiento de oposición a la política de recortes del gobierno.
Ataques a las condiciones de vida, tanto de Bruselas como de Londres
Los políticos británicos, a pesar de las pretendidas impresiones, no son prisioneros de las políticas provenientes del seno de la UE impuestas o sugeridas. El apoyo a las políticas de austeridad está garantizado por parte de los principales dirigentes políticos, se pertenezca a la UE o no. Desafortunadamente este panorama incluye al partido laborista, que no se ha desmarcado de la política de recortes y han sugerido peligrosamente que las continuarían si ganaran las elecciones.
Esto significa un reto muy importante para las organizaciones sindicales británicas (a la cabeza el RMT) para presionar socialmente en las siguientes elecciones locales y europeas en 2014. Tienen un papel crucial para oponerse a la agenda neoliberal de recortes de la UE mientras contraatacan la ofensiva nacionalista antieuropea de la derecha tory y los miembros del derechista UKIP. Las consignas a poner en la mesa son la solidaridad de los trabajadores y la coordinación de la lucha de los trabajadores y desempleados por sus derechos y unas condiciones dignas.
Crear condiciones para el apoyo a la confederación de sindicatos socialistas británicos (TUSC en inglés) lograría, a su vez, crear condiciones necesarias y convenientes para construir un nuevo partido obrero de masas en Gran Bretaña cuyos ejes serían la lucha contra la austeridad neoliberal y por una alternativa socialista.
Special financial appeal to all readers of socialistworld.net

Support building alternative socialist media

---

Socialistworld.net provides a unique analysis and perspective of world events. Socialistworld.net also plays a crucial role in building the struggle for socialism across all continents. Capitalism has failed! Assist us to build the fight-back and prepare for the stormy period of class struggles ahead. Please make a donation to help us reach more readers and to widen our socialist campaigning work across the world.

Donate via Paypal

CWI- Please inform us if you are reproducing any material from this site.