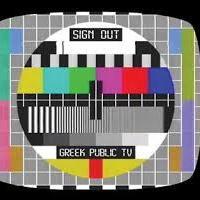 ¡Por una huelga general ya organizada por los sindicatos!
El Gobierno griego ha anunciado el cese de los servicios de la emisora de radio y canal de televisión estatal ERT a partir del pasado Míercoles 12 de Julio..
Al rededor de 2500 trabajadores serán despedidos antes de que la cadena vuelva a ponerse n funcionamiento en el próximo mes de Septiembre, según las declaraciones del gobierno griego.
Este flangrante ataque a los derechos de los trabajadores y a las condiciones laborales, así como la violación al derecho de todos los ciudadanos a los medios de comunicación, ha provocado la indiganción de la sociedad griega. Han tenido lugar manifestaciones multitudinarias en apoyo a los trabajadores de la ERT, los cuales han ocupado el edificio de la cadena.
.
El texto que viene a continución viene recogido en un panfleto sobre la crisis de la ERT escrito por Xekinima, la sección griega del CW, distribuido en concentraciones de protesta que han tenido lugar en numerosas ciudad del país.
socialistworld.net
La decisión de cerrar la cadena ERT, El Primer Ministro Samaras y el gobierno de coalición ha dejado claro que se detendrán ante nada que contraponga a las políticas que están conduciendo a Grecia a la destrucción.
Esta decisión es un claro golpe parlamentario con el fin de evadir la constitución griega. ¡Una burla a la democracia parlamentaria! La acción fue toamda antes de las vacaciones de verano del parlamento, por lo que ni siquiera esta institución, dejando de un lado que sólo tiene fine decorativos, pudo revocarla.
¿Quíen los va a parar y cómo?
¡Estamos ante un momento crucial para la oposición anti-austeridad, el movimiento obrero y la Izquierda en general! Si no se pone freno al cierre de la ERT, las "leyes de Samaras" se aplicarán en otras áreas, puesto que el gobierno ha puesto el ojo en otras veinte instiuciones del sector público.
A la ERT le seguirá las compañías de utilidad pública que todavía no han sido privatizadas. En estas compañías, los salarios han disminuido entre un 40-50% y por si no fuera poco, después del cierre de la ERT podrían tener que hacer frente a su propia "muerte repentina": despidos masivos y cese de actividad, para que así el gobierno pueda rematarlos de forma rápida y limpia.
La única solución a este reto sin precedente al que se tiene que enfrentar el movimiento de los trabajadores es una huelga multitudinaria que derroque el gobierno de Samaras.
Los trabajadores de los medios de comunicación necesitan convocar un huelga general. ¡Los trabajadores de la prensa escrita, de la televisión y de la radio no tienen nada que perder!
La ERT se ha convertido en la lucha central y el foco de atención para mobilizar y unir a los trabajadores de todos los sectores. Sin embargo, la batalla por la ERT ha de contar con una huelga general.
El resto del movimiento de los trabajadores debería cordinarse y responder inmediatamente ante el ataque a los trabajadores de la ERT. Esto siginifica que se ha emprender una acción bien coordinada y en todos los sectores por parte de los sindicatos más importantes del país.
Ahora es el momento de captar el apoyo de los profesores, de los trabajadores de los servicios de transporte y marítimos, quienes en los últimos meses han sido víctimas de las medidas autoritarias ("leva" ) del gobierno de Samaras para evitar que se sindicalicen.
Ahora es el momento de que los sindicatos municipales obreros, los trabajadores de la junta de aguas y de electricidad, cuyos derechos y condiciones laborales son las próximos en ser suprimidos por Samaras, se aunen tomen una acción sindical decisiva y cordinada.
Ahora es el momento de que el partido obrero tome cartas en el asunto. En lugar de una serie de días de huelga , como las fallidas convocadas por los líderes de los sindicatos GSEE y ADEY en estos últimos tres años antes los recortes, lo que se necesita es un acción militante y agresiva. La única respuesta efectiva y realista a la agresión del Samaras es la convocatoria de diversas huelgas generales determinadas que vayan en aumento, tanto en el sector público fomo en el privado.
El poder de los trabajadores organizados
Diversos líderes sindicales afirman que estas medidas son "extremas" y que los trabjadores no responderán a ellas. Afirmaciones que nos parecen que responden a un intento de lo líderes para esconder la cobardía que les frena y la falta de voluntad para liderar una lucha firme en nombre de los trabajadores. No hay otra forma posible para hacer frente a los recientes ataques del gobierno a los derechos básicos del trabajador. ¡ Ningún gobierno resistirá un acción de tal embergadura! Samaras, por supuesto, utilizarán cualquier medio que tenga en su mano en contra de los sindicatos y del movimiento obrero ( propaganda masiva en los medios privados, represión estatal y los neo-nazis "Atardecer Dorado") en el caso de una situación de "emergencia". Pero el poder de los obreros es infinitamente mayor. Para que tenga éxito, el movimiento obrero ha de organizarse de forma democrática y desde abajo, a través de los comités de huelga y las asociaciones locales, a todos los niveles y en colaboración con toda la nación.
La Izquierda tiene que cumplir con sus obligaciones. SYRIZA (Coalición de la Izquiera Radical), segunda en los sondeos, debería dejar claro de forma abierta y sin tapujos que su objetivo es acabar de forma inmediata con la austeridad del gobierno, utilizando la huelga multitudinaria y los movimientos sociales que la respalden. Sin embargo la actitud de algunos líderes del SYRIZA es la de "no podemos decirles a los sindicatos lo que tienen que hacer". Después de todo, el gobierno de Nueva Democracia y PASOK siempre ha buscado el apoyo de sindicatos. ¿Por qué , entonces, afirma el SYRIZA que su obejtivo no es interferir en el movimiento sindical?
SYRIZA ha de asumir su responsabilidad política dentro de la campaña masiva y la acción sindical para forzar el cese del gobierno de la Troika y para elevar la posibilidad de un gobierno de Izquierdas. SYRIZA ha de comprometerse con la lucha y el derrocamiento del gobierno del ND/PASOK/DL y reemplazarlo con uno de Izquierdas que, como mínimo, se comprometa abiertamente a:
Revocar los recortes y las medidas anti-trabajadores tomadas por el gobierno actual.
Readmitir a todos los trabjadores despedidos.
Nacionalizar todas las empresas que antes pertenecían al Estado.
Introducir el control social y de los trabajadores en la gestión del sector público, en condiciones de total transparencia, con el fin de terminar con la mala gestión y la corrupción.
La Izquierda en su conjunto -SYRIZA, KKE (Partido Comunista Griego) y la Izquierda extraparlamentaria han de luchar juntas, en un frente único, para conseguir los objetivos explicados anteriormente. Todos ellos tienen el deber de combatir por un gobierno de izquierdas comprometido por políticas socialistas que ponga fin a esta catastrófica crisis social y económica y a los ataques interminables que abogan por la austeridad.
Partiendo de esta base, las acciones del movimiento obrero en Grecia puede ser un aliciente para el resto de movimientos en Europa, que cargan con las mismas medidas de austeridad, y especialmente para Turquía, donde las masas están en este momento escribiendo su propia historia. La lucha que llevamos a cabo puede convertirse en un modelo y en una catálisis para los obreros a lo largo y ancho del Europa y en todo el mundo.
Special financial appeal to all readers of socialistworld.net

Support building alternative socialist media

---

Socialistworld.net provides a unique analysis and perspective of world events. Socialistworld.net also plays a crucial role in building the struggle for socialism across all continents. Capitalism has failed! Assist us to build the fight-back and prepare for the stormy period of class struggles ahead. Please make a donation to help us reach more readers and to widen our socialist campaigning work across the world.

Donate via Paypal

CWI- Please inform us if you are reproducing any material from this site.