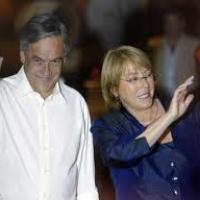 Los Trabajadores, Estudiantes y pobladores no podemos participar en la farsa de las primarias del duopolio derechista.
El debate televisado de los precandidatos de la Concertación ha servido para dar cuenta de hasta que punto las principales demandas que el movimiento social y en particular de los estudiantes están encabezando la agenda.  Educación gratuita, sistema previsional, derechos reproductivos y de genero, y Asamblea Constituyente han sido los principales temas tratados por los candidatos.  Esto no es ninguna casualidad, dado que son hoy los temas que comienzan a ser discutidos y asumidos por las distintas capas de la sociedad que han visto como durante todos estos años ninguno de los dos bloques en el poder hacen nada por cambiar las cosas, (Derecha y Concertación) más bien han sido un obstáculo para llevar adelante los cambios que la juventud y los trabajadores demandan.  
No es casualidad que la demanda para poner fin, regular, reformar o levantar otra alternativa a las AFPs  haya permeado el discurso de los distintos rostros de la Concertación.  En este sentido tiene que ver mucho la campaña que varios sectores de trabajadores organizados en sindicatos han levantado durante los últimos años.  Pero también, junto a la educación gratuita y Asamblea Constituyente, demuestra el impacto de candidaturas como la de Marcel Claude y el movimiento TODOS A LA MONEDA, que sin duda esta ganando amplio apoyo entre muchos jóvenes y trabajadores que simplemente no quieren nada con la Concertación y menos con la Derecha.  Aunque también suma a muchos activistas y militantes de los antiguos partidos de izquierda que hoy por hoy están más a la derecha que la propia derecha.
Los temas tratados en el debate de la Concertación son las demandas de los estudiantes, de los trabajadores y del movimiento social y ahora estos representantes del sistema quieren apropiárselos para ganar votos.  Sin embargo una cosa es hablar y otra hacer las cosas, los dirigentes estudiantiles han dejado claro que la promesa de Bachelet hablando de educación gratuita en 6 años no es más que un ofertón electoral, puesto que hasta hoy día en el propio Congreso los partidos que la apoyan y son parte de la Concertación no están haciendo nada e incluso peor aun; siguen apoyando el lucro, como se ve en los proyectos que el gobierno de Piñera ha enviado al congreso.
En cuanto al tema previsional, no escuchamos nada nuevo, solo sirvió para confirmar a Velasco, Orrego y Bachelet como neoliberales y en el caso de Gómez se notó claramente que adopto a última hora la idea de crear un sistema paralelo, tipo INP, como alternativa a las AFPs.   Sin embargo, como ya están experimentando en carne propia miles de trabajadores, este sistema es un fracaso para los trabajadores y un verdadero éxito para los dueños de AFPs que cada año obtienen suculentas ganancias para sus bolsillos a costa del futuro de los trabajadores.   Los trabajadores quieren terminar con este sistema y por eso es necesario seguir planteándolo y discutiendo en los sindicatos, en los centros de trabajo y en la calle. 
En resumen este debate, entre cuatro candidatos fue como un debate entre cuatro paredes porque ahí aun no vemos a representantes genuinos del movimiento social, ni de los estudiantes, ni de los trabajadores.  Aunque mientras estas figuras de la Concertación "debatían" adentro, afuera del canal, en la calle estaban los estudiantes y simpatizantes del Movimiento TODOS A LA MONEDA, denunciando la censura de los medios a la candidatura de Marcel Claude y defendiendo como se debe, en la calle, las demandas para transformar Chile.
Lo peor de todo es que además los costos económicos de la farsa de la primarias y de los foros del duopolio derechista deberemos pagarla todos los trabajadores chilenos, el circo de la elite finalmente lo terminamos pagando los más pobres de este país.
Lo que esta claro es que los estudiantes, trabajadores y pobladores, no podemos avalar la farsa del duopolio derechista y por ningún motivo podemos asistir a votar en las primarias fraudulentas de la Alianza y la Concertación, ahora disfrazada de "Nueva Mayoría".
Special financial appeal to all readers of socialistworld.net

Support building alternative socialist media

---

Socialistworld.net provides a unique analysis and perspective of world events. Socialistworld.net also plays a crucial role in building the struggle for socialism across all continents. Capitalism has failed! Assist us to build the fight-back and prepare for the stormy period of class struggles ahead. Please make a donation to help us reach more readers and to widen our socialist campaigning work across the world.

Donate via Paypal

CWI- Please inform us if you are reproducing any material from this site.