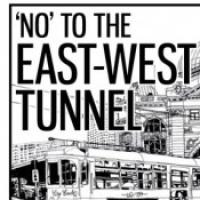 For an alternative plan of massive investment in public transport system!
"Building the roads of the 21st century" has become something of a mantra for Australia's newly elected federal Liberal government. It is aimed at appeasing the big business oil and freight lobby at the expense of communities in desperate need of improved and expanded public transport.
The Guardian newspaper wrote this week that "In all, $11.5bn has been pledged by the Coalition with not one dollar going to urban rail extensions or upgrades. Work on road upgrades has already begun, with [prime minister] Abbott last week unveiling the business case for the $1.5bn WestConnex project in Sydney. 'I want to be known as an infrastructure prime minister and I want building the roads of the 21st Century to be a hallmark of my government,' he said.
"A further $6.7bn will go to fix the rather dilapidated Bruce Highway in Queensland, while $5.6bn will be spent on lengthening the Pacific Highway. There will be $1.5bn to help build the highly controversial east-west road link that will demolish houses and part of a park in Melbourne."
The battle over the East-West toll road tunnel in Melbourne
The Victorian state Liberal government has announced plans to go ahead with the East-West road tunnel – a toll road that would link the Eastern Freeway to Melbourne's western suburbs. The project is expected to cost upwards of $6 billion.
We stand firmly against this plan as it will not ease congestion or solve Melbourne's transport problems. Instead we want to see money invested into the public transport system – particularly the Doncaster and Metro rail projects. This would do much more to ease congestion on Melbourne's vast road network. It would also create thousands of jobs and be a step towards the action required to address climate change.
Our campaign has already forced Labor to change their position and oppose the tunnel. However, Labor has said that if elected at the next state election it will honour any contracts already signed by the previous government.
In effect, this means that whether it is the Labor or the Liberals in power, the government will proceed with this disastrous project.
The only solution is to build a movement of people on the ground that is capable of stopping the tunnel from being built.
An army of people committed to engaging in peaceful but determined direct action can send the major parties and investors a strong message that if they choose to proceed with this project, a mass community picket will be waiting for them at the site.
To this end, the Socialist Party has initiated a pledge where people can sign up to be part of this movement. Already over 500 people have signed the pledge and more names are coming in by the day.
So far, community pickets have disrupted test drilling for soil samples. Community action works! We encourage all those opposed to the tunnel to support these actions.
The major parties only represent the interests of big business. We are fighting for the needs of the community and the environment and for a world that puts people before profits.
"A serial agitator"
The Socialist Party (SP) has played an important role helping to organise the community campaign against the East-West Tunnel. This has led to an outburst by sections of the right wing media, attacking the SP and Anthony Main – see below.
"AN East West tunnel protest leader has been exposed as a serial agitator, prompting claims that local opposition to the $8 billion road link has been hijacked. The Herald Sun has confirmed that self-appointed protest leader Anthony Main has joined the G20, Occupy Melbourne and S11 protest rallies.The 37-year-old says: "I'm a serial pest to big business and to Right-wing politicians. ¬I make no apologies for that." – See more at:
http://www.heraldsun.com.au/news/east-west-link-leader-exposed-as-serial-pest-protester/story-fni0fiyv-1226734350818#sthash.eVuoynfu.dpuf
Special financial appeal to all readers of socialistworld.net

Support building alternative socialist media

---

Socialistworld.net provides a unique analysis and perspective of world events. Socialistworld.net also plays a crucial role in building the struggle for socialism across all continents. Capitalism has failed! Assist us to build the fight-back and prepare for the stormy period of class struggles ahead. Please make a donation to help us reach more readers and to widen our socialist campaigning work across the world.

Donate via Paypal

CWI- Please inform us if you are reproducing any material from this site.