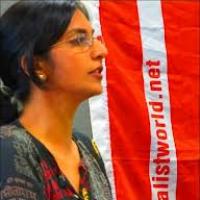 Democrat Richard Conlin concedes to Socialist Alternative challenger
Long-time Seattle City Council member Richard Conlin conceded to Socialist Alternative challenger Kshama Sawant last Friday evening, after new election numbers showed her 1,640 votes ahead and with an ever-widening lead in the race for 'Position 2' on the Council.
Two Socialist Alternative candidates ran historic grassroots election campaigns, Kshama Sawant in Seattle and Ty Moore in Minneapolis. Both campaigns shattered the myths that progressive, left wing candidates must take corporate money and work with the Democratic Party.
"Our campaign is not an isolated event, it's a bellwether for what's going to happen in the future," commented Kshama Sawant.
A new interview with Kshama on KING 5 News can be seen here: