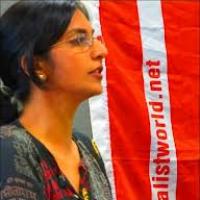 Democrat Richard Conlin concedes to Socialist Alternative challenger
Long-time Seattle City Council member Richard Conlin conceded to Socialist Alternative challenger Kshama Sawant last Friday evening, after new election numbers showed her 1,640 votes ahead and with an ever-widening lead in the race for 'Position 2' on the Council.
Two Socialist Alternative candidates ran historic grassroots election campaigns, Kshama Sawant in Seattle and Ty Moore in Minneapolis. Both campaigns shattered the myths that progressive, left wing candidates must take corporate money and work with the Democratic Party.
"Our campaign is not an isolated event, it's a bellwether for what's going to happen in the future," commented Kshama Sawant.
A new interview with Kshama on KING 5 News can be seen here:
Special financial appeal to all readers of socialistworld.net

Support building alternative socialist media

---

Socialistworld.net provides a unique analysis and perspective of world events. Socialistworld.net also plays a crucial role in building the struggle for socialism across all continents. Capitalism has failed! Assist us to build the fight-back and prepare for the stormy period of class struggles ahead. Please make a donation to help us reach more readers and to widen our socialist campaigning work across the world.

Donate via Paypal

CWI- Please inform us if you are reproducing any material from this site.