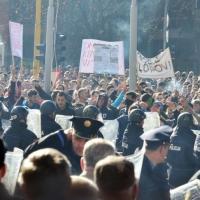 Serbo-Croat translation of the article 'New revolt of workers and unemployed' (first published on 10/02/14)
Bjes od lose ekonomske sitvacije, politicke korupcije, nezaposlenosti I neimastine je prokljucao u Bosni I Hercegovini. Posle tri dana intenzivne I herojske borbe radnika i omladine, drzava je potresena do temelja.
Prvi Dan, Sreda, Peti Februar
Otpusteni radnici iz privatizovane I sad zatvorene kemikalne tvornice DITA, u severnoj Bosni, i tri durge fabrike su krenuli u demonstracije. Oni su optuzili politicare za nemarnost zato sto du dozvolili da nekoliko drzavni preduzeca colapsiraju posle privatizacije.
"Izbori nece promeniti nista I samo akcije kao ova, I plasim se, cak I radikalnije akcije, mogu naterati politicare da postave otkaz"
Omladina I nezaposleni se uskoro predruzili radnicima. Protestanti su bacali kamenje na policiju I zapalili gume. Naj manje 20 ljudi su bili povredjeni I oko 20 uhapseni.
Dan 2, Cetvrtak, Sesti Februar
Radnici su nastavili demonstracije u Tuzli. Zestoka bitka je planula izmedju demonstranata I policije u kojoj 130 ljud i su ranjeni, od njih 104 clanova policije.
Policija je odgovorila suzavcem kada preko hiljadu ljudi su pokusali da okupraju drzavne zgrade.
Tuzla ja uticala kao fitilj koji je aktivirao nezadovoljstvo cele Bosne. Udruzeni protesti su odrzani u glavnom gradu Sarajevu ali takodje u Zenici, Bihacu i Mostaru.
Nermin Niksic, precednik vlade Federacije, je odrzao sigurnosni miting na kojim je obtuzijo "huligane" kao uzrok nereda.
U istini, radnici su vodili ovaj pokret. U samom pocetku protest se sastojao u glavnom od otpustenih radika iz fabrika koje su colapsirale zbog privatizacije. Neko vreme kasnije, hiljade nezaposleni ljudi I omladine su izasli na ulice u podrsku radnika. Nezaposlenost u Bosni je preko 44% I jedan o sveki pet osoba zivi ispod granice neimastine. Cak I oni koji su zaposleni zive od 250 do 450 Convertabilni Marka. Raditi za nista je sasvim normalo u Bosni, I vecina radnika iz DITA tvornce nisu placeni vec dvije godine!
"Nasa vlada je prodala drustvenu imovinu za skoro nista I ostivila ja narod bez penzija, posla I zdravstvene zastite," rekla je Hana Obradovic (24), jedna od nezaposleni diplomirani studenata u Sarajevu.
Sitvacija je naterala vladu da zatvori skole u Petak.
Dan 3, Petak, Sedmi Februar
Do Petka, protesti su se prosirili na preko 30 gradova u Bosni I Hercegovini I sa nima rastao je bjes prema sadasnjoj vladi. Demonstranti us zapalili drzavne zgrade u Sarajevu. Statinu cetrdeset ljudi su povredjeni u glavnom gradu, od njih 93 clanova policije.
Polica je koristila gumene metke I suzavac u pokusaju da raznese protestante, ali radni ljudi I omladina je odgovorila sa napadom na Precednistvo koje su osvojili od policije i kasnije zapalili.
U Zenici, tom bivsom rudarskom gradu, preko 50 demonstranata su povredjeni. Fecebook je koristen da oganizuje akcije I informise demonstrante. Na ulicama narod je vikao "Lopovi!" I "Revolucija!"
Sakib Kopic, jedan od representativaca radnika je rekao da ovo je "odgovor naroda" vladi koja nije sposobna da nadje resenje za ekonomsku krizu.
"Ovo je uzvik gladi, siromastva I beznadja za buducnost koji je tek sad explodirao posle mnogo godina" objavi le su lokalne novine, Dnevni Avaz.
Nekoliko hiljada demonstranata u Mostaru su napali dvije drzavne zgrade I zapalili zgradu gradske vlade. U ovom slucaju policije nije intervenisala.
Jedan mladi demonstranat iz Bihaca je izrekao opsti stav mrznje za corumptiranu politicku klasu i nepotism: "Zasto nema seksa u drzavnim institucijama Bosne I Hercegovine? Zato sto su svi familija!" Jedan plakat je pisao: "Ja nemam posla. Dosao sam ovde da unistim vladu."
Kada su demonstranti zapalili drzavne zgrade u Tuzli, clanovi specijalne policije su skinuli svoju opremu I pustili demonstrante da prodju. Kasnije policija ja dobila aplauz i neki su se pozdravili i rukovali sa demonstrantima.
"Ja mislim da je ovo pravi Bosansko proljece. Me nemamo sta da izgubimo. Bice sve vise I vise nas na ulicama jer ima oko 550,000 nezaposleni u Bosni," rekao je Almir Arnaut, nezaposleni economista i activista is Tuzle.
U Zenici i Tuzli politicari koji su proveli privatizaciju drustvene imovine su dali otkaz.
Zasto Sad? I Gde Sad?
Bosanski radnici zive pod neimastinom, masivnoj nezaposlenosti i opstoj miseriji vec 20 godina. Djeljenje vlasti u Federaciji izmedju etnicki entiteta je dozvolilo corumpirane politicare da se odrze na vlasti u jednoj od naj siromasiji zemalja evrope. U strahu od etnicki tenzija radnici do sada nisu u vecom broju preduzeli politicke akcije. Ali posoji limit. Massivna i kriminalna privatizacija i zatvaranje fabrika je bila zadnja kap u prepunoj casi.
Postoji zahtjev za unjedinjenost radnicke klase, koja se reflektuje u plakatima demonstranata i na Facebook. Jedan plakat je piso: "Ustaj Tito! Vidi sta tvoji pioniri rade!". Na Facebook cirkulirala je jedna slika u kojoj Tito gleda na sat i kaze "Vreme je da se vratim."
Razumljivo je da postoji nostalgia za Titovo vereme izmedju omladine. Roditelji pricaju svojoj deci o vremenu kada je skavo imao posao, niko nije gladovao i svako je mogao da ocekuje dobru buducnost, iako je bio Stalinisticki, jedno-partiski rezim koji je presjedo Yugoslovenskoj centralisticko planskoj privredi. Ali kapitalisam je izrastao u Bosnia od contra-revolucije ranih devedesetih godina I krvavog etnickog gradjanskog rata, I ovaj sistem je donijo radnicima Bosne i Hercegovine nista osim neimastine, corupciju I opasnost novog etnickog sukoba.
Ovo su rani dani Bosanskog ustanka ali cak i sada radnici i omladina su ujedinjeni. Oni su unedinjeni u svojoj zajednickoj mrznji za corumpiranu drzavu. U ovom vremenu ni jedno politicka partije u Bosni i Hercegovini ne prestavnja interese radnicke klase.
Virlo vazna istoriska promjena su mirni protest u Banja Luci, centralnom gradu Republike Srpske, gde oko 300 activista i gradjana su zatrazili jedinstvo svi etniciteta Bosne.
Oni su proglasili: "Me smo svi drzavljani Bosne i svi trpimo iste teskoce."
Activisti su postavili sledece zahtjeve:
• Aboliciju cantona;
• Da ze smanje parlamentarne plate za 50%;
• Otkaz directora PIO (fund za penzije I socialnu pomoc);
• Povecanje penzija i plata za 500 Convertabilni Marka;
• Poslove i benificije za nezaposlene;
• Abolicija illegalnoga rada i crnoga trzistea.
Protestanti su isto postavili zahtjeve za nacionalizaciju privatizovanih firma, limitaciju plata politicara, protiv nepotisma i pravo na minimalni standard zivljena i obrazovanja. Policia i veterani is armije su isto postavili svoje zahtjeve.
Radnici i socialisti oko sveta pozdravljaju Bosanske radnike i omladinu u svojoj borbi protiv privatizacije i za bolji zivot. Ali ova borba moze da se uspesno vodi samo sa anti kapitalistickom perspectivom, na bazi radnicke demokratije i socialisma.
Pozdrav iz Komiteta za Radnicki Internacional.
SOLIDARNOST I REVOLUCIJA!