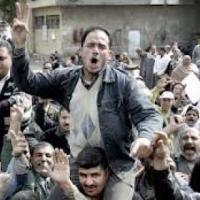 Government replaced
After several months in which few strikes took place, the past few weeks have shown once again the enormous potential strength of the Egyptian working class.
Twenty thousand Mahalla Spinning and Weaving workers went on strike on 10 February and occupied the company headquarters. They were demanding 1200 Egyptian pounds (EGP) a month, the minimum wage for public sector workers (but that excludes the private sector). Mahalla is a state-owned factory, yet some workers earn as little as 500EGP a month. The workers demanded payment of bonuses they had been promised but not received.
They also demanded the resignation of the company chairman, replacement of the commissioner of the Spinning and Weaving Company with an elected administrative board, and new elections of the leaders of the official trade union, who have been there since 2005.
After six days, 12,000 Kafr Al-Dawar Spinning and Weaving Company workers struck in solidarity with their Mahalla brothers and sisters. Six days later, Prime Minister Hazem El-Beblawy promised to meet the workers' demands. The strike was suspended for 60 days, with the threat that it will restart if the money is not paid by then.
New strike wave breaks out
On the day the strike ended, 40,000 public transport workers walked out, again demanding the public sector workers' minimum wage. The Independent Transport Workers' Union, formed since the downfall of Hosni Mubarak, organised many of the workers.
In recent days over 800 bus workers occupied their garage in Alexandria. Some low ranking police officers have taken action demanding the minimum wage (though in some areas the demand was also for arms for all police). Doctors, pharmacists and vets have taken part in a series of strikes since the New Year over pay, conditions and calling for improvements in education and the quality of the hospitals. Nurses' unions didn't officially back the doctors' strikes but 400 struck in Kafr al-Sheikh, demanding the reinstatement of a promised 40% bonus that had been cancelled.
Tanta Linen workers have protested, demanding the implementation of a court order authorising resumption of work after returning to the public sector, which has not been carried out by the last two governments. Postal Authority workers struck in dozens of post offices, demanding the minimum public sector wage. Some civil servants, land reclamation workers and road construction workers have also been on strike.
Workers' demands show their increasing impatience since the January 25th 2011 uprising that led to Mubarak's overthrow. "When people ask why are we striking today, it's because we were given promises before," one public transport worker told al-Ahram. "They said wait until a new government comes. A new president came and went and nothing changed. Now we're in a new crisis."
Government replaced
On 24 February, Prime Minister Hazem El-Beblawi announced his cabinet had resigned. It seems the announcement even took members of the Cabinet by surprise. Real power is held by the senior military officers. They took over following the ousting of Mohammed Morsi's Muslim Brotherhood government in the aftermath of the massive June 30th demonstrations, last year.
Field Marshal Abdel Fattah al-Sisi is expected to announce he will stand in a presidential election in May. The growing strikes, along with increasing al-Qaida-inspired attacks on government and some tourist targets in Sinai and the continuing economic problems seems to have prompted the military to replace the government. They do not want the election to take place with increasing expectations on him to 'sort the government out' and meet the workers' demands.
Al-Sisi is not Nasser
Al-Sisi is trying to portray himself as a modern day Nasser, the army officer who became president in the 1950s. Nasser oversaw significant industrial development and reforms that improved workers' living standards, making him enormously popular. However, he was able to balance between two world powers vying for influence in the Middle East, during a period of global economic growth.
Al-Sisi – and any capitalist government today – has no such room for manoeuvre. A period of sharp economic crisis affecting the main capitalist powers, increased competition for Egypt's industries from China and other low wage economies equipped with more modern machinery, falling tourist numbers after three years of turmoil and the disappearance of an alternative Stalinist bloc to lean on all mean relentless war against the living standards of Egypt's workers and the poor.
The new cabinet is much more firmly based in the military and Mubarak-era camp compared to its predecessor. That cabinet reflected the military's alliance last June with some liberals and former revolutionaries against the Muslim Brotherhood. Having played a role in winning support for the military from workers and the liberal-supporting middle classes against the Brotherhood, ministers from those backgrounds have been discarded.
Among the ministers who lost their jobs is Kamal Abu-Eita, a strike leader under Mubarak and president of the Egyptian Federation of Independent Trade Unions (EFITU) until his appointment as Minister of Labour. Abu-Eita's appointment last year was met with significant opposition both within EFITU and in other workers' organisations like the Permanent Congress of Alexandria Workers (PCAW). It was correctly seen as an attempt by the new military regime as an attempt to control the growing workers' organisations. But the latest strikes show that workers have not been intimidated by last year's return of the military tops to effectively running the government.
Mubarak's regime being reconstructed
The new prime minister is Ibrahim Mehleb, former chairman of the board of directors of Arab Contractors Company, a major construction company in the Middle East and Africa. He was an appointed member of the Shura Council (Parliament Upper House) in 2010 under Mubarak and a member of the policies committee of the former ruling, and now dissolved, National Democratic Party.
Other new ministers from the Mubarak era include Ibrahim El-Demeiri, who has become transport minister for the third time. His first term was 1999 to 2002, when he was replaced after an overcrowded train caught fire, killing 373, in Egypt's worst train disaster.
Nabil Fahmy, the new Minister of Foreign Affairs, was Mubarak's ambassador to the USA from 1999 to 2008.
Adel Labib, now Minister of Local and Administrative Development, was a provincial governor under Mubarak, against whom there were major protests.
Atef Helmy, Minister of Communications and Information Technology, was managing director of Oracle Egypt, part of the US-owned multinational corporation.
These ministers intend to restore the grip of the old regime of business and military leaders, but more firmly under the military's control than Hosni Mubarak's regime towards its end, when his son, Gamal, was appointing his own cronies into key positions. In a clear reference to recent strikes and hinting that these were linked to the Muslim Brotherhood, Mehleb called for an end to "factional protests".
They are attempting to use their control of much of the media, both state-controlled and privately owned, to rewrite recent history. The mass uprising that began on January 25th 2011, which brought down Hosni Mubarak, is being portrayed as a power-grab by the Brotherhood, while the June 30th 2013 against the Morsi government is described as the real revolution.
Independent socialist alternative needed
But workers' and young people's memory of the past three years will not be easily wiped out. The masses have seen their power to make change, but have not yet found a means to change society in their own interests. On two occasions, first against Mubarak and then against Morsi, rulers have been overthrown but on both occasions the working class did not have a concrete programme and organisations to take power into their own hands. A striking public transport worker told al-Ahram, "Since the revolution we've has six different governments, from all the colours of the spectrum. They take an official out, and replace him, remove one, replace him with another. But the policies are the same. The powerful loot and the poor get buried."
Revolutionary workers and youth will be discussing this latest stage in the ongoing Egyptian revolution. Just as the Spanish revolution of the 1930s swung backwards and forwards from revolution to counter-revolution, Egypt has been in a state of flux for the past three years.
Workers need to build their own independent revolutionary party to fight for a government of the workers' and poor committed to real democratic socialist change. Appealing to workers throughout the Middle East, North Africa and beyond to follow that example would break the power of international capitalism that is responsible for poverty, insecurity and repression.