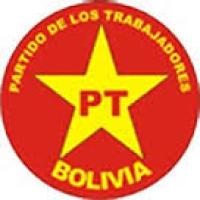 El PT hoy y las perspectivas
A principios del 2013 en una conferencia sindical realizada en Cochabamba se dio inicio a la conformación del instrumento político de los trabajadores con la participación de la Central Obrera Boliviana (COB) único ente matriz de los trabajadores del país. La expectativa de un nuevo partido de trabajadores en oposición por izquierda al gobierno de Evo Morales significaba un importante cambio cualitativo en el escenario político nacional. A la vez que significaba un paso adelante en el terreno político para una clase obrera muy golpeada y limitada a lo reivindicativo salarial.
La idea de un partido de trabajadores se venía discutiendo desde una década atrás en los distintos congresos de la COB y aprobado como resolución pero nunca llevada a cabo por las distintas burocracias que lo "encajonaban". Pero el último congreso aprobó como resolución expresa la conformación del PT para esta gestión. Por presión del sector más combativo de la clase obrera nacional como era el sindicato minero de Huanuni (hilo conductor del viejo movimiento minero boliviano y única mina nacionalizada luego de una histórica lucha que dejó varios muertos bajo el gobierno del M.A.S que se opuso) la burocracia de Trujillo (secretario general de la COB) no tuvo más alternativa que lanzar el PT. Si bien la burocracia no tenía la intención de construir el PT, de todas formas le podía servir como medio para negociar con el gobierno del M.A.S
Fue así que en el mes de marzo se realizó el primer Congreso del Partido de los Trabajadores (PT) en el distrito minero de Huanuni con la participación de 1.300 delegados de distintas organizaciones sindicales afiladas a la C.O.B. Se aprobó un programa político muy avanzado que planteaba la independencia política de los trabajadores frente a las distintas variantes burguesas incluido el M.A.S y la lucha por un gobierno de trabajadores y campesinos. También se aprobaron unos estatutos democráticos que permitían la participación de las organizaciones de izquierda revolucionaria.
Luego de la fundación del PT aconteció una de las luchas más importantes de la clase obrera boliviana en los últimos veinte años. La huelga general indefinida por una ley de pensión justa para los trabajadores duro casi 20 días con cortes de rutas, piquetes y paro de la producción en varios rubros como fabriles, mineros, magisterio, salud, entre otros (En Bolivia los trabajadores financian 97% de su jubilación y el Estado está exento de aportar). La huelga fue creciendo día a día gracias a la provocación del gobierno que la reprimió hiriendo gravemente a varios trabajadores fabriles de Cochabamba y a los mineros de Huanuni en Oruro. Incluso el gobierno buscó enfrentar a los trabajadores convocando a la movilización de sus bases campesinas y tildando de pro-imperialista a los trabajadores.
El crecimiento de la huelga y la adhesión de otros sectores a la lucha no solo asustó al gobierno sino que también a la propia burocracia de la COB que se veía desbordada por las bases. Fue entonces cuando la burocracia en alianza previa con el gobierno hizo una maniobra astuta para desmovilizar y acabar con la huelga general. Confundiendo a las bases con la idea de que habían llegado a un acuerdo beneficioso para los trabajadores en relación a la ley pensiones llamaron a "cuarto intermedio" para negociar con el gobierno. Una vez desmovilizadas las bases, la COB finalmente llegó a un "acuerdo" para modificar la ley en puntos absolutamente secundarios dejando intactos los puntos más importantes.
A partir de allí, el gobierno entendió claramente el peligro que significaba un PT con independencia política y mucho más a la cabeza de un sindicato obrero tan combativo como Huanuni que se estaba transformando en la piedra en el zapato para el M.A.S.
La ofensiva gubernamental se desarrolló en su máxima expresión. Derrotada la huelga general quedaban las condiciones objetivas para derrotar al sindicato de Huanuni. Con extorciones financieras y ataques a los trabajadores de base, el gobierno fue debilitando el espíritu combativo de los trabajadores hasta lograr hacer renunciar a la dirección, para acto seguido convocar elecciones y retomar el sindicato a la cabeza de reconocidos burócratas afines al gobierno.
Con Huanuni derrotado el PT se quedaba sin su base más firme, lo cual significaba un enorme retroceso en las perspectivas de construir un partido de trabajadores basado en los sindicatos. Mientras tanto el gobierno seguía cooptando a las distintas direcciones sindicales. La estocada final en tales condiciones las dio la propia COB cuando a finales del año pasado en una asamblea totalmente amañada y a espaldas de las bases deciden abandonar el proyecto del PT y apoyar la candidatura de Evo Morales para la reelección del 2014.
Luego de semejante traición de la burocracia cobista, las distintas organizaciones intermedias como las COD´es, las confederaciones y federaciones del resto de los sindicales fueron una a una capitulando y expresándose a favor de la candidatura del M.A.S. Todas ellas lo hicieron sin consenso de sus propias bases.
El gobierno al lograr cooptar a las organizaciones sociales logra por un lado legitimar su reelección en los próximos comicios y a su vez tener un año de relativa calma social al evitar que los sectores organizados de la clase obrera salgan a luchar por sus reivindicaciones.
El PT hoy y las perspectivas
A pesar de que el gobierno logró cooptar al movimiento sindical no pudo hacer que el PT desaparezca físicamente. Si bien hoy el PT no significa ningún peligro real para el gobierno y las posibilidades de participar en el escenario electoral de este año son casi nulas, de todas formas el gobierno busca liquidar al partido como idea ya que entiende que en un futuro podría resurgir sobre la base de una crisis y mucho más fortalecido en su núcleo.
El retroceso objetivo del PT tiene su contracara en el fortalecimiento del gobierno para este próximo periodo, donde el M.A.S se juega su reelección que le permita sostener su hegemonía en el parlamento nacional.
La tarea de los socialistas hoy en Bolivia es defender la imagen de un PT combativo y socialista contra las fuerzas reaccionarias del Estado y contra sus agentes internos dentro del movimiento obrero como es la burocracia. Al interior del PT quedan obreros dispuestos a sostener una lucha a muerte por hacer del PT un partido con independencia de clase. Entre ellos se cuenta con Mario Martínez que viene desafiando todas las amenazas del gobierno y de sus agentes en Huanuni que ponen en riesgo su integridad y la de su familia. La izquierda revolucionaria debe adherirse a este sector de trabajadores y dar una lucha contra todo aquel que ponga en riesgo la idea del PT clasista y combativo.
Al mismo tiempo como ASR entendemos que es de vital importancia utilizar tácticamente el PT como herramienta para, por un lado, delimitarnos de la burocracia traidora frente a las bases obreras, que nos permita dar una lucha en el terreno sindical por recuperar sindicatos para el partido. Y por otro lado, generar una política de delimitación más amplia por izquierda frente al nacionalismo burgués del M.A.S que nos permita desarrollar un programa de reivindicaciones no solo para el movimiento obrero sino para todas las clases explotadas de Bolivia que aun hoy mantienen cierta esperanza en el gobierno.
La construcción de un nuevo partido de la clase obrera en Bolivia sigue en pie a pesar de los múltiples obstáculos que existen en el actual periodo. Pero la crisis del sistema capitalista mundial hará recaer en la espalda de los trabajadores bolivianos los costos de la crisis, entonces más temprano que tarde la clase obrera tendrá que poner en marcha su partido sin burócratas ni traidores en la perspectiva revolucionaria del socialismo.
Special financial appeal to all readers of socialistworld.net

Support building alternative socialist media

---

Socialistworld.net provides a unique analysis and perspective of world events. Socialistworld.net also plays a crucial role in building the struggle for socialism across all continents. Capitalism has failed! Assist us to build the fight-back and prepare for the stormy period of class struggles ahead. Please make a donation to help us reach more readers and to widen our socialist campaigning work across the world.

Donate via Paypal

CWI- Please inform us if you are reproducing any material from this site.