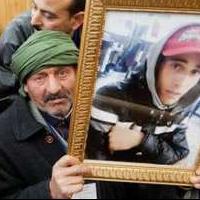 Justice for the martyrs!
On April 12, 2014, the Military Court of Appeal of Tunis pronounced its verdicts in the three trials of those accused of causing deaths and injuries to protesters during the revolutionary upheavals of late 2010-early 2011 in the cities of Thala, Kasserine, Greater Tunis and Sfax.
The sentences against senior political and security officials of the regime of Ben Ali are, unsurprisingly, far from 'fair'.
In fact, the families of martyrs and wounded of the Tunisian revolution feel cheated and of having their rights violated following the lenient sentences handed to those responsible for the violent repression during the uprising against Ben Ali regime three years ago.
Indeed, Ali Seriati, the former director of the presidential guard of Ben Ali, Lotfi Zouaoui, former Director General of Public Security, Adel Touiri, Director General of the National Security Committee , the Brigadier Jalel Boudriga, former Chief of the intervention units, and Rachid Abid, former CEO of the specialized units, were all sentenced to only three years in prison. As they had already spent this time in custody, it means that they have now been released. Former Interior Minister, Rafik Haj Kacem, was also condemned to three years in prison and will be released next month.
In protest at these lenient sentences, some families of martyrs and wounded have begun a hunger strike at the Human Rights Square in central Tunis. They are supported by other families in Kasserine.
Mohamed Ben Aoun, a native of Douz, injured during the revolution and brother of martyr Riadh Ben Aoun fallen on the 24 December 2010, spoke to Tunisian activists of the CWI. He believes that the sentences are nothing else than a political verdict – a sentiment shared by almost everyone.
One of their most urgent demands is the cancellation of the judgments, and the immediate transfer of the trials to a civilian court. They also want a travel ban for all the incriminated, pending the next trial.
As in Egypt, the Tunisian military court is producing verdicts tailored to cover up the exactions of high-ranking officials of the former regime. At the same time, many revolutionary activists across the country are victims of increased repression – with arbitrary arrests and trials built on fake accusations.
The CWI and its supporters in Tunisia express their solidarity with the families of martyrs and wounded of the revolution. We denounce the policy of leniency towards the murderers as well as the repression and intimidation of the victims and their families, and of revolutionary activists at large.
We call for international solidarity against this verdict, and to actively mobilise in Tunisia to counteract this travesty of justice.
Letters of protest can be sent to the Ministry of Justice: mju@ministeres.tn, and Defense: defcab@defense.tn