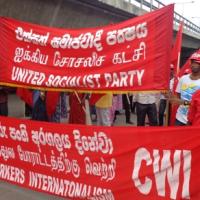 Photos of United Socialist Party march and meeting
The traditional march of the United Socialist Party (CWI Sri Lanka) went ahead on May 1st in Colombo, in spite of the continuing difficulties that the Rajapakse government creates for those who argue for free speech, democratic rights and socialism. It made its way from Meetotamulla in the North of the city, through predominantly Muslim, Tamil and Portuguese areas to Grand Pass Junction. A large number of local people turned out to listen to the speeches at the USP rally in the square at Kosgass Junction.
Also on the first of May, Siritunga Jayasuriya was on a three-hour live TV programme with the minister of labour, another government minister and a leader of the People's Liberation Front (JVP). He expressed workers' opposition to the government's attacks on their pension and provident funds and received many phone calls of appreciation, especially for this.