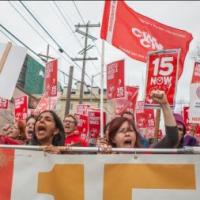 Spreading and organising the movement for decent wages
On 4 September strikes and protests took place in over 100 cities around the US demanding an end to low pay in the fast food industry and a $15 an hour minimum wage. This is the latest action in an ongoing movement for decent wages and conditions. In an outrageous attack on the democratic right to protest, 436 people were arrested across the country.
William Blueher (member of Socialist Alternative – co-thinkers of the Socialist Party in the US), gives an update on the movement to raise the minimum wage.
In 2012, fast-food workers in New York went on strike to demand higher wages. Practically overnight, these strikes spread to cities across the country.
Last year, this struggle was brought to Seattle when Socialist Alternative ran a candidate for city council, Kshama Sawant, whose platform included a demand for a $15 an hour minimum wage. This key demand helped propel Sawant into office, and within the first six months, Seattle won $15, becoming the first city in the entire country to achieve such a victory for its workers.
Spreading the movement
But Seattle is not alone. Cities and states all over the country are beginning to see people come together around this issue, particularly after President Obama's failed attempt to raise the federal minimum wage to even a modest $10.10 (from $7.25).
In Chicago, in March, a nonbinding resolution to raise the minimum wage to $15 an hour appeared on the primary ballot, and a staggering majority – over 87% – of Chicagoans were in support of it. Now, Mayor Rahm Emanuel has assembled a minimum wage task force to try to raise the minimum wage to $13 an hour by 2018.
In San Francisco, home to some of the greatest income inequality in the entire country, a "consensus measure" for the November ballot has been put forward that would raise the minimum wage in the city to $15 an hour. Inspired in large part by their neighbours in Seattle, activists are pushing hard to make sure the same loopholes that the Democrats and big business secured in the Seattle minimum wage law are not repeated in San Francisco. Activists in Los Angeles are pushing forward a similar ballot measure.
No loopholes!
In Massachusetts, the legislature just passed a bill to raise the state's minimum wage to $11 an hour by 2017, making Massachusetts home of the highest state minimum wage in the country. While this is undeniably a huge gain for hundreds of thousands of workers, the bill has serious problems. One is that that $11 an hour is not indexed to inflation, so what seems like a big gain now will rapidly erode.
In New York City, newly elected Mayor Bill de Blasio rode into office decrying the "tale of two cities," he has yet to come out publicly with a plan to raise the minimum wage. Recently, however, Governor Andrew Cuomo claimed he would raise the state minimum wage to $10.10, allowing municipalities, which currently don't have the right to set their own minimum wage, to go 30% higher than that.
Now more than ever, as these cities and states across the country begin to take up the issue of the minimum wage, it is imperative that activists, workers, and organised labour join together to demand a meaningful minimum wage increase.
Subsidised hunger
The United States is the richest country in the world, but one in six Americans (48 million) admit that they run out of food completely at least once a year.
There are now 15,000 food banks (called Food Pantries in the US). The federal Supplementary Nutritional Assistance Program (formally known as Food Stamps) supplies 48 million Americans with an average of $133 (£80) a month – just finding enough to eat and feed their family has become a central worry for millions.
Most of the hungry are working, drive cars, may appear well-dressed and are even overweight. But in a big country with poor public transport, a car is vital. And if they are overweight it's because the only food they can afford is junk. When a family has to pay rent, pay fuel bills and keep a car on the road just to survive, the only thing left to cut is food.
And the cheapest food in the supermarket is processed, with a high content of maize flour and corn syrup. It is cheap because the US Government gives nearly $11 billion a year in subsidies to agribusiness maize and soya growers. Corn syrup goes into sodas, and energy drinks – amazingly these provide the largest daily source of calories for low income families.
As one expert put it "The problem can't be fixed by merely telling people to eat their fruit and vegetables, because at heart this is a problem about wages, about poverty."
The 'problem' is that agribusiness is subsidised to produce unhealthy food, while millions of workers are not paid a living wage.
15 Now campaigns growing
15 Now, the driving force behind the triumph of $15 an hour in Seattle, is an organisation that has a unique role to play in the movement. It is a constant presence in communities that does not just come and go on the important days of action. 15 Now doesn't limit its demands to what Democrats will deliver. It had a democratically run national conference in April and is setting up democratic structures throughout the country.
In Minneapolis, 15 Now is leading a determined struggle of airport workers to get higher wages. We are organising alongside workers – union and non-union – to fight to win significant improvements in living conditions. In airports, there are concentrations of both food service and airline workers. When united, these workers have tremendous power in a vital industry. Across the country, we can turn airports into sites of struggle for $15 an hour.
In Wisconsin, lawmakers were discussing increasing the minimum wage to $10 an hour. 15 Now and allies in many endorsing unions packed the meeting to demand more, getting an echo and changing the conversation.
In Philadelphia, two city councillors, due to the pressure of our movement, signed up to the demand for a $15 an hour minimum wage.
Setting up local groups
We've organised 15 Now groups in both Pittsburgh and Allentown. The Pittsburgh meeting was a "who's who" of the local labour movement.
15 Now Boston has a nonbinding referendum on the ballot in West Roxbury, and 15 Now in Portland, Maine had its launch on the front page of the popular Portland Phoenix weekly newspaper. 15 Now in New England is backed by two of the biggest unions in the region, the Massachusetts teachers' and nurses' unions.
We've been active out on the West Coast and down South, too, with new groups popping up in Los Angeles, in Arizona, and and in Tampa Bay, Florida. There is far too much activity to mention it all here!
In Seattle, we'll be hosting a concert with Rage Against the Machine guitarist Tom Morello to raise funds for our movement!
Ty Moore, Socialist Alternative