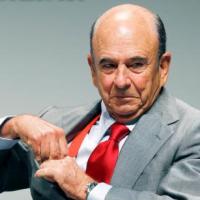 Continúa la dinastía Botín.
El 10 de septiembre pasado falleció de un infarto Emilio Botín, el banquero que presidió por más de 30 años el banco Santander. Emilio Botín siguió a su padre y a su abuelo en la presidencia de la entidad financiera, ahora le ha sucedido su hija Ana1, continuando así la dinastía. Se cumple así con la voluntad de Emilio Botín que dejó una hoja de ruta de su sucesión hace 10 años. Esto a pesar de que los Botín solo detentan la propiedad directa del 0,7% del banco, y la oposición de los inversores institucionales, del Banco central de España y del Banco Central Europeo, que especialmente tras la quiebra del Banco do Espirito Santo, el primer banco portugués que acaba de ser rescatado por el estado y rebautizado Novo Banco, en que quedaron comprobadas los peores temores sobre el papel de un grupo familiar controlador sobre un banco tan poderoso.
Cuando Emilio Botín tomo las riendas del Banco Santander era un banco importante pero relativamente pequeño, la situación actual es muy distinta. Esta entidad financiera es hoy la primera en España, y ocupa la posición onceava a nivel global, medido por capitalización en la bolsa. En el mundo se conoce como Grupo Santander a la red de bancos, presentes en todo el globo, principalmente Europa y Latinoamérica, alrededor de la casa matriz, el banco Santander de España.
Desde que asumió la presidencia Emilio Botín desarrolló una política agresiva hacia los clientes, la "Súper cuenta", acuerdos, fusiones, adquisiciones (Central Hispano, Banesto), y expansión internacional colocaron a Santander como el primer banco español y presencia en el mundo, ahorro de costos relativos de mano de obra con incorporación de tecnologías, imposición de la meritocracia, el aumento de la intensidad del trabajo, y el outsourcing (externalizaciones), junto con el debilitamiento de los sindicatos con un permanente esfuerzo de cooptación de sus direcciones, y prácticas anti sindicales, denunciadas especialmente en América, le permitieron capear la crisis que hundió a tantas instituciones financieras en España, beneficiándose de su presencia en las llamadas economías emergentes especialmente en México, Brasil y Chile.
El Grupo Santander tiene alrededor de 14.000 sucursales, 183.000 empleados, 103 millones de clientes y 3,3 millones de accionistas en todo el mundo. Es interesante notar las fuentes geográficas de sus ganancias. El año pasado, Latinoamérica fue la fuente del 47% del beneficio del Grupo (Brasil 23%, México 10% y Chile 6%)2; del continente Europeo provino el 43% (Gran Bretaña 17%, España 7%, Alemania 6% y Polonia 6%), y de Estados Unidos, otro 10%.
El Banco Santander en España, ha sido el que – hasta ahora – mejor ha superado los graves problemas de la banca española, inmersa en la crisis financiera producto del estallido de la burbuja inmobiliaria española, en el marco de la recesión global originada en los Estados Unidos en 2007-2008, y salió fortalecido, lejos como el banco más importante de entre todas las instituciones españolas. En general el Grupo Santander ha aprovechado las oportunidades abiertas por las dificultades económicas y financieras por muchos bancos en el mundo para adquirir instituciones financieras en muchos países, incluida claro está la propia España, donde hay que contar Banesto y Banif.
Alejandro Nieto González comentó en el blog Salmón que "Lo que está claro es que el panorama para el Santander es ahora muy favorable. Hay muy poca competencia en España, después de las reestructuraciones recientes, con lo que si la economía se recupera tendrán fuertes beneficios. Sigue estando fuerte a nivel internacional y la única duda es si será capaz de mantener los riesgos acotados y altos beneficios en un entorno de tipos tan bajos."3
Los Bancos, Santander incluido, son parte principal del problema.
El estallido de la burbuja inmobiliaria gestada por el maridaje entre el sistema bancario y las grandes inmobiliarias, ha tenido consecuencias terribles para los españoles de las que aún no se recuperan; el desempleo llegaba al 27 de la población activa en 2013. El 55% de los menores de 25 años se encuentran en desempleo, a lo que hay que agregar otro 7% de jóvenes ninis, que ni estudian, ni trabajan, ni buscan empleo.
Otro drama del que la banca es responsable, incluido el Santander, es el de los deudores hipotecarios, durante el auge y la burbuja, los bancos y cajas de ahorro estimularon el endeudamiento de la población para adquirir viviendas sobrevaluadas, pero al estallar la burbuja, aumentar el paro y bajar los ingresos, muchos de los deudores se encontraron con que no podían pagar, y además sus hipotecas superaban con mucho el valor de la vivienda, de manera que incluso cuando son desalojados a la calle de los inmuebles se quedan con cuantiosas deudas.
Corrupción y evasión.
La crisis del sistema bancario dejó al descubierto los negociados y corrupción de los altos directivos y propietarios de Cajas y Bancos. En 2011 se destapó escándalo de la evasión tributaria y de divisas de Botín,  los depósitos en cuentas suizas de 2.000 millones de euros titularidad de las dos ramas de la familia Botín, la de Emilio Botín del Grupo Santander y la de Jaime Botín de Bankinter. El personaje más comprometido, el consejero delegado del Santander, Alfredo Sáez. Condenado por el Tribunal Supremo consiguió un cuestionado indulto gubernamental, y una ley hecha a medida del grupo, al final simplemente salió de la entidad.
"Alfredo Sáenz ha desarrollado una magnífica labor y el consejo le ha ratificado toda su confianza", con estas palabras defendió Emilio Botín al todavía consejero delegado del grupo, durante la junta de accionistas del banco en 2013. 
A principios del año 2014 el Banco Santander España anunció que reduciría su plantilla en 1.500 empleados, entre prejubilaciones, jubilaciones y bajas, según los sindicatos se esperaban 1.000 prejubilaciones, lo que continuaría las 1.000 prejubilaciones del 2013. En marzo estas cifras habían aumentado. "El Banco Santander acelera su drástica reducción de plantilla en más de 3200 trabajadores contando bajas y despidos  entre enero de 2013 y febrero de 2014, principalmente debido a la integración en su red de oficinas del Banesto.
El Banco Santander ha producido en los últimos catorce meses, desde inicios del 2013 y hasta finales de febrero pasado, 3 441 bajas en la entidad, según datos aportados por el banco a los sindicatos y difundidos por UGT. A la vez, ha registrado sólo 232 altas en el mismo periodo de tiempo, de modo que la plantilla ha descendido en unos 3 209 empleados. A finales de 2013, el banco tenía una plantilla de 25 665 trabajadores. El sindicato aunque ha firmado el "Acuerdo de Fusión" de Banesto, Banif y el Santander, criticó "el excesivo número de despidos".4
Esto no ha sido óbice para que a la muerte de Emilio Botín los sindicatos CCOO, UGT, FITC y STS de España emitieran un dolorido y sorprendente comunicado en el que señalan que "valoramos la dimensión de la figura de Emilio Botín tanto en nuestra Empresa como en el conjunto del Sector Financiero. (…) generando valor para la Empresa y estabilidad en el empleo."(…) "bajo la presidencia de Emilio Botín, en el Banco Santander y en Sector Financiero se ha consolidado un marco estable de Relaciones Laborales que, más allá de las discrepancias entre Empresa y Sindicatos, ha permitido un diálogo permanente que se ha traducido en una reestructuración ordenada en el Sector y en el Banco, y la consecución de acuerdos para la estabilidad de las condiciones de trabajo de la plantilla."
El sector financiero no produce valor directamente, pero a través del crédito y la creación de masa monetaria asociada puede dinamizar la actividad económica, o por el contrario alimentar burbujas especulativas y de súper precios, antesala de la destrucción de valor y la recesión. En este sentido, el sector financiero, es central en cualquier economía capitalista. Por lo mismo desde el punto de vista de los intereses de los trabajadores y sus familias, no podemos renunciar a la reivindicación socialista de nacionalizar la banca y ponerla a trabajar a favor de los intereses del desarrollo económico y social de las grandes mayorías de la población. Mientras la banca esté en manos de unos pocos que la utilizan para concentrar la riqueza entre pocos privilegiados a costa del padecimiento de millones, no es posible avanzar hacia un mundo mejor.
Special financial appeal to all readers of socialistworld.net

Support building alternative socialist media

---

Socialistworld.net provides a unique analysis and perspective of world events. Socialistworld.net also plays a crucial role in building the struggle for socialism across all continents. Capitalism has failed! Assist us to build the fight-back and prepare for the stormy period of class struggles ahead. Please make a donation to help us reach more readers and to widen our socialist campaigning work across the world.

Donate via Paypal

CWI- Please inform us if you are reproducing any material from this site.