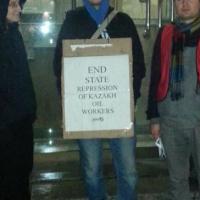 Struggle to free political prisoners continues
From Monday to Friday of this week in cities from London to Warsaw and Athens, letters are being delivered to Kazakhstan authorities to mark the third anniversary of the Zhanaozen massacre. (See Campaign Kazakhstan article here). They have called for the release of all those imprisoned along with the oil-workers' leader, Rosa Tuletayeva, after the events of December 16th 2011. Rosa was freed in November of this year after widespread campaigning, which needs to continue.
Warsaw, Poland
The letter handed into the embassy in London called for the release of all political prisoners and named, in particular, the valiant human rights lawyer, Vadim Kuramshin and the writer Aron Atabek.
In Warsaw campaigners demonstrated outside the Polish Ministry of the Economy which is heavily involved in promoting investment and collaboration with the Kazakhstan regime.