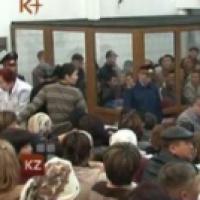 Campaign Kazakhstan: "Stop the frame-up of the Zhanaozen strikers!"
"A court hearing against arrested oil strikers and their supporters got off to an ignominious start", Campaign Kazakhstan reports. "Thirty seven strikers and their supporters are charged with crimes ranging from rioting, organizing a riot, using weapons and resisting the authorities." Independent journalists and human rights activists are banned from court.
The CWI supports the call for solidarity with the Zhanaozen strikers. See the report in full length on the Campaign Kazakhstan website.