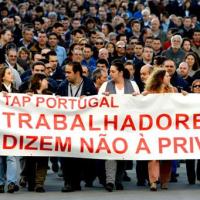 Solidarity messages needed with "requisitioned" airline workers
The main airline company in Portugal, TAP, will strike from 27-30 December. This strike is being called by a platform of 12 trade unions and its main demand is against the privatization of the company.
In an extreme repressive move, the government has issued an order for civil "requisition" of workers, forcing all the workers to attend work and effectively denying the right to strike. This legal measure can theoretically be used when the "national interest" is in jeopardy and that is the argument of the government.
Socialismo Revolucionario (CWI in Portugal) is calling for all the solidarity possible, especially a solidarity strike from trade unions in the transports and communications sector, against the privatization of TAP and for the right to strike, as a step towards wider trade union action.
So far, both Trade Union federations (CGTP, and UGT) have both condemned this measure. The Left Bloc has called for the Minister of Economy to appear in Parliament but no decisive working class action has been put on the table.
We are calling on trade unionists and socialists internationally to send solidarity messages to mail@snpvac.net with copies to socialismo.revolucionario.cit@gmail.com