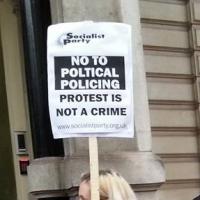 Arrests continue
Political policing – in the form of arrests of anti-water charge protestors for a fourth consecutive day – continues in Ireland. This morning, 4 more protesters, including a 15-year old and a 17-year old were arrested.
Yesterday, CWI supporters organised solidarity protests in London, Berlin, Belfast, Vienna and Sweden, in protest. Below we publish photos of these demonstrations.
London
Berlin
Stockholm
Belfast
Vienna
Protests – against the political detention of anti-water charges activists -should be addressed to Garda Commissioner, Noirin O Sullivan, and emailed to pressoffice@garda.ie with copies to webmaster@taoiseach.gov.ie and info@socialistparty.ie. Pickets of Irish embassies/ consulates against political policing of peaceful protestors will also be welcome.