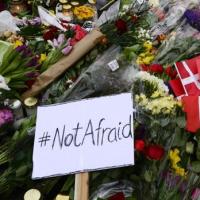 United struggle needed against right-wing policies
This weekend's two brutal attacks in Copenhagen by a terrorist firing from an automatic weapon have left three dead, five policemen injured and a country in shock. They must be clearly condemned.
In Denmark, as in Sweden and throughout Europe, these events naturally lead to renewed fears about more terrorist acts and increased racism – Islamophobia as well as anti-Semitism. The risk is also great for an increase in 'racialised' police checks, official campaigns against any kind of 'radicalism' and state surveillance.
Even worse disasters were apparently averted by the presence of police officers at the scene of both attacks. This was the case at the first one on Saturday afternoon against a meeting that featured the Swedish artist Lars Vilks, who has been threatened with murder since his drawings of Prophet Mohammed as a dog and then shortly after midnight on Sunday at an inner-city Copenhagen synagogue where a Bat Mitzvah was taking place. Both shock and the fear of further attacks has characterised the Jewish response in both Denmark and Sweden.
Parallels with France?
The pattern is strikingly similar to the terrorist attacks in Paris, first against the satirical magazine 'Charlie Hebdo' and then against a Jewish supermarket, although in this case they seem to have been carried out solely by the alleged offender, Omar Abdel Hamid El-Hussein, who was killed by police in the subsequent police chase. Two young men have been arrested on suspicion of having helped the gunman.
The attacker was a 22 year old Danish-born son of Palestinian refugees, released from prison just two weeks before the terrorist attacks after he had served a sentence for stabbing a man in a local train. Omar El-Hussein is also said to have been known by the police earlier for possession of weapons and gang-related crime.
He is also said to have been one of 39 people listed by the Danish Prison and Probation Service as 'radicalised' and, among other things, had spoken openly about his desire to travel to Syria to fight for the 'Islamic State'. Like the French terrorists, he was therefore already known to the police intelligence service, PET. El-Hussein had also, an hour before the first terrorist attack, put up a video praising jihad on his Facebook page.
Two people were killed. One was a film director outside a meeting entitled 'Art, blasphemy and freedom of expression'. Also attending were a British artist, a representative of the feminist group, FEMEN, and the French ambassador. The other was Dan Uzan, a volunteer standing guard outside the synagogue. "I dare not imagine what would have happened if he (the gunman) had got in to the building", the Jewish Community Chairman, Dan Rosenberg Asmussen, told the Danish newspaper, EkstraBladet
Although the media conveys the image of an attack on a meeting for "freedom of speech", there is unlikely to be a reaction like the wave of sympathy that met the attack on Charlie Hedbo. The 'satire' of Lars Vilks and his support committee, is perceived as a one-way mockery of Islam. A telling indication of Vilks' motives is how he explained his own presence at the Islamophobic Conference held in New York in 2012 under the title 'Stop the Islamisation of Nations'. It was "a part of his artwork", he said. Whatever his views, however, they do of course not justify the deadly attack on his meeting, just as the reactionary policies of the Israeli government cannot justify the attempt to kill ordinary Jewish people at a Synagogue.
Response
Tens of thousands of Danish people participated in Monday's demonstrations against terrorism. Denmark's prime minister, Helle Thorning-Schmidt, spoke of the need for transparency and cohesion, similar to what the French president, Hollande, said after the terrorist attacks in Paris. However, the opposite message of tighter state surveillance and control in society has also been given.
"There are dark forces who want to hurt us, and therefore we must deliver sharp replies. We will experience a Copenhagen that looks different and sounds different for some time", said the Danish justice minister, Mette Frederiksen.
EU president, Donald Tusk, has promised the speedy implementation of a common strategy against extremism and terrorism that the EU government heads agreed on just a few days ago, which includes proposals for a systematic recording of air passengers, tightened controls of the EU's external borders and increased cooperation between intelligence services.
Sweden
Also, in Sweden, the Social Democrat interior minister, Anders Ygeman, has announced a parallel effort with a new national counter-terrorism strategy to further strengthen the sharply increased resources for more police, intelligence work, surveillance and protection of institutions and persons that started after a failed terror attack in 2010.
The Swedish daily, Dagens Nyheter, lists some of the key elements of the new national strategy against terrorism as "preventive measures against people becoming radicalised and recruited to participate in terrorist battles, emergency investigations to criminalise terror war trips, the criminalisation of recruitment, financing and organisation of terror war trips". Ygeman also talks about looking into the possibility of much more extensive video surveillance in the framework of the laws that already exist.
So far, no torture centres similar to those used by the US at Guantanamo Bay or outsourced to pro-Western dictatorships are proposed. But the risks are obvious of moves in the direction of a development where increased policing and registration of opinions in high immigrant housing areas adds to the frustration that is already germinating.
Clearly ominous is the sweeping rhetoric from the former Swedish Social Democrat leader, Mona Sahlin, who has been appointed as national coordinator against 'violent extremism'. Sahlin wants teachers, social workers and religious leaders to assist the secret police to spy on children and young people at risk in order to seek out violent extremism. On radio, television and in the newspapers she is now repeatedly equating what she names as the "three major hate ideologies" – jihadism, the extreme right and left-wing extremism. And she has difficulty distinguishing between a sharp criticism of Israeli state oppression and anti-semitism.
Our record
Rättvisepartiet Socialisterna (CWI Sweden), like other left-wing organisations, has many times participated in demonstrations against Israel's terror bombing of Gaza, for example, but has a crystal clear line against anti-Semitism. We have very rarely heard any slogans or other expressions of anti-semitism on such demonstrations, where, incidentally, an organisation called 'Jews for peace' most often participates.
Sahlin lacks all sense of proportion. When expressing her condemnation of Jihadist terror and violent Nazism she adds that the slogan "anti-fascism is self-defence" (a phrase used by some anti-fascists to indicate preparedness to stand up physically to attacks on them) is an example of an equally dangerous violent left-wing extremism. Violent racism can never be equated with physical self-defence against it.
Sweden's ruling politicians, just as in Denmark and the European Union, are unable to admit their own political responsibility for violent extremism, caused by both their foreign and domestic policies. The perpetrator of the attacks in Copenhagen last week, like those in France in January, apparently comes from a working class area with a high level of unemployment.
Provocative foreign policies
The Danish journalist and author, Carsten Jensen, has asked in an article after the terror attack if 'official Denmark' has not largely itself to blame as a "self-radicalising nation" which has deliberately steered towards confrontation and whether it is just a coincidence that the sparks of terror ran from Paris directly to Copenhagen?
"Denmark, together with Belgium and the UK, are the only European countries that have participated during the last twelve years in the four wars – in Iraq, Afghanistan, Libya and now against the Islamic state," he writes. He recalls that Denmark in their parliament also has the strong xenophobic right-wing Danish People's Party, which could become the largest party in the next election and whose reactionary opinions have been adopted by the majority of the parties in parliament. The more Sweden is integrated into NATO and involved in this catastrophic kind of war, as in the air war against Libya and the new mission in Mali, the more the corresponding threat increases in Sweden too.
But as a spokesperson for the initiative 'Copenhagen for Diversity' explains, "Marginalization, discrimination and humiliation by a minority [is] also a breeding ground for extremism". Another factor is that prisons are an environment that consolidates and radicalises a feeling of alienation, which appears to be exactly what has happened in the case of Omar El Hussein.
Fortunately, there is some hope in Denmark of a movement for a different society developing. For example, there are many times larger counter-demonstrations against the attempts to establish a Danish branch of the xenophobic and islamophobic Pegida movement who wanted to establish racist Monday marches in several Danish cities. Another important feature is, as a recent opinion poll indicates, support for the left wing "Enhedlisten" (Unity List or Red-Green Alliance) has continued to increase. In Copenhagen it has reached upwards of 20 percent and achieved the status as the capital's biggest party.
Counter to the ruling parties' campaigns against "all kinds of extremism", it is important for the left, while defending the right to free speech and freedom of expression, to call for a united struggle against terrorism, racism, right-wing policies and imperialist wars. Socialist policies are needed to create jobs and homes for all, through nationalisation and planning, in order to cut across the attraction to impoverished youth of terrorism and violence.