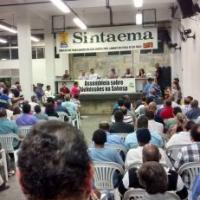 Mientras no hay agua para el pueblo, Sabesp recorta gastos, despide a más de 500 trabajadores y persigue activistas
¡No a los despidos y persecución en Sabesp!
¡Por el reintegro inmediato de Marzeni Pereira y de todos los despedidos! Que dimita Alckmin , no al despido de los trabajadores!
La dirección de Sabesp y el gobernador Geraldo Alckmin formalizaron en la mañana del lunes 16 de marzo, el despido del personal de Sabesp del compañero Marzeni Pereira.
Marzeni integra los cuadros de Sabesp desde hace más de 22 años. Durante ese tiempo hizo campaña activamente en el sindicato de trabajadores de la empresa. Fue delegado sindical y miembro de CIPA por varios periodos. Ayudó a fundar y dirigir la Oposición Alternativa, grupo de oposición de los sindicatos a la junta de Sintaema desde 1999, encabezó la lista y fue coordinador de campañas de la oposición en diversas oportunidades.
Además de la militancia sindical, Marzeni tiene una fuerte presencia en el movimiento popular, sobre todo en la región de Jardín Pantanal (zona este de São Paulo). Marzeni es también fundador y militante de PSOL y la corriente Libertad, Socialismo y Revolución (LSR), además de construir CSP-Conlutas.
En el último período, Marzeni ha sido una voz clave en el debate y lucha sobre la crisis del agua en el estado de São Paulo. El compañero integra el colectivo "Agua Sí! Lucro ¡No! " que ayuda a construir la Asamblea Estatal del Agua y formó parte de la comisión recibida en el Palacio de los Bandeirantes, como resultado de la gran manifestación organizada por MTST en la lucha por los derechos de agua, el 26 de febrero.
El despido de Marzeni viene junto con más de 500 trabajadores contratados en Sabesp desde el comienzo del año. La dirección de la empresa y el gobierno Alckmin reducen los cuadros de la empresa justo cuando más trabajadores y más inversión se necesitan con urgencia.
La crisis del agua es ya un resultado del desguace y privatización de Sabesp. La compañía prefiere externalizar sus servicios que afectan directamente a la calidad del resultado ofrecido a la población. Todo para garantizar los dividendos de los accionistas de la compañía, la mayoría de ellos extranjeros. Esta política no hará sino agravar la crisis.
Pero más allá de la política de despidos para "reducir costos" y garantizar ganancias de los accionistas, la renuncia de Marzeni establece una clara persecución política contra un luchador incansable contra los excesos de la dirección de Sabesp y el gobierno de Alckmin. Quieren silenciar una voz fuerte en la defensa del derecho al agua para toda la población y una Sabesp controlada por los trabajadores, 100% de propiedad estatal.
Le hacemos un llamamiento a usted y su organización o movimiento a participar activamente en la lucha por la reintegración de Marzeni y todos despedidos.
· ¡Únete a la Asamblea de Sintaema que discutirá la huelga propuesta contra los despidos. Se llevará a cabo el 18 de marzo, miércoles, 18 horas, en la Avenida Tiradentes, 1323 (estación de metro Armenia).
· Envía un mensaje o movimiento de protesta a la dirección de Sabesp y al gobierno del estado en las siguientes páginas web:
Jerson Kelman, presidente de Sabesp – jkelman@sabesp.com.br
Paul Massato Yoshimoto, Director Metropolitano Sabesp – pyoshimo@sabesp.com.br
Geraldo Alckmin, gobernador de São Paulo – galckmin@sp.gov.br
Copias a: marzenips@yahoo.com.br y lsr@lsr-cit.org
· Únase a la página de soporte en facebook y manténgase en contacto con nosotros para otras acciones: www.facebook.com/aguasimlucronao. Si quieres contactar con nosotros, por favor llame al: 11 3104 1152
Special financial appeal to all readers of socialistworld.net

Support building alternative socialist media

---

Socialistworld.net provides a unique analysis and perspective of world events. Socialistworld.net also plays a crucial role in building the struggle for socialism across all continents. Capitalism has failed! Assist us to build the fight-back and prepare for the stormy period of class struggles ahead. Please make a donation to help us reach more readers and to widen our socialist campaigning work across the world.

Donate via Paypal

CWI- Please inform us if you are reproducing any material from this site.