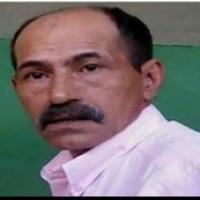 Urgente solidaridad nacional e Internacional
Convocamos a todas las fuerzas sociales progresistas y revolucionarias del país para un encuentro en Mérida para organizar un comité de solidaridad con Alcedo Mora y sus familiares
¡Rechacemos la practica de desaparición forzosa de dirigentes sociales y políticos!
Desde el 27 de febrero del 2015 se encuentra desaparecido el dirigente, activista social y político Alcedo Mora.
Alcedo Mora es un militante revolucionario de 55 años de edad de un dilata trayectoria política, actualmente se encontraba trabajando como asesor de la secretaria de gobierno de la gobernación del estado Mérida, en los andes venezolanos.
En la década de los 80 fue victima al igual que muchos de su generación por defender ideas revolucionarias contra la democracia burguesa, de cárcel, privación ilegitima de su libertad y en consecuencia victima de torturas por parte del aparato represivo de la época.
En el estado Mérida es reconocida su trayectoria como dirigente social, popular ligado siempre a las causas por la justicia social y un cambio radica del sistema político imperante que oprime y explota a los trabajadores y al pueblo. También ha sido militante y defensor del proceso Bolivariano en sus políticas progresistas, así como crítico de sus fallas y contradicciones.
En este sentido, desde hace unos años venia realizando un trabajo político de investigación sobre el contrabando y trafico de combustible desde nuestro país hacia la hermana Colombia, investigación que traería como consecuencia la posibles responsabilidades de funcionarios dentro de instituciones del estado venezolano como PDVSA.
Desde el pasado 27 de febrero, Alcedo Mora ha desaparecido, la denuncia ha sido divulgada a Vox populi por diversos medios de comunicación social, tanto privados como públicos; así como por diferentes organizaciones de derechos humanos y de organizaciones políticas de izquierdas entre otras.
Incluso los familiares han levantado un campaña de solidaridad y denuncia apoyándose en la cobertura mediática que brindan las redes sociales como el facebook y el twitter logrando que tanto la defensoría del pueblo como la fiscalía general de la republica se aboquen al caso, sin embargo hasta la fecha no se ha logrado ninguna información concreta sobre el estatus del compañero Alcedo Mora.
Recientemente hemos hablado con Johanna Mora, sobrina de Alcedo, que por vía telefónica nos actualizo de la situación actual del caso e su tío.
En la conversación a manera de entrevista, la compañera nos informa que la familia se encuentra desplegada a nivel nacional buscando apoyo tanto institucional, así como de las diferentes organizaciones sociales que puedan ayudar para buscar soluciones satisfactoria a tan critica situación, como es que aparezca vivo el compañero Alcedo Mora.
Johanna, nos informo que en reciente visita a la ciudad capital Caracas, han sido atendidos por instituciones tales como: la fiscaliza general de la república que ya ha asignado un fiscal especial que esta desarrollando las investigaciones pertinentes, por otro lado recibieron el apoyo de organizaciones de derechos humanos reconocidas en el país como PROVEA; han recibido también respuesta de intencionalidad de atención al caso como por ejemplo la defensoría del Pueblo que la dirige actualmente un reconocido dirigente político y de los derechos humanos Tarek William Saab, quien en el pasado tuvo vínculos de militancia social con Alcedo Mora.
Johanna también nos informo, que desde que se dio la noticia de la desaparición de Alcedo, diferentes grupos, individualidades, en apoyo a los familiares, han realizado diversa s actividades políticas de difusión de la situación en búsqueda de apoyo y de llamar la atención nacional de la opinión publica para que ayuden a que Alcedo aparezca y se le garantice su derecho a la ida.
Actualmente la familia esta en un situación critica de incertidumbre; a pesar de haber tenido cierta receptividad por parte de instituciones del Estado, hasta la fecha es muy poco lo que saben del paradero de Alcedo Mora, se teme por su vida e incluso por lo que le pueda pasar a otros miembros de la familia.
Tanto los familiares como las organizaciones e individualidades que nos hemos enterados de la situación del compañero Alcedo, llamamos a la mas amplia y activa solidaridad para con los familiares de Alcedo, su compañeros y compañeras de lucha.
El caso de Alcedo Mora seguramente no debe ser el único, pero es el que hasta ahora ha tenido mayor visibilidad publica y representa un precedente gravísimo de violación de derechos humanos hacia la militancia política. Practicas como la desaparición forzosa de dirigentes políticos, eran practicas del pasado nefasto de dictadura militares y de regimenes seudo-democráticos que reprimían y asesinaban la disidencia. En el contexto de un proceso político caracterizado como la revolución bolivariana, es inconcebible que tales practicas ocurran y es imperativo que tanto el Estado venezolano como las fuerzas progresistas vivas del país unamos esfuerzo en repudiar y erradicar estas practicas; y que se de con el paradero de Alcedo Mora. ¡Vivo!
En este sentido familiares, amigos y organizaciones de la mas diversa tradición política progresistas revolucionaria, hacemos un llamado a la solidaridad internacional y nacional, en los próximos días esteremos convocando a un encuentro en Mérida, donde se dio la desaparición de Alcedo. Para organizar un comité nacional e internacional de solidaridad con Alcedo Mora y con todos los casos que puedan salir a relucir que por diversas razones han estado en al anonimato o bajo la censura.
A continuación, tendrán link electrónicos de videos por You Tube donde podrán ver, escuchar de primera mano testimonios de los propios familiares de Alcedo Mora, así como otros links, donde se la ha venido dado cobertura al caso. De igual manera un link de una iniciativa tomada por los compañeros de la guarura.net, donde se están recolectando firmas electrónicas para solicitarle al Presidente de la Republica Nicolás Maduro, a la Asamblea Nacional, a la Fiscalía General de la Republica y Defensoría del pueblo, todo el apoyo institucional para la solución de esta situación.
Igual hacemos el llamado a las organizaciones internacionales de izquierdas, de derechos humanos, progresistas de los movimientos sociales tanto de América Latina como del resto del mundo, a que nos apoyen con sus firmas y el envío de notas de solidaridad a los familiares de Alcedo Mora.
¡Vivo lo llevaron vivo lo queremos!
Contacto con familiares de Alcedo Mora: +58-414-8919560
Aquí está la petición para que la reenvíes a tus amigos:
Nicolas Maduro, Luisa Ortega Díaz (Fiscal General), Tarek William Saab: INVESTIGAR DESAPARICIÓN DE ALCEDO MORA, ELIÉCER VERGEL Y JESÚS VERGEL
Es importante porque se está reeditando en Venezuela la práctica de las desapariciones forzadas por razones políticas que eran de uso común en la llamada Cuarta República. Alcedo Mora, dirigente social y comunitario, militante revolucionario de larga trayectoria, presta sus servicios en la Gobernación del Estado Mérida. Es considerado por familiares y compañeros como un Revolucionario Crítico" y venía denunciando acciones ilícitas dentro de la Estatal Petrolera PDVSA; horas antes de su desaparición había reportado desde su teléfono móvil un fuerte seguimiento por parte del Servicio Bolivariano de Inteligencia Nacional SEBIN. Junto con él también desaparecieron dos trabajadores del campo, los hermanos Eliécer y Jesús Vergel. Este hecho constituye una contradicción del discurso oficial, que promociona un gobierno respetuoso de los Derechos Humanos y de la Constitución Nacional y en la práctica no ha dado respuesta a la nación venezolana, que desde el 27 de febrero espera conocer el paradero de estos tres ciudadanos. El llamado es al Presidente de la República Nicolas Maduro, a la Fiscal General de la República Luisa Ortega Díaz y al Defensor del Pueblo Tarek William Saab, éstos dos últimos, antíguos compañeros de lucha de Alcedo Mora, para que movilicen todos los recursos del Estado en función de investigar hasta las últimas consecuencias y dar con el paradero de estas tres personas, también hijos de Bolívar.
https://secure.avaaz.org/es/petition/Nicolas_Maduro_Luisa_Ortega_Diaz_Fiscal_General_Tarek_William_Saab_INVESTIGAR_DESAPARICION_DE_ALCEDO_MORA_ELIECER_VERGEL/?tCKimjb
Muchas gracias,
Video:
Visita de los Familiares de Alcedo Mora a Provea Ccs.
Special financial appeal to all readers of socialistworld.net

Support building alternative socialist media

---

Socialistworld.net provides a unique analysis and perspective of world events. Socialistworld.net also plays a crucial role in building the struggle for socialism across all continents. Capitalism has failed! Assist us to build the fight-back and prepare for the stormy period of class struggles ahead. Please make a donation to help us reach more readers and to widen our socialist campaigning work across the world.

Donate via Paypal

CWI- Please inform us if you are reproducing any material from this site.