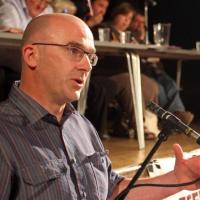 CWI member, Patrick Mulholland, leads Left campaign for leadership of NIPSA union
Brian Campfield, is retiring as NIPSA (public service union, Northern Ireland's largest union) Genral Secretary in January 2016. This election comes at a vitally important time for the union, the wider trade union movement and the working class in Northern Ireland. The new Tory government has launched a vicious offensive against the rights and living standards of working people. The right of trade unionists to effectively organise is under immediate threat. The Northern Ireland Executive is implementing cuts across the public sector. Sectarian division continues to blight the lives of working class communities.
Recognising the opportunity presented by the election, the Broad Left grouping within NIPSA has agreed to run prominent activist Patrick Mulholland for the General Secretary position. Left activists already hold many elected positions within the union. If Patrick were to win the General Secretary position, the union would be in a much stronger position to fight the battles that lie ahead. Holding leading positions is very important in itself but this election also provides an opportunity to enthuse activists across the union and to draw many more members into activity.
Patrick is a member of the Socialist Party. He has been active at various levels of the union for decades and has recently completed a three-year term as President. He is widely recognised as a very determined and committed socialist and a fighter for the rights of trade union members and of working people in the wider community. He is an able communicator who has promoted NIPSA and the socialist cause in the press, on radio and on television.
He was instrumental in developing the union's policy documents relating to the need to challenge the current economic system and replace it with a democratic socialist economy. He was also instrumental in initiating specific anti-sectarian awareness sessions for NIPSA members and improved communication through regular meetings for union reps. He has worked tirelessly to move away from a position where political opponents within the union attack each other on a personal level and in an often secretive and underhand manner.
Patrick is up against at least one opponent in the election. Alison Millar is a widely respected trade unionist. She is in a strong position going into the election as she is the current Deputy General Secretary of NIPSA and is seen as the "official" candidate.
Patrick's support comes from the many union activists and members across all sections of the union who recognise that change is necessary. As the election campaign gets underway properly, more and more members will become convinced of this. NIPSA and the trade union movement in Northern Ireland need a strong, committed and socialist General Secretary at the head of the largest union here. Workers need a leadership that will give them the confidence to stand up against the austerity agenda of the Tories and the Assembly. Patrick Mulholland will provide that uncompromising leadership and will help make NIPSA a force to be reckoned