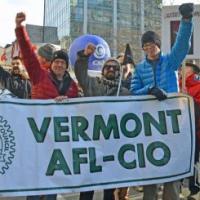 Massive workers' showdown takes government by surprise
On Wednesday 9, over 400,000 workers from the public sector (state employees, hospital workers, teachers etc) downed tools across Quebec, in the biggest general strike movement in the province's and even in Canadian history. Most schools, hospitals, other public services and ministries were shut down, in a gigantic demonstration of force of the Quebec labour movement. Wage increases were at the centre of the workers' demands, but the strike movement has taken an increasingly political character against the Liberal government. The Common Front of the trade unions has a mandate for six strike days, and this was the fourth, meaning that two more general strike days could take place in the coming weeks. Talk of a new general strike on the 21 December is underway. Below a few pictures of the demonstration in Montreal, in which comrades from Alternative Socialiste (CWI in Quebec) distributed more than 2,000 leaflets. Similar demonstrations took place in many Quebec cities.
The CWI relies on the donations from working class people around the world to fund our campaigns.Please donate towards building the CWI.