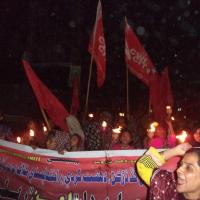 Rally organised by Socialist Movement Sindh in Mir Pur Khas
More than 400 people, including women and children, participated in the rally organised by Socialist Movement Pakistan (CWI) in Mir Pur Khas, Sindh, against religious extremism and increased intolerance. SMP members, supporters and sympathisers participated in the rally and large number of female comrades also participated. The Sindhi language news channels gave prominent coverage to the rally. The two largest Sindhi channels repeatedly showed the rally throughout the night in the main news headlines. The rally started from the SMP office in Rahim Nagar and marched through the main streets of the city and ended at the press club. The rally stopped at two main squares Shimla chowk and State life chowk where speakers made short speeches against the rising tide of religious extremism and increased intolerance in Sindh province in recent years.
The participants were carrying the red flags and candle lights and chanted slogans against extremism. The main slogans were down with religious extremism, long live peace and harmony, no to intolerance and bigotry. A heavy police contingent was present throughout the rally to protect the participants from possible attack.
Comrade sHameed Channa, Sughra Khaskheli, Iqbal Narejo, Malik Nizamdin, Ghulam Qadir Murree, sunder Channa, Afzal Arain, Ramzan Arain, Jamila, Samantha, Irum Qambrani, Sarmad Channa and Ghulam Muhammad leghari spoke at the rally and emphasised the need to organise a political struggle against religious extremism and increased intolerance. The speakers said that the whole country is in the grip of religious extremism and intolerance and military action alone is not going to solve the issue. If we want to stop the spread of reactionary ideas than we need to end the root causes of this epidemic. The state must provide basic services like modern and scientific education, employment, health and housing and stop the neo liberal onslaught against the working class and the poor masses. The poverty, hunger, repression, social and economic injustice of this rotten and corrupt system is the root cause of this problem.
The rally ended at a press club after spending nearly two hours on the streets. Comrades Sunder, Samantha and Laraib sang revolutionary songs at the end of the rally and enthused and enthralled the participants with great revolutionary songs and poetry. This was the largest rally so far in this city.