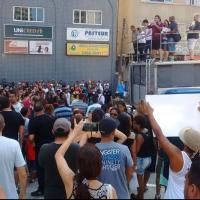 Hired thugs beat rank and file trade union protesters
Last Monday, a group of civil servants in Praia Grande, Brazil, who are in struggle for a wage increase of 12.5%, occupied their trade union (linked to Força Sindical), offices, against the treacherous actions of the union leadership which threatened to sell out their dispute.
After five hours waiting for the Union president, they were surprised by 20 henchmen and they were beaten in a cowardly manner. Please, send urgently messages of your solidarity with these workers against such abuse.
They mainly fight for a real increase in their wage and against the president of the union. This is their first struggle in 8 years. For many of these workers, it is the first struggle of their lives. They need your solidarity! Send your solidarity message to mauricio.de.oliveira.filho@gmail.com
Special financial appeal to all readers of socialistworld.net

Support building alternative socialist media

---

Socialistworld.net provides a unique analysis and perspective of world events. Socialistworld.net also plays a crucial role in building the struggle for socialism across all continents. Capitalism has failed! Assist us to build the fight-back and prepare for the stormy period of class struggles ahead. Please make a donation to help us reach more readers and to widen our socialist campaigning work across the world.

Donate via Paypal

CWI- Please inform us if you are reproducing any material from this site.