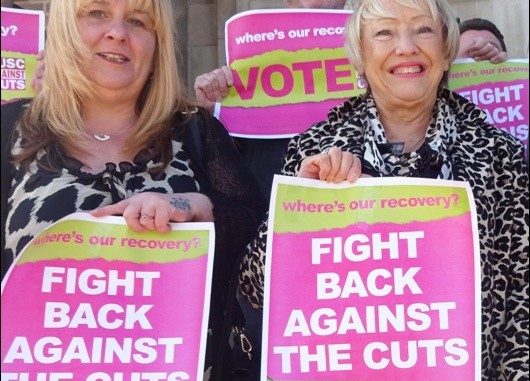 Mobilise the anti-austerity mood into a mass, democratic movement to defeat the right
Running up to the May elections in Britain the Labour Party right wing – with the full backing of the capitalist class – set out to damage their own party's chances in order to achieve what is, for them, a greater goal: undermining left Labour leader, Jeremy Corbyn. The anti-Semitism uproar – initially relating to comments made by Naz Shah when Ed Miliband was Labour leader – was a cynical attempt to try to prepare the ground for a coup against Corbyn, hoping that the local election results would then provide further ammunition.
Widespread predictions were made by Blairite MPs and in the right-wing media – now included in which is the Guardian – that Labour was on course to lose 100 or more council seats because of the supposed unpopularity of opposing austerity. That didn't happen.
In Scotland Labour suffered a resounding defeat. That was partly inevitable given the hatred of Scottish workers for the role Labour played in the Scottish independence referendum, acting as the voice of big business's Project Fear campaign. However good Jeremy Corbyn's approach to Scotland, he would not have been able to quickly overcome workers' view of Labour as 'red Tories'.
Unfortunately, however, Jeremy Corbyn has not taken a clear position of supporting the right of self-determination for Scotland which would have begun to win some credit back for Labour among the Scottish working class. Of course, had he adopted the pro-austerity 'red Tory' approach demanded by the Blairites – who are now blaming Corbyn for the result – Labour would have fared even worse in Scotland than it did.
But in England Labour maintained the same number of councils and only had a net loss of 18 seats, while slightly increasing its share of the vote from the general election. Far from a mass exodus from Labour in the south of England, Labour retained control of key councils including Southampton and Exeter. Significantly, it won the mayors of Bristol and London – the sixth biggest city and the capital – with clear majorities.
The racist campaign by the Tories in London backfired and London is now the first city in Europe with a Muslim mayor, while Bristol – a city built on slavery – now has the first mayor in Europe of African-Caribbean descent.
Labour won the two parliamentary byelections in Sheffield Brightside and Ogmore, with an increased majority in the former. That inconvenient fact may have temporarily stayed the hands of Corbyn's enemies. Tom Watson, deputy leader of the Labour Party, openly appealed on Radio 4 to Labour MPs to "have patience" – suggesting not that they should support Jeremy Corbyn, but that they couldn't move against him yet given the election results and the size of his mandate.
Labour's right and left
That has not prevented, however, an escalation in the civil war in the Labour Party. Endless successions of Labour MPs are touring the TV studios to explain why – even though their dire predictions did not materialise – this was still a truly terrible election result for Labour. Leading the charge has been the newly elected London mayor Sadiq Khan who, as we predicted, is setting out his new position as a platform against Jeremy Corbyn. Unfortunately, the leadership of Momentum, which purports to organise Jeremy Corbyn's supporters, has spent recent weeks uncritically mobilising in support of Sadiq Khan, without even warning its membership about the role that he – a man who has said he wants more billionaires in London – was clearly set to play.
The pro-Corbyn wing of the party has not as yet fought back like it should against the blows being rained down on it, but has vainly attempted to paper over the gaping chasm. Left MP Clive Lewis has appealed to Corbyn to "compromise, reach out", including on policy questions. As if events of the last weeks don't prove conclusively that there is no compromise that could successfully pacify the Blairites.
For the right of the Labour Party – and behind them the 1%, the capitalist class – are desperate to once again make their party safe for big business. That means routing the nascent anti-austerity movement that thrust Jeremy Corbyn into power. The only way to defeat the right is not to retreat but to continue to build that movement around a clear pro-working class programme.
Expressions of the anger
And last Thursday's elections in no way demonstrated that anti-austerity ideas are unpopular. On the contrary, anger at the misery this government is inflicting on the majority is growing. It was not by any means, however, channelled exclusively in the direction of Labour. Instead it was fragmented.
While many voted Labour, others' view of that party – which has implemented pro-big business policies in power and at local level for decades – had not changed. Some refused to vote Labour because – while Jeremy Corbyn has correctly opposed austerity, saying it is a political choice – local Labour councillors and the Labour-led Welsh Assembly have passed on savage government cuts to local public services.
Right-wing Labour councillors and Assembly Members that lost their seats are trying to lay the blame at Corbyn's door. But they did not stand on Corbyn's policies, they stood on a pro-austerity programme. That is why some voters showed their opposition by voting for what they saw as anti-cuts parties, whether that was Plaid Cymru in Wales, the Scottish National Party (SNP) in Scotland, the Greens, the Trade Unionist and Socialist Coalition (TUSC), or even in a distorted way for Ukip.
Plaid Cymru's leader Leanne Wood succeeded in defeating Labour in the Rhondda, a traditional Labour stronghold. Her party also increased its share of the vote, making it the second party in the Welsh Assembly. Charlotte Church will not have been alone in voting for Plaid Cymru while continuing to support Jeremy Corbyn, because she recognised that the leadership of Labour in Wales is not anti-austerity.
In Scotland the SNP won 46.5% of the vote for the Scottish parliament, an increase of 1% from four years ago. It had a small fall in its number of seats only because of the vagaries of the electoral system.
The Greens had a net loss of four councillors in England but increased their vote in many areas, overtaking the Liberal Democrats to become the fourth party in terms of vote share. In Scotland they increased their MSPs from two to six and in the London Mayoral contest they scored their highest ever share of the vote.
Similarly they doubled their vote for the Liverpool Mayor to 10,609. Combined with the creditable 4,950 votes forTUSC's candidate Roger Bannister, this meant that 15% of voters in Liverpool consciously chose to vote for candidates that they perceived as being to the left of Labour and more anti-austerity. Even the votes for Ukip, who won 10% of the votes across council elections in England and came second in both parliamentary byelections, primarily reflect anger and disillusionment with establishment politicians.
Trade Unionist and Socialist Coalition
Unfortunately, all of those parties, with the exception of TUSC, have implemented cuts when in power at local or national level. TUSC, in which the Socialist Party participates, was alone in standing 100% opposed to austerity and cuts in public services, which are destroying local government. That is why the Birmingham Post called TUSC "arguably the fiercest defenders of local government itself".
Despite limited resources and a boycott by the national media, it was vital that TUSC stood candidates, in order to offer a socialist and working class alternative to austerity (see www.tusc.org.uk for more detail on TUSC results).
TUSC is a coalition of socialists, trade unionists and anti-cuts campaigners – including the transport workers' union, the RMT – which stands in elections in order to oppose cuts and give workers a voice at the ballot box. We wrote to Labour candidates before the elections urging them to take a clear anti-cuts stand and pledge not to stand against those that did so. However, where Labour candidates voted for cuts – from library closures to bedroom tax evictions – we were prepared to stand against them.
The 58 Labour-led councils that had elections on Thursday hold over £4.5 billion in general reserves. Pooling these would mean that no Labour council would have to make a single cut this year. They could use the resulting breathing space to build a mass anti-austerity movement capable of defeating a weak and increasingly divided Tory government.
Tory divisions and retreats
In the coming weeks the EU referendum campaign will dominate the political agenda. Historically Jeremy Corbyn has correctly opposed the EU as an undemocratic club acting in the interests of the bankers and big business. If he had stood by that position it would have transformed the EU referendum campaign – which is currently dominated by right-wing big business politicians on both sides. Unfortunately, under huge pressure from the Labour right and the capitalist class, Jeremy Corbyn retreated on this issue.
Nonetheless, the Tories remain split down the middle over Europe. Already they have been forced to retreat on a whole number of issues, including now on the forced academisation of schools. In the aftermath of the referendum Cameron, and potentially the Tory Party, could be ejected from power. A powerful, united movement could bring a halt to austerity and force the Tories to call a general election. Building such a movement requires united strike action – building towards a 24-hour general strike – but it also requires creating a clear anti-austerity political alternative.
Jeremy Corbyn's landslide election as Labour leader showed the potential for creating a mass anti-capitalist party. Unfortunately, however, the majority of Labour MPs and councillors remain pro-capitalist and pro-austerity. Labour is two parties in one: a pro-capitalist party and a potential workers' party.
To defeat the right means starting to mobilise the currently fragmented anti-austerity mood into a mass, democratic movement. This will not succeed if it remains trapped within the current undemocratic structure of the Labour Party, vainly trying to compromise with 'the 4.5%' – the Blairite representatives of big business in the Labour Party. Instead it means building an open, democratic movement – organised on federal lines – that brings together all of those who have been inspired by Jeremy Corbyn and want to see a determined anti-capitalist party.