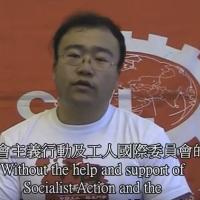 Video by CWI comrades in China and Hong Kong
The CWI in China and Hong Kong has produced this video to mark the 27th anniversary of the Beijing massacre, of June 4th 1989, which put a bloody end to the heroic 7-week mass movement against China's one-party dictatorship.
The video was shown at the CWI's tents in the Hong Kong commemorative vigil on Saturday, June 4. Hong Kong with its partial autonomy is the only city in China where such commemorative events are not banned, while strict censorship and repression are used to suppress the memory of the 1989 movement inside China. This year's Hong Kong vigil drew a crowd of 125,000 – underlining the incredible pulling power of this event and the enduring legacy of the 1989 mass struggle.
While the turnout was down somewhat on last year (135,000), this was a very powerful response given the complicated mood in Hong Kong, a feeling of helplessness and even certain demoralisation, that has arisen since the defeat of the 2014 mass democracy protests (known as the Umbrella Movement). This was also despite pressures from the growing right-wing localist movement (which advocates a very confused notion of self-determination/independence for Hong Kong) to boycott the vigil, mainly on the reactionary grounds that the struggle against one-party dictatorship in China is "not relevant to Hong Kong".
The boycott campaign was spearheaded by the main student organisations which are now led by localist groups. Their failure to substantially reduce the turnout at the June 4 vigil, and the paltry numbers attending their own rival events is seen as a blow to these groups. The main June 4 vigil has unfortunately been de-politicised and somewhat 'ritualised' over many years of the pan-democratic leaders who control this event. Despite this, the continued strong turnout shows the anger of the masses in Hong Kong against the Chinese dictatorship and a strong mood to defend the legacy of an extremely important movement.
The CWI's forces in China and Hong Kong campaign to rebuild a mass democracy movement, drawing the full conclusions of why and how the 1989 movement was defeated, despite mobilising millions behind its demands.
For more background read our article June 4: Anniversary of the 1989 Beijing massacre