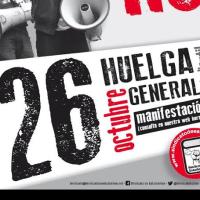 El 26 de Octubre Huelga General Estudiantil ¡En defensa de la educación pública!
El Comité por una Internacional de los Trabajadores (CIT), apoya esta importante huelga educativa y está organizando activamente campañas de solidaridad y apoyo internacional a ésta. Pedimos a nuestras secciones que muestran su apoyo en esta jornada con concentraciones ante las embajadas españolas, con mensajes escritos y videos de solidaridad – sindicato@sindicatodeestudiantes.net con copia a dannybyrnesp@gmail.com
Llamamiento a la juventud de todo el mundo en apoyo a los estudiantes del Estado español:
El 26 de Octubre Huelga General Estudiantil
¡En defensa de la educación pública!
El próximo 26 de octubre los estudiantes del Estado español volveremos a vaciar las aulas contra las políticas que están destruyendo la educación pública. En el Estado español, igual que en muchos otros países, el gobierno de la derecha ha asestado enormes recortes a la educación pública y ha puesto en marcha diferentes contrarreformas que buscan convertir la educación en un derecho al alcance sólo de quien pueda pagarla. Los estudiantes que provenimos de familias trabajadoras, es decir, la inmensa mayoría, hemos sufrido una enorme degradación en nuestros centros de estudio: falta de profesores y recursos materiales, desaparición de ayudas públicas al estudio para las familias más humildes, subidas de hasta un 66% de la tasas universitarias, lo que ha supuesto la expulsión de decenas de miles de estudiantes de la universidad por no tener dinero para pagarlas, hacinamiento en las aulas, imposición del estudio de la religión católica… Mientras tanto, los gobiernos del PSOE y del PP han dedicado ingentes cantidades de dinero público a rescatar a la banca o pagar una deuda que nosotros no hemos provocado (más de 250.000 millones de euros en los últimos seis años).
Por si esto no fuera suficiente, en los meses de verano, el gobierno de la derecha aprobó uno de los ataques más salvajes contra el derecho al estudio: las famosas reválidas franquistas. Se trata de una serie de exámenes a final de la educación primaria, secundaria y el bachillerato que será imprescindible superar para poder continuar estudiando y también para conseguir el título del tramo educativo correspondiente, incluso aunque ya lo tengamos aprobado. Estas reválidas no son nuevas para nosotros. Nuestros padres las tuvieron que sufrir bajo la dictadura franquista, cuando eran utilizadas como filtro para impedir que los jóvenes de familias trabajadoras accedieran a los estudios universitarios.
Quieren imponernos este gran filtro con el fin de que cientos de miles de estudiantes, de entre 14 y 16 años, sean expulsados de las aulas de forma prematura y sin cualificación académica. La motivación del gobierno es sencilla: ya que a los jóvenes de familias trabajadoras nos espera un futuro de precariedad y explotación laboral, ¿para que gastarse dinero en nuestra educación? Para los jóvenes de familias con recursos económicos, en cambio, la cosa es muy distinta: ellos que no sufren la degradación que los recortes han provocado en los institutos públicos, que tienen a su alcance profesores particulares, academias privadas y todo lo que deseen, superar estas pruebas no será ningún problema.
Si este ataque se lleva a cabo, estaremos hablando de volver a la época en la que la educación estaba sólo al alcance de una minoría de privilegiados. El objetivo es destruir con la enseñanza pública reduciéndola a un servicio de "caridad", y que la patronal de la enseñanza privada haga grandes beneficios. Pero ha costado mucho esfuerzo y mucha lucha conseguir que la educación fuera un derecho para todos. ¡Nuestros padres y abuelos pelearon muy duro para lograrlo y ahora no podemos permitir que nos lo arrebaten!
Por eso, el próximo 26 de octubre desde el Sindicato de Estudiantes hemos llamado a todos los jóvenes del Estado español a una huelga general educativa para vaciar las aulas y llenar las calles (ya hay más de 70 manifestaciones previstas en todos los territorios del estado español). Esta huelga ya cuenta con el apoyo de la Confederación de Padres y Madres de alumnos (CEAPA), y de sindicatos de profesores, con los que convocaremos además manifestaciones unitarias a la tarde del 26 O.
Llamamos a los jóvenes de todo el mundo, a todos los que como nosotros sufrís los ataques y recortes educativos impuestos por los gobiernos pro capitalistas, a que nos apoyéis en esta jornada con concentraciones ante las embajadas españolas, con mensajes escritos y videos de solidaridad, en las redes y con todas las iniciativas que se os ocurran.
¡La lucha de la juventud por sus derechos es la misma en todo el mundo!
¡Fuera las reválidas franquistas!
¡El hijo del obrero a la Universidad!
Special financial appeal to all readers of socialistworld.net

Support building alternative socialist media

---

Socialistworld.net provides a unique analysis and perspective of world events. Socialistworld.net also plays a crucial role in building the struggle for socialism across all continents. Capitalism has failed! Assist us to build the fight-back and prepare for the stormy period of class struggles ahead. Please make a donation to help us reach more readers and to widen our socialist campaigning work across the world.

Donate via Paypal

CWI- Please inform us if you are reproducing any material from this site.