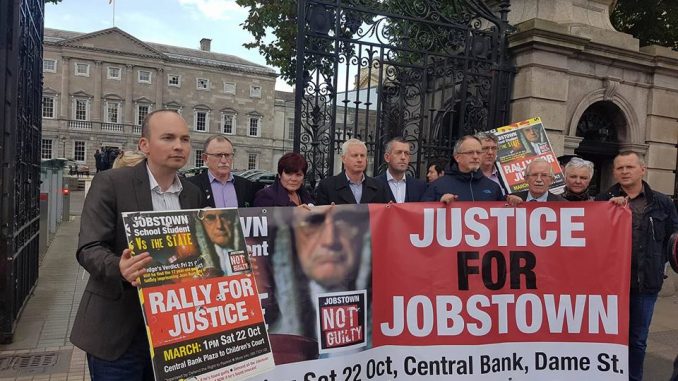 Attack on basic democratic rights must be resisted
In an outrageous decision, a seventeen year-old student, who took part in an anti-water charge protest, in November 2014, has been found guilty of falsely imprisoning the then Tanaiste (deputy prime minister) and leader of the Labour Party, Joan Burton.
Up to 100 protesters gathered outside the Childrens' Court in Dublin from early this morning hoping that, on the basis of the most flimsy of evidence, the judge would have no choice but to dismiss the case. The 'evidence' included: 1. He may have said into the megaphone at one stage: "Joanie in your ivory tower – this is called people power" 2. He walked around. 3. He sat down and encouraged others to sit down. 4. He waved his arms. 5. He filmed Joan Burton & said "Talk to us Joan"
The judge found the protester guilty but passed down a 'conditional discharge', meaning that no sentence will be passed as long as the student shows good behaviour for nine months. The decision is outrageous and should be overturned.
But the precedent has been set. It is now clear for all to see that the political and legal establishment are getting ready for the trials next year, when AAA TD (member of Irish parliament) Paul Murphy and 17 others face similar charges in the circuit court. They are preparing the ground for the jailing of protesters. If found guilty, it is likely that some – if not all – will face imprisonment. If Paul Murphy is sentenced to more than six months in prison, he will be disqualified as a TD and lose the AAA seat won by him on a wave of opposition to water charges.
This is also about criminalising the anti-austerity and anti-water charges movement. The political establishment are smarting at having been forced into a major climb-down on a key plank of their austerity agenda, water charges. They want the message to go out – this is what happens if you step out of line. But it is also inspired by a growing fear of the left winning the ears of hundreds of thousands of working class and young people disgusted and angry at their brutal austerity agenda. Now they are trying to paint those, like the AAA and Socialist Party, who stood up and organised a mass movement of opposition, as violent protesters. As the lawyer in the trial said, this is "a recipe for totalitarianism."
Protests at conviction
The seriousness of this attack cannot be underestimated. The decision also has important lessons for workers and trade unions. Over the last few months, a resurgence of industrial militancy and strike action by tram drivers, bus drivers, retail workers and now teachers and even the police, have put the government on the back-foot. This is the knock-on effect to their claims of a growing recovery in the economy – now workers are demanding their piece of the recovery. But will the courts and the state resort to similar actions against workers taking industrial action? Will workers who picket their employers be guilty of falsely imprisoning their bosses? This attack on basic democratic rights must be resisted.
'Jobstown Not Guilty' has called for a day of protest on Saturday 29th October across Ireland and internationally to show solidarity with the young student and the 18 other protesters facing trial next year, and calling for the end of this assault on our democratic right to protest.