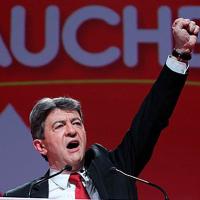 PS, derecha, FN: promesas para empeorarnos la vida
Mientras millones de personas se encuentran en paro, se debaten entre las dificultades cotidianas o nuestros servicios públicos se degradan cada vez más, puede que el circo mediático alrededor de las elecciones moleste a más de uno. Para nosotros es, sobre todo, una oportunidad más para rebelarse y organizarse para acabar por fin con las políticas del Partido Socialista (PS), Los Republicanos (LR, el partido de Fillon) o el Frente Nacional (FN) y de la unión para continuar luchando.
Es cierto que a nuestro alrededor hay gente que se plantea abstenerse en las elecciones como muestra de rechazo a esta "parodia democrática". Pero en ausencia de movilizaciones de masas y de una llamada de una fuerza política a la movilización de los trabajadores y la juventud, la abstención se queda en una protesta pasiva que apenas inquieta a los dirigentes de la derecha, del PS o del FN…
PS, derecha, FN: promesas para empeorarnos la vida
No será ni con Fillon, ni con Valls-Hollande, ni con Le Pen con quien tendremos una sociedad mejor y más justa.
La derecha y el PS (sus aliados) son los responsables del desastre social actual. Fillon ya fue primer ministro, y ya orquestó el ataque a las pensiones en el año 2010; el resultado, unas pensiones y un desempleo más desvalorizados para los desempleados de más de 57 años mientras el resto de trabajadores están obligados a trabajar hasta la extenuación. Ha prometido que acabará con el desempleo… ¡suprimiendo 500 000 empleos públicos!, obligando a trabajar más ganando menos (39 horas trabajadas por 35 pagadas) o incluso de aumentar el IVA…
El balance de Valls-Hollande no es más atractivo, 5 millones de trabajadores (1,5 más que en 2012) y sobre todo decenas de miles de euros regalados a los multimillonarios y a las grandes empresas, las cuales no han dejado de destruir puestos de trabajo (Air France, La Poste, Peugeot, SFR, Sanofi, etc…) mientras que obtienen millones y millones en beneficios.
En cuanto al FN, creer que es diferente es vivir en una ficción. Le Pen pretende hablar en nombre del pueblo mientras su familia amasa grandes fortunas. Todos los dirigentes del FN que han venido acumulando posiciones electorales (tanto en la derecha como en el PS). En las ciudades que gobierna el FN, lo único significativo son las cacerías a asociaciones de izquierdas y populares (como el "Secours Populaire"), el fin de la gratuidad de los comedores para los trabajadores, etc… El FN no habla ni si quiera de aumentar los salarios, no quieren, por encima de todo, atacar al capitalismo. Lo que realmente quiere el FN es dividir a los trabajadores y la población para beneficiar a los ricos, exactamente igual que la derecha y el PS.
Expresar nuestro descontento con el sistema
El miedo de los partidos del establishment capitalista es que nuestro descontento se exprese por medio de un candidato que se oponga frontalmente a sus políticas, que rechace los despidos de empleados públicos o que defienda abiertamente los aumentos salariales, de ayudas sociales y de las pensiones y que, con estas ideas, acumule millones de votos. Por esta razón Izquierda Revolucionaria llama a votar por Mélenchon. Por lo tanto, debemos empezar a movilizar a todos aquellos que están cansados del capitalismo y de sus leyes de beneficios y explotación.
Esto es crucial además para organizar una fuerza de oposición en el caso de que Fillon gane las elecciones. Defendiendo los intereses de las clases populares y los trabajadores, la candidatura de Mélenchon es también un medio a gran escala de contrarrestar el voto por Le Pen basándose en la cólera contra el PS y Los Republicanos.
La candidatura de Mélenchon es un punto importante de apoyo, incluso si tenemos desacuerdos con él. Su programa defiende el aumento de los salarios, la jubilación a los 60 años, rechaza la continuación de las medidas que nos han llevado al desastre ecológico y defiende una organización planificada de la economía que tenga en cuenta realmente los recursos naturales en lugar de funcionar únicamente para obtener beneficios millonarios. Su plataforma también quiere acabar con esta Unión Europea, que sólo sirve a las multinacionales. La reglamentación electoral de los "insumisos" (la plataforma que apoya a Mélenchon) prohíbe la acumulación de cargos electorales. Esta prohibición, unido al derecho de voto a los 16 años son puntos muy positivos y nosotros también propondremos que los electos no puedan percibir un salario mayor al salario medio de un trabajador y que puedan ser revocados en el caso de que traicionen sus propuestas.
Si esta candidatura, con este programa obtiene millones de votos, se podrá recuperar la confianza de todos aquellos que están hartos de esta sociedad injusta.
Atacar al mundo financiero y a las multinacionales
Para atacar el poder de las multinacionales, la banca o los grandes grupos de accionarios hay que ir más allá. La campaña electoral puede ser un medio de discutir las verdaderas reivindicaciones y propuestas para luchar contra el sistema capitalista. Contra la dictadura de los grandes capitalistas, la Izquierda Revolucionaria defiende la nacionalización completa y sin indemnización del sector financiero (bancos, aseguradoras, inmobiliarias, etc…) y agruparlas en un organismo de crédito único, bajo el control de los trabajadores y la población. Así se financiarían las inversiones para crear miles de empleos en los servicios públicos o para proteger las necesidades sociales y el medio ambiente.
La necesidad de una fuerza política de masas de los trabajadores y la juventud
La lucha contra la reforma laboral nos enseñó nuestra fuerza: somos millones y millones los que estamos cansados del capitalismo y de su explotación. Desde la primavera, millones de personas se han levantado para negarse a seguir percibiendo bajos salarios, soportando unas condiciones de trabajo lamentables y la dictadura de los empresarios. Pero también hemos visto que no estamos lo suficientemente organizados, no se ha conseguido la derogación de la reforma pese a que el más del 70% de la población se declaraba contraria a ella. Esto nos demuestra que es más necesaria que nunca una fuerza políticas de masas, un nuevo partido para los trabajadores, jóvenes, jubilados y precarios, para ayudar a organizar las luchas y combatir la propaganda al servicio del capitalismo, que rechace el racismo, el sexismo y todo tipo de discriminación.
Para esto también hay que utilizar la campaña y el movimiento alrededor de Mélenchon, para apoyar las luchas sociales, medioambientales y democráticas, para ayudar a su construcción y su organización, los centenares de huelgas que tienen lugar cada semana necesitan un apoyo político y militante.
Todo esto es lo que nosotros queremos poner en relieve en esta campaña y os invitamos a participar y a defender con nosotros. Frente a Fillon y el resto de siervos del capitalismo, es necesario que construyamos una alternativa decidida para combatirlos y frenar todas las medidas que pongan encima de la mesa. Para parar todos estos planes del capitalismo será necesaria una lucha organizada y amplia, incluso una huelga general, que mostraría la fuerza de los trabajadores y la juventud cuando luchamos todos juntos.
Ayudando a construir la campaña de Mélenchon, podemos avanzar en esta dirección y comenzar a construir esa nueva fuerza política contra el capitalismo y contra los partidos que lo sostienen (PS-LR-FN).
No hay alternativa dentro del sistema capitalista, un sistema que agota los recursos del planeta, que condena a miles de millones a la miseria y la precariedad mientras que un puñado de ricos se enriquece aún más cada día. No hay alternativa en este sistema que provoca guerras por petróleo y otros recursos y después se dedica a criminalizar y abandonar a los refugiados que huyen de ellas.
Hay que acabar con el capitalismo, y sustituirlo por un sistema genuinamente socialista, para permitir que la economía sea gestionada y organizada para satisfacer las necesidades de la mayoría, para acabar con las discriminaciones, para la que juventud tenga verdaderamente un futuro y para construir una sociedad realmente democrática. Por todo esto es por lo que lucha Izquierda Revolucionaria. Únete a nosotros y hagamos campaña juntos!
Special financial appeal to all readers of socialistworld.net

Support building alternative socialist media

---

Socialistworld.net provides a unique analysis and perspective of world events. Socialistworld.net also plays a crucial role in building the struggle for socialism across all continents. Capitalism has failed! Assist us to build the fight-back and prepare for the stormy period of class struggles ahead. Please make a donation to help us reach more readers and to widen our socialist campaigning work across the world.

Donate via Paypal

CWI- Please inform us if you are reproducing any material from this site.