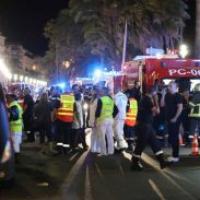 No al odio, la desconfianza y el racismo: no dejemos que nos dividan!
Lo qué pasó en Niza el jueves 14 de julio fue un acto atroz. El conductor del camión quería causar tantas muertes como fuera posible, conducir y chocar con el número máximo de personas en el Paseo de los Ingleses después del castillo de fuegos artificiales, y una vez más son los inocentes quienes sufren. Condenamos estos ataques y la cobardía sin sentido, que los impulsa. Estos son nuestros hermanos y hermanas que han muerto, los trabajadores de vacaciones, turistas, visitantes extranjeros, familiares, jubilados, independientemente de su origen o de su cultura.
¿Fue planeado o no? ¿Cuál era la estructura psicológica del hombre al volante del camión? Hasta el momento no sabemos nada, pero todos sentimos lo mismo: tristeza y rabia. Si se trataba de un individuo aislado, de ISIS o algún otro grupo que va a reclamar el ataque, hay que dejar claro que los métodos empleados son los mismos que los empleados por grupos fascistas, por dictaduras, por los ejércitos de ocupación. La eliminación de personas indefensas a sangre fría es una ideología de extrema derecha, aún si se ofrece un pretexto religioso o algún otro.
Nada puede justificar estos ataques salvajes y bárbaros en Niza, ni los de Bagdad la semana pasada en la que 292 personas perdieron la vida, ni los ataques en Estambul el 29 de junio. Grupos como ISIS, o aquellos que reclaman estos ataques, son incapaces de ganar el apoyo de ningún sector de la población. No aquí, ciertamente no entre los musulmanes, y no en cualquier otro lugar tampoco. Estos bárbaros no pueden afirmar que están luchando en una guerra librada por Francia o Estados Unidos. En realidad en todo el mundo hay mercenarios y mafiosos que dirigen estos grupos, ya sea en Francia, Bélgica, Irak, Libia o Nigeria. Por otra parte sus métodos están destinados a prevenir cualquier oposición organizada a los regímenes brutales, medievales que buscan establecer. Y si las muertes de civiles causadas por estos ataques pueden hacer que las personas lleguen a la desesperación esto también es cierto de las muertes de civiles causadas por las bombas imperialistas. La política del terror no hace sino reforzar las clases dominantes mediante la creación de un clima de miedo, odio y sospecha.
Estado de emergencia – la respuesta sigue siendo no!
Una vez más, la tristeza y la rabia que siguen a estas atrocidades son explotados por el gobierno y los diversos partidos políticos que apoyan a los capitalistas en su intento de dividirnos. Ni la extensión del estado de emergencia, ni la movilización de 500 000 reservistas, pueden garantizar nuestra seguridad. El estado de emergencia no ha sido nunca una manera de prevenir los actos terroristas. Fue introducido en noviembre de 2015 y ahora se extendió por otros tres meses. Pero no evitó la muerte de otras 84 personas ayer. El estado de emergencia no nos puede ofrecer verdadera seguridad.
En su lugar, se trata de un arma real en manos de Valls y Hollande, lo que les permite cada vez desde diciembre de 2015 poner un freno a la movilización de masas, en un principio en contra de las manifestaciones de COP 21, y más tarde contra el movimiento social de masas sobre la Ley del Trabajo, intentando prohibir las manifestaciones y restringir a los que hacen campaña en contra de sus políticas.
Nos negamos a aceptar lo que los que cometen estos ataques quieren imponernos, a saber, una sensación de miedo. El terror es un arma política que tiene por objeto la prevención de la unidad de los trabajadores, obligando a la falta de acción a través del miedo y reforzando el racismo. No vamos a permitir que nos intimiden o nos divididan!
Unidad de los trabajadores y la juventud contra la barbarie y el racismo
Nos negamos a dejar nuestra seguridad en manos del gobierno Valls Hollande o los políticos del FN. Su política consiste en imponer una verdadera contra-revolución social, inseguridad social permanente, como lo demuestra la Ley de empleo. Terminamos viviendo en el margen, con sueldo pésimo, empleo precario y desempleo. Este es un verdadero caldo de cultivo para todo tipo de ideas con violencia reaccionaria, que se alimentan de la pobreza y la falta de esperanza en el futuro bajo el capitalismo.
Quienes se han atrevido a equiparar manifestantes en contra de la ley de empleo, los sindicalistas y los terroristas harían bien en disculparse inmediatamente. En realidad, ningún grupo gubernamental o terrorista es más fuerte que la unidad de los trabajadores y de los jóvenes en la lucha de masas. Cuando había un millón de nosotros en las calles, el 31 de marzo y el 14 de junio, unidos en nuestra lucha contra la política de un gobierno que ataca los derechos de todos los trabajadores en Francia – fuimos fuertes. La lucha conjunta es la única manera de evitar que la gente caiga en la desesperación. Así es como podemos luchar contra las raíces del terrorismo, la división y el racismo.
Para una verdadera lucha contra el terrorismo y el odio hay que unirse y luchar contra las políticas que los alimentan. Es sólo mediante la lucha contra el capitalismo, un sistema en el que el conjunto de la sociedad gira en torno a los beneficios de un puñado de personas que viven sobre las espaldas de la mayoría, que podemos erradicar las fuentes de la barbarie y garantizar un futuro seguro y digno para todos. Otra sociedad es posible y necesaria, – el socialismo.
Special financial appeal to all readers of socialistworld.net

Support building alternative socialist media

---

Socialistworld.net provides a unique analysis and perspective of world events. Socialistworld.net also plays a crucial role in building the struggle for socialism across all continents. Capitalism has failed! Assist us to build the fight-back and prepare for the stormy period of class struggles ahead. Please make a donation to help us reach more readers and to widen our socialist campaigning work across the world.

Donate via Paypal

CWI- Please inform us if you are reproducing any material from this site.