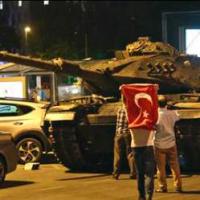 No a un régimen militar, no al gobierno de Erdogan! Por una alternativa obrera!
En la noche del 15 de julio un sector de los generales de rango medio, ex generales y coroneles del ejército turco trató de tomar el poder por la vía militar y derrocar el gobierno del AKP y el presidente Erdogan. En el momento del intento de golpe, Erdogan estaba de vacaciones en la costa del mar Egeo.
Los conspiradores militares inicialmente lograron apoderarse de la Agencia Nacional de Inteligencia en la capital, Ankara, así como de las instalaciones de la academia de policía y la escuela de la policía, después de feroces bombardeos aéreos. Tomaron el control de los aeropuertos de Ankara y Estambul. A pesar de los enfrentamientos en otras ciudades de todo el país, el intento de golpe se centró principalmente en estas dos ciudades importantes. la jefatura de policía, oficinas del AKP, los edificios de la alcaldía, el servidor central de internet, también se apoderaron de los dos puentes del Bósforo que unen las partes de Asia y Europa de Estambul. El Parlamento, en el que todos los partidos políticos estaban en sesión, fue bombardeado varias veces por los aviones de combate, y el Palacio Presidencial fue atacado por unidades militares vinculadas a los conspiradores, en un intento de tomar el control.
El corazón de la trama se originó en la sede militar supremo, la mayor base aérea militar del país y en el cuartel de la gendarmería. El ala golpista del ejército secuestró a la mayor parte de los altos mandos militares, incluido el Jefe Supremo de las Fuerzas Armadas. Tomaron el control de la radio estatal, y los mayores canales de televisión privados, así como la televisión estatal, de las que emitieron una declaración anunciando la toma de posesión del poder político contra el régimen ilegítimo, corrupto y no-secular de Erdogan y el AKP . Declararon un toque de queda y el estado de sitio, con el argumento a favor de una nueva Constitución.
El avión de Erdogan fue impedido de aterrizar durante horas. El presidente y el primer ministro ambos hicieron llamamientos a la población para resistir el intento de golpe. Sectores enfrentados de la máquina de estado se dedicaban a enfrentamientos violentos durante toda la noche, con el aparato policial que queda en gran medida fiel a Erdogan. Llamadas desde las mezquitas también fueron emitidas para reunirse detrás del gobierno. Unos pocos miles de personas, la mayoría de derecha islamistas y sus principales partidarios del AKP, se echaron a las calles como resultado. Aviones y helicópteros del ejército dispararon contra manifestaciones en las dos principales ciudades. Por la mañana del sábado, más de 150 fuerzas estatales en ambos lados y más de 50 civiles habían muerto.
La mayoría de las personas y todos los partidos políticos se oponen a un retorno a un gobierno militar, y la mayor parte de los soldados del ejército son reclutas militares que no estaban dispuestos a alinearse detrás de la violencia organizada por los golpistas y verdugos. Estos son oficiales antiguos y agentes con arraigados privilegiados, interesados en tomar el poder por sí mismos. De ahí que el golpe no encontró la suficiente base social y política para ser llevado adelante. La principal federación turca de grandes empresarios (TÜSIAD), así como el imperialismo estadounidense hablando a través de la voz del presidente Obama, rápidamente dejaron claro que no proporcionarían ningún respaldo a los conspiradores.
Como hemos explicado en anteriores materiales, una creciente crisis política ha surgido en Turquía y se ha intensificado desde las elecciones del año pasado en el contexto de una creciente crisis en la economía y la reducción de apoyo social para el régimen de Erdogan. El gobierno del AKP ha utilizado el poder judicial y los aparatos militares para superar esta creciente crisis política, utilizando el sistema judicial para reprimir las voces de oposición dentro y fuera del Parlamento, y el uso del ejército para aplastar a la oposición kurda. El intento del partido en el poder de forzar por la fuerza un cambio constitucional hacia un sistema presidencial es parte de las mismas tendencias cada vez mas bonapartistas, para gobernar por esta única fuerza. Esta manera represiva de resolver el estancamiento político ha proporcionado las herramientas que los golpistas han vuelto contra el propio AKP. Aunque ambas partes han vestido sus objetivos detrás de la fachada de la democracia, ellos sólo están ofreciendo una variante del régimen dictatorial capitalista sobre la mayoría, uno de civil y el otro con uniforme militar. Estos métodos no pueden resolver la crisis que padece el país, sólo la exacerban, y provocarán turbulencias mayores en el futuro. El intento de golpe reciente ha puesto de manifiesto el hecho de que los intentos de construir un poder monolítico no sólo no han sido capaces de ocultar las crecientes fracturas internas y peleas dentro de los niveles superiores del Estado; ellos también las han promovido.
Si bien es de suma importancia resistir los ataques de Erdogan sobre los derechos sociales y democráticos, este golpe ilustra que el régimen dictatorial no puede combatirse con métodos dictatoriales de arriba hacia abajo. Victorioso o no, un golpe tal, sólo significa más medidas represivas impuestas a las masas. El fallido golpe será ahora utilizado por Erdogan para concentrar el poder aún más dentro de su propio círculo de confianza, y para reprimir aún más a los derechos democráticos. Esto ya se ve, con muchos abogados públicos que son removidos arbitrariamente de sus puestos y la intención del gobierno de reintroducir la pena de muerte. Se presentan estas medidas para contrarrestar la actuación de los conspiradores militares, pero en lugar de esto serán convenientes para contraatacar las luchas futuras contra el régimen.
El CIT y su sección en Turquía, Sosyalist Alternatif, se oponen al intento de golpe, que ayuda a Erdogan para reforzar su agenda dictatorial. Ambos campos representan diferentes alas de la clase dominante opresora y es necesario oponerse a ellas, la resistencia del pueblo contra cualquier intento de un golpe militar no puede dejarse en manos del régimen putrefacto del AKP. Es necesario construir la acción de masas unida del movimiento obrero y la juventud, la izquierda y el HDP, independiente delas movilizaciones por etapas del partido gobernante , que han utilizado en ocasiones la violencia contra los opositores políticos y no tienen otra alternativa que ofrecer. El movimiento obrero y la izquierda necesitan con urgencia organizar comités de autodefensa contra la violencia utilizada por ambos lados. Un tercer polo político en torno a la clase trabajadora, los pobres y los jóvenes tiene que ser construido para detener la violencia, los ataques a los derechos democráticos y políticos, la ofensiva del Estado contra el pueblo kurdo, y las políticas neoliberales defendidas por las dos facciones del la clase capitalista.
Atrás quedaron los días cuando Turquía era elogiada como un modelo de prosperidad y estabilidad. La creciente crisis de múltiples caras que envuelve Turquía es un reflejo de la crisis del capitalismo a escala mundial. Sólo una lucha por el cambio socialista, vinculado a la solidaridad de los trabajadores en el Oriente Medio, Europa e internacionalmente, puede poner fin al caos y la violencia que golpea Turquía en este momento.
Special financial appeal to all readers of socialistworld.net

Support building alternative socialist media

---

Socialistworld.net provides a unique analysis and perspective of world events. Socialistworld.net also plays a crucial role in building the struggle for socialism across all continents. Capitalism has failed! Assist us to build the fight-back and prepare for the stormy period of class struggles ahead. Please make a donation to help us reach more readers and to widen our socialist campaigning work across the world.

Donate via Paypal

CWI- Please inform us if you are reproducing any material from this site.