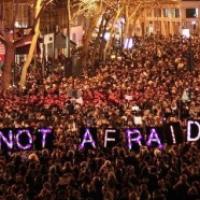 ¡Por el derecho a la libertad de expresión! ¡No nos dejemos dividir!
El ataque de hombres fuertemente armados contra Charlie Hebdo y la matanza de 12 personas en el periódico el miércoles es un acontecimiento dramático. Condenamos enérgicamente este ataque cobarde y bárbaro.
Cuando diseñadores tan brillantes que como Wolinski, Charb', Tignous o Cabu, combatieron en múltiples sentidos, la intolerancia, el racismo, la censura … Que ellos hayan muerto bajo las balas de locos racistas e intolerantes, nos repugna. Del mismo modo, en este ataque indiscriminado, también fueron asesinados muchos trabajadores, los empleados "simples" del periódico.
Al masacrar a este periódico satírico estos reaccionarios islámicos (de acuerdo con la información más reciente), dijeron hacerlo como un acto contra los ataques sufridos por los musulmanes en Francia. Esto es falso! No compartimos el enfoque de Charlie en algunos asuntos. Charlie Hebdo había optado por publicar caricaturas de Mahoma. Esto no había sido de gran interés, ni parecía particularmente divertido o necesario. Pero la libertad de expresión y de opinión es un derecho total que defendemos a toda costa. Sabemos que este derecho es atacado rápidamente por las clases dominantes.
En ningún caso la situación de los musulmanes en Francia se alivia con este acto, por el contrario. Serán ellos los que a menudo pagarán las consecuencias en la calle, como ocurre cada vez que se ha cometido un atentado reaccionario e indiscriminado se ha comprometido. Estos terroristas que dicen defender una "religión" no son mejores que los islamófobos reaccionarios. De hecho, ellos van de la mano con el desarrollo de la intolerancia y el oscurantismo. Este acto terrorista atroz y cobarde fortalece a los reaccionarios de todo tipo que quieren dividir a los trabajadores y los jóvenes sobre una base religiosa o de comunidad.
Este ataque servirá a las clases dominantes y los capitalistas. Hollande, Sarkozy o Le Pen podrán pretender ser los defensores de nuestras libertades, ellos que son los que suprimen las huelgas, estigmatizan a los extranjeros, nos arrebatan nuestros derechos.
Entretanto el clima de islamofobia se está haciendo cada vez más fuerte.
Esto lleva a que algunos musulmanes en Francia se sienten con razón bajo ataque. Denunciamos todas las formas de racismo, la islamofobia, el antisemitismo, el sexismo … Luchamos por un mundo solidario, fraternal, y tolerante, nada comparable con estos iluminados que quieren hacer de justicieros.
Este ataque es en verdad un regalo de oro a todos los racistas y reaccionarios a fin de imponer un fortalecimiento del plan de control Vigipirata en las redes aún más fuerte, sobre todo sobre la población del norte de África.
No vamos a participar en eventos de "republicanos" con la derecha y la extrema derecha para condenar el ataque. Los intelectuales islamófobos, los políticos de derecha, los promotores de la guerra en África y el Medio Oriente y la regresión social a favor de los ricos y los capitalistas que son llevadas adelante por el gobierno, crean este clima y nauseabundo, y estas formas de respuestas reaccionarias dementes. Ninguna forma de unidad nacional puede hacerse con aquellos que buscan subirse a la ola de racista y xenófoba. Por el contrario, en este clima, lo que se tiene que escuchar es una voz clara del campo de los trabajadores. Los sindicatos, las organizaciones del movimiento obrero, las asociaciones deben llamar para reunirse y rendir homenaje a las víctimas de Charlie Hebdo en sus propias bases: por la unidad de los trabajadores, la juventud y la gran mayoría de la población, independientemente de su origen o creencias, por la libertad de expresión, contra todos los terroristas reaccionarios y fundamentalistas, contra las políticas racistas e imperialistas de los gobiernos de Francia que aumentan las divisiones sectarias, la intolerancia y el oscurantismo.
Contra el racismo y contra las políticas que ponen en una situación precaria a millones de personas, necesitamos una movilización unitaria y masiva! Es sobre estas bases que nosotros vamos a participar en el apoyo a los periodistas y al personal de Charlie Hebdo.
Special financial appeal to all readers of socialistworld.net

Support building alternative socialist media

---

Socialistworld.net provides a unique analysis and perspective of world events. Socialistworld.net also plays a crucial role in building the struggle for socialism across all continents. Capitalism has failed! Assist us to build the fight-back and prepare for the stormy period of class struggles ahead. Please make a donation to help us reach more readers and to widen our socialist campaigning work across the world.

Donate via Paypal

CWI- Please inform us if you are reproducing any material from this site.