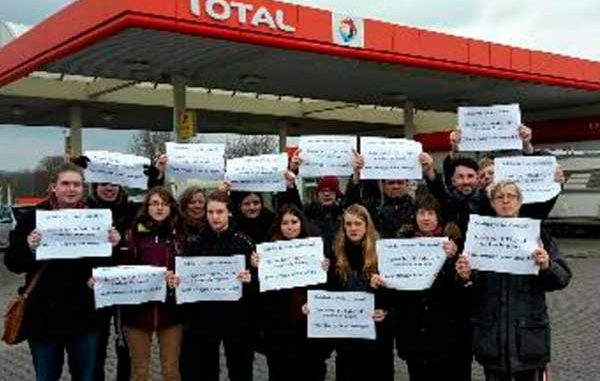 Solidarity spreads for victims of wage robbery and killing by multinational corporations.
On Friday, February 17, several sections and supporters of the CWI took part in protests against the French energy company TOTAL, for its role in leaving workers, employed to protect its sites in Yemen, unpaid for a year and counting; and for its presumed role in the killing of three of these workers last December.
Below are a few pictures and two videos of these protests, as well as a 11 minutes-long documentary in Arabic and English made by the Yemeni workers themselves, in order to explain and promote their struggle.
You can help these workers by sharing news of their struggle on social networks (using the hashtag #JusticeforTOTALG4SWorkers), by taking solidarity pictures like those posted below, by sending protest messages to the email addresses indicated here, or by liking and promoting this new Facebook page.
More updates on this dispute will be published in the coming weeks on socialistworld.net.ust show that it has an independent socialist alternative for the continuing disaster of capitalism.
Britain
France
Tunisia
Brazil
Ireland
Germany
Yemen