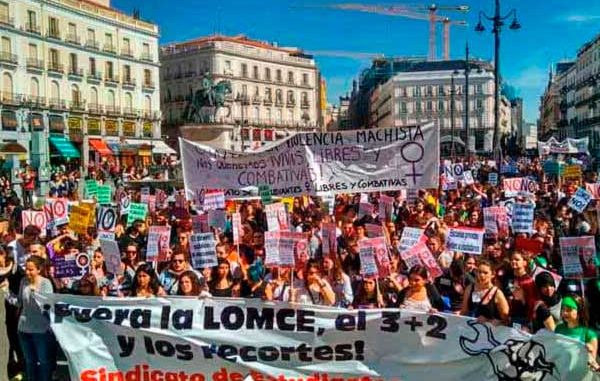 El Sindicato de Estudiantes vacia las aulas y llena las calles.
La huelga general educativa convocada por el Sindicato de Estudiantes y la Plataforma en Defensa de la Enseñanza Pública ha sido abrumadora. El seguimiento a la movilización entre los estudiantes ha sido rotundo y masivo en todos los territorios: en las universidades no ha bajado del 80% y en los Institutos ha superado el 90%. Las más de 70 manifestaciones que el Sindicato de Estudiantes ha organizado a la mañana han sido multitudinarias: en Barcelona, Madrid, Bilbo, Valencia, Alacant, Sevilla, Granada, Málaga, Almería, Cádiz, Ferrol, Santiago, Vigo, A Coruña, Tarragona, Oviedo, Gijón, Zaragoza, Tenerife, Mallorca, Guadalajara, Toledo, Murcia… y en muchas más ciudades y localidades, decenas de miles de estudiantes, más de 100.000, han abarrotado las calles. Frente a esta demostración de fuerza, el Ministro de Educación Iñigo Méndez de Vigo ha declarado que la "huelga ha sido insignificante". ¿Se puede mentir más descaradamente? Este señor, como su antecesor Wert, debe dimitir y dejar de insultar a la comunidad educativa.
Pincha aquí para ver la Galería I de fotos de las manifestaciones del 9M
La movilización de hoy, ha concluido a la tarde con manifestaciones unitarias en muchas ciudades de padres, madres, profesores y estudiantes. En Madrid, la manifestación ha sido multitudinaria, con decenas de miles llenando el centro de la ciudad. Las movilizaciones han trasladado un mensaje muy claro al gobierno del PP y los partidos en los que Rajoy se apoya para seguir golpeando a la enseñanza pública: Ciudadanos y la Gestora golpista del PSOE. Y este mensaje es claro y diáfano: no vamos a aceptar el supuesto "Pacto de Estado por la Educación" que está cocinando la triple alianza, por el sencillo motivo de que no representa más que una continuidad de los recortes y todas las leyes que han arrasado la enseñanza pública en estos años.
Hace unos días Ana García, portavoz del Sindicato de Estudiantes, fue invitada por Unidos Podemos a la Comisión Educativa del Parlamento para hacer balance de las políticas de la derecha. Todas las argumentaciones de la compañera Ana fueron acompañadas de datos y cifras objetivas: 9.000 millones de euros recortados en nuestros colegios, institutos y universidades públicas. 30.000 docentes despedidos desde que gobierna el PP. Masificación imparable en nuestras aulas, fracaso escolar en aumento y más de 20.000 estudiantes no admitidos en la FP en los últimos dos cursos. 100.000 estudiantes expulsados de la Universidad por no poder pagar unas tasas abusivas que se han incrementado un 60% en seis años. Destrucción del sistema de becas e impago generalizado de las que se conceden. Un decreto 3+2 que supone la completa elitización de los estudios superiores. Por supuesto, tal como Ana señaló también, estos recortes no son menores allí donde el PSOE gobierna, como en el caso de Andalucía.
Al denunciar esta situación de emergencia social en el Parlamento, nuestra representante se ganó el desprecio de parte de los representantes de la triple alianza. Desde Teófila Martínez, ex alcaldesa del PP en Cádiz y presidenta de la Comisión, pasando por las diputadas de Ciudadanos y los representantes del PSOE, no pararon de interrumpir, denigrar, ridiculizar e intentar impedir que pudiera explicar estas verdades incomodas. En definitiva, si algo quedó claro en esa comisión, es que los representantes del PP, de Ciudadanos y de la actual dirección golpista del PSOE, están completamente al margen de los problemas que sufrimos millones de familias trabajadoras todos los días.
Nuestra experiencia es clara, y por eso desde el Sindicato de Estudiantes no vamos a aceptar nada que no sea la puesta en práctica de las justas reivindicaciones de la Marea Verde ¡Que se dejen de cuentos y de juegos de palabras! Exigimos que se derogue inmediatamente la LOMCE y el 3+2. Que nos devuelvan todo el dinero robado a la educación pública y se reviertan todos los ataques, como los despidos de nuestros profesores. Que se acabe la masificación en las aulas, que se dignifique una FP pública y gratuita y se remuneren las prácticas en empresas. Que vuelvan los estudiantes expulsados de las facultades por no tener dinero, que se terminen las tasas abusivas y que las familias trabajadoras reciban becas dignas para poder acceder a la universidad gratuitamente.
Sí, la lucha es el único camino. Las huelgas y manifestaciones convocadas por el Sindicato de Estudiantes los pasados 26 de octubre y 24 de noviembre fueron secundadas por millones de jóvenes en todos los territorios, y sólo así obligamos al gobierno del PP a retirar las reválidas franquistas. Pero no nos conformamos únicamente con esta victoria. Si el gobierno de la derecha y sus aliados políticos en el parlamento, Ciudadanos y la gestora golpista del PSOE, siguen despreciando las reivindicaciones de la Marea Verde, del movimiento estudiantil, de millones de familias humildes que desde hace años intentamos frenar esta ofensiva sin cuartel que está hundiendo nuestro derecho al estudio, las movilizaciones continuarán más fuertes, duras y extensas en los próximos meses.
Por último, queremos señalar también la gran respuesta de las y los estudiantes al llamamiento a parar las clases una hora, que realizamos ayer 8 de marzo contra la violencia machista y por los derechos de la mujer trabajadora. Las manifestaciones masivas y entusiastas que ayer recorrieron decenas de ciudades del Estado tuvieron un carácter histórico: más de un millón de personas participaron en ellas. Y estas movilizaciones, como la huelga educativa de hoy, reflejan que estamos muy cerca de una nueva rebelión social, pues la gente humilde, los trabajadores, la juventud, no aguantamos más este gobierno, está hipocresía, estas falacias.
Lo llaman democracia, pero no lo es. Es un sistema corrupto hasta la médula, que premia con la libertad a políticos, empresarios y familiares del rey que meten la mano en los presupuestos públicos para enriquecerse obscenamente y aquí no pasa nada, mientras cotidianamente aprueban leyes que recortan los recursos de la educación pública, de la sanidad pública, de los servicios sociales esenciales, del acceso a una vivienda digna, que machacan nuestros derechos y libertades. Ellos son los antisistema. Y ya lo están comprobando.
Special financial appeal to all readers of socialistworld.net

Support building alternative socialist media

---

Socialistworld.net provides a unique analysis and perspective of world events. Socialistworld.net also plays a crucial role in building the struggle for socialism across all continents. Capitalism has failed! Assist us to build the fight-back and prepare for the stormy period of class struggles ahead. Please make a donation to help us reach more readers and to widen our socialist campaigning work across the world.

Donate via Paypal

CWI- Please inform us if you are reproducing any material from this site.