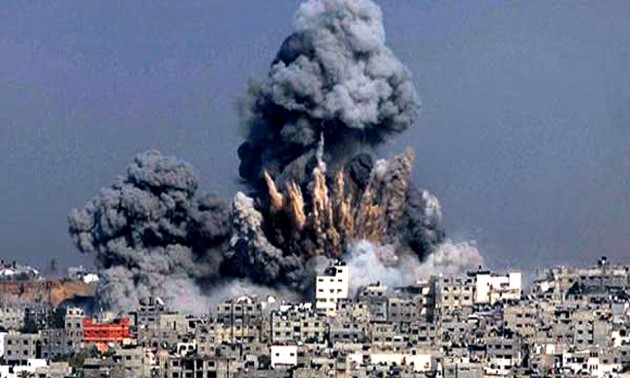 Los ataques intensifican el conflicto sirio y alimentan las tensiones entre las potencias.
La decisión del presidente norteamericano Donald Trump de lanzar un ataque con misiles contra la base de Shayrat en Siria intensifica el largo conflicto sirio y alimenta peligrosamente las tensiones entre EEUU, Rusia e Irán, y también con Corea del Norte y China. Además incrementará significativamente las rivalidades entre los regímenes suní y chií en Oriente Medio.
Según Trump el ataque con misiles tomahawk se ordenó "sobre la base aérea siria desde donde se lanzaron los ataques químicos", refiriéndose a Khan Sheikhun, donde murieron más de 70 personas a principios de esta semana.
La horrible muerte de civiles, incluidos niños, correctamente provocó repulsión y la condena de la clase trabajadora de todo el mundo. Sin embargo EEUU, apoyados por las otras potencias occidentales, de manera cínica aprovecharon el terrible incidente para intentar fortalecer su posición en el conflicto sirio. Las potencias occidentales, que quieren ver derrocado al presidente Bashar al Assad, rápidamente culparon al régimen sirio de esas muertes. La inestable administración de Trump está utilizando el ataque de misiles como una manera de impulsar su apoyo interno y desviar la atención del incumplimiento de las promesas electorales de Trump y su incapacidad de dar soluciones a la vida de los norteamericanos.
En ausencia de una investigación de las muertes químicas y sin buscar el mandato de la ONU, ni siquiera el del Congreso estadounidense, Trump ordenó el ataque de misiles contra Siria Los ataques norteamericanos fueron bienvenidos por los gobiernos europeos, incluido el británico, el alemán y el francés, además de Turquía e Israel. La oposición islamista en Siria, la milicia Ahrar al-Sham, también aplaudió los "ataques quirúrgicos" de EEUU.
Assad utilizará los ataques norteamericanos para intentar incrementar sus credenciales antiimperialistas en casa. Pero los socialistas no pueden apoyar, en absoluto, al régimen de Assad, que ha demostrado no tener ninguna preocupación por las vidas de civiles inocentes durante la prolongada y sangrienta guerra civil siria. Assad es un brutal dictador dispuesto a utilizar métodos despiadados para permanecer en el poder. Sin embargo, no hay evidencias para afirmar que el régimen de Assad fuera el responsable de la muerte de civiles por armas químicas. Dado que Assad, con la ayuda crucial de Putin, está ganando la guerra, parece contraproducente desde su punto de vista lanzar un ataque indiscriminado con armas químicas, consciente de que sería un pretexto para un posible ataque militar encabezado por EEUU.
Moscú insistió en que la fuerza aérea siria atacó un depósito de armas químicas fabricadas por los rebeldes que luchan contra las fuerzas del gobierno. Günther Meyer, director del Research Center for the Arab World en la Universidad de Johannes Gutenberg en Mainz va más allá: "Sólo los grupos de la oposición armada podían beneficiarse de un ataque con armas químicas. Acorralados, no tienen oportunidad de hacer frente militarmente al régimen. Como demuestran las recientes declaraciones de Trump, estas acciones hacen posible que los grupos anti-Assad reciban más apoyo". (Citado por el corresponsal alemán del Detusche Welle. 6/4/2017)
Contrarrevolución
En esta etapa lo único cierto de las terribles escenas que vimos esta semana en Khan Shikhun es que los asesinados eran civiles, como las cientos de miles de otras muertes relacionadas con la guerra. Esto es fundamentalmente el resultado de la contrarrevolución que se está desarrollando en Siria tras la auténtica revuelta contra el régimen de Assad en 2011, inspirada por los movimientos revolucionarios de Túnez y Egipto. Pero ante la ausencia de organizaciones fuertes y unidas de la clase obrera y una dirección socialista, las fuerzas sectarias e islámicas fueron capaces de llenar ese vacío, ayudados por los reaccionarios estados del Golfo, Turquía y las potencias occidentales, llevando a la degeneración de la revuelta de masas a una guerra civil violenta y multifacética.
No está claro si los ataques aéreos norteamericanos son una muestra de fuerza y una acción limitada o si presagian una intervención militar más amplia en Siria. La base aérea de Shayrat es un punto importante para las operaciones militares sirias y rusas contra la oposición islámica armada y los ataques estadounidenses serán un revés.
Rusia condenó los ataques aéreos de EEUU como un "acto de agresión" y una "violación de la ley internacional", suspendiendo su canal de comunicaciones con Washington para la acción militar en Siria, utilizado para evitar un conflicto accidental.
Estos acontecimientos abren la posibilidad de enfrentamientos directos entre las fuerzas militares lideradas por EEUU y Rusia en Siria, con consecuencias de largo alcance en la región e internacionalmente.
Irán, que tiene a sus milicias luchando junto a las tropas de Assad, también condenó enérgicamente las acciones norteamericanas. Además de las complicaciones peligrosas sobre el terreno, las fuerzas iraníes también están en Iraq, luchando junto a las tropas del régimen de Bagdad apoyado por EEUU contra el ISIS.
Trump parece que ordenó los ataques aéreos mientras hablaba con el presidente chino, Xi Jinping, sobre su visita a EEUU, que sólo servirá para aumentar las tensiones con régimen de Beijing. A principios de esta semana Trump indicó que estaba preparado para una acción militar "unilateral" contra Corea del Norte y también hizo comentarios amenazantes sobre el ejército chino y la "construcción de la isla" en el Mar de Sur de China. Según el Financial Times (Londres 7/4/2017): "Liu Binjie, que se sienta en el comité que supervisa el parlamento de China, advirtió sobre una acción unilateral contra Corea del Norte. 'Todo el estado está militarizado' dijo. 'Si les amenazas con la fuerza, les podría explotar'".
Como avisó el CIT, la llegada de la administración Trump marca un giro más peligroso e impredecible en las relaciones mundiales. En esta situación, la clase obrera y la juventud de Oriente Medio, EEUU y todo el mundo necesita un movimiento contra la guerra de masas y el desarrollo de poderosos partidos trabajadores, con políticas socialistas audaces para contrarrestar la guerra, el terrorismo y la pobreza del capitalismo y el imperialismo.
• Hay que detener los ataques de Trump a Siria. No a la interferencia de todas las potencias externas en la región.
• Fin de la guerra y el terror en Siria, Iraq y Oriente Medio.
• No al racismo y la cabeza de turco de los inmigrantes y refugiados.
• Por la unidad de los trabajadores y el socialismo.
The CWI relies on the donations from working class people around the world to fund our campaigns.Please donate towards building the CWI.