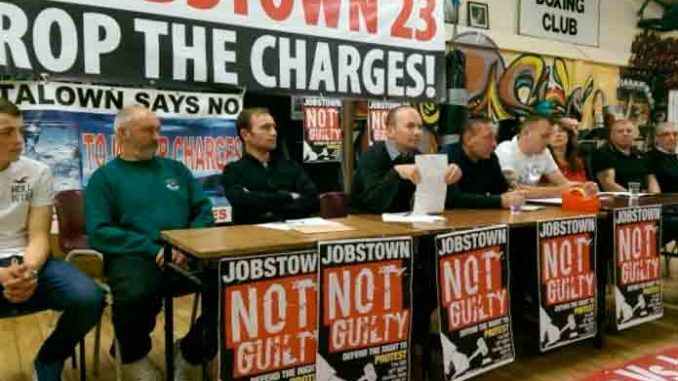 Este 24 de abril comenzaba lo que se puede catalogar como el mayor juicio político en Irlanda para toda una generación. Siete activistas están acusados de 'secuestro' de la entonces viceprimera ministra Joan Burton durante una protesta contra los impuestos del agua en Jobstown, Dublín, en 2014. Un joven de 17 años ya ha sido declarado culpable de este cargo en el tribunal de menores y otros once manifestantes se enfrentarán a cargos similares en los próximos días. Si éstos fueran declarados culpables podrían enfrentarse a una condena máxima de cadena perpetua.
Entre los acusados se encuentra Paul Murphy, miembro del parlamento irlandés y del Partido Socialista (CIT en Irlanda).
www.socialistworld.net
Comité por una Internacional de los Trabajadores, CIT.
El juicio a los primeros siete acusados de Jobstown comenzó este lunes en la Corte de Justicia Criminal en Dublín. La jornada comenzó con una manifestación de apoyo a los activistas acusados en Smithfield Square a las 12.30 PM, donde cientos de militantes y simpatizantes se concentraron en señal de apoyo. En la manifestación tomaron la palabra Brian Leeson de Eirigi , los diputados Ruth Coppinger y Brid Smith, el concejal Pat Dunne y Lidia Senra, miembro del parlamento europeo.
Paul Murphy llegó a la Corte Criminal de Justicia acompañado de simpatizantes y otras seis personas acusadas de falso secuestro a la ex Viceprimera Ministra Joan Burton y su asistente.
A las 14 horas, en la sala 7, comenzó el juicio con la lectura de los cargos de– falso secuestro Joan Burton y Karen O'Connell – a los primeros siete acusados por 'negar su libertad personal sin su consentimiento'. Los siete acusados se declararon como – inocentes – ante los cargos que se les imputan.
El primer tema del juicio: la selección del jurado
El Director del Ministerio Público (DPP) había estado tratando de buscar la forma para imponer restricciones sobre quién podría formar parte del jurado. Habían tratado de prohibir la presencia de gente proveniente de las ciudades de Jobstown y Tallaght, de personas vinculadas a Tallaght, de todo aquel que hubiese participado de alguna forma en campañas contra los impuestos al agua así como a las personas que habían hecho comentarios en las redes sociales contra las tasas de agua. Esta medida habría podido excluir a cientos de miles de personas que viven en Tallaght, que pertenecen a sindicatos contrarios a los impuestos del agua y también a miles de personas que se han posicionado públicamente sobre esta lucha que ha sido uno de los conflictos sociales de mayor envergadura en los últimos años.
Finalmente, el Director del Ministerio Público perdió de nuevo la batalla con respecto a la imposición de estos criterios tan malintencionados. La prohibición de que el jurado incluyese a gente de Tallaght se redujo a las personas de la carretera Fortunestown (donde ocurrió la protesta) y de las carreteras adjuntas. También tuvieron que retroceder con respecto al veto a todas las personas que se hubiesen pronunciado con respecto a las tasas del agua, reduciéndolo únicamente a las que se hubiesen pronunciado con respecto a lo ocurrido en Jobstown.
Esta rectificación representa un importante retroceso frente a lo que eran los deseos del el Ministerio Público. Una vez resuelto este primer paso, el juicio en sí mismo comenzará el 25 de abril. Asimismo, el juez ya ha especificado que llamará a declarar a varios testigos de alto perfil incluyendo Joan Burton, su asistente, y el ministro Katherine Zappone.
Campaña de solidaridad con Jobstown: ¡Nuestros derechos democráticos bajo ataque!
Necesitamos continuar la campaña durante las seis semanas que durará el juicio. Esto significa continuar mostrando todo nuestro apoyo permaneciendo activos en la campaña. Es importante intensificar las acciones de solidaridad en las redes sociales – compartiendo mensajes de Jobstown Not Guilty en Facebook y con el hashtag #jobstownnotguilty en Twitter.
Para seguir las últimas noticias sobre el juicio puedes consultar en el blog Jobstowntrial.wordpress.com.
Para saber más detalles sobre caso en Irlanda y la campaña de criminalización de la protesta social por parte del gobierno, recomendamos el artículo Irlanda: Protestar no es un crimen!
Special financial appeal to all readers of socialistworld.net

Support building alternative socialist media

---

Socialistworld.net provides a unique analysis and perspective of world events. Socialistworld.net also plays a crucial role in building the struggle for socialism across all continents. Capitalism has failed! Assist us to build the fight-back and prepare for the stormy period of class struggles ahead. Please make a donation to help us reach more readers and to widen our socialist campaigning work across the world.

Donate via Paypal

CWI- Please inform us if you are reproducing any material from this site.