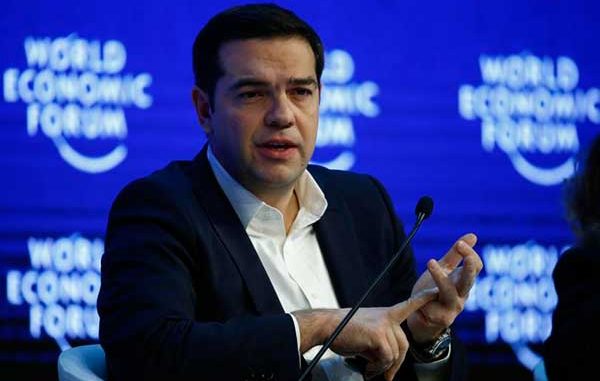 El 17 de mayo se ha organizado una nueva huelga general contra los planes de austeridad aprobados por el gobierno de Tsipras, que suponen una nueva capitulación ante la Troika y otro duro ataque a los derechos de la clase obrera, la juventud y los desposeídos de Grecia. Para conocer más en profundidad las medidas reaccionarias y antiobreras del gobierno de Syriza, publicamos a continuación el último editorial de Xekinima, periódico de nuestros camaradas griegos.
Cuando Nueva Democracia (el partido tradicional de la derecha griega) y el PASOK (los presuntos "socialistas") estaban aplicando políticas de austeridad con el argumento de que éstas eran el camino para un nuevo período de prosperidad, las masas de la clase obrera se enfurecieron y giraron hacia Syriza para liberarse de estos partidos gobernantes. Hoy el primer ministro griego, Alexis Tsipras, y el resto de la dirección de Syriza están haciendo exactamente lo mismo que sus predecesores.
A pesar de las grandilocuentes palabras de Syriza sobre las "duras negociaciones" y las "líneas rojas" que nunca pasarían, el gobierno de nuevo ha aceptado aplicar medidas antisociales y antiobreras muy duras. Las medidas firmadas el 1 de mayo (en el "Memorándum actualizado") incluyen entre otras:
Desde el 1 de enero de 2019 las pensiones se reducirán un 18%. La medida afecta a 900.000 pensionistas que reciben pensiones superiores a 700 €.
Reducción de 3.000 € de los ingresos libres de impuestos (de 8.636 € a 5.681 €). Se aplicará desde el 1 de enero de 2020 (o desde el 1 de enero de 2019 si no se cumplen los objetivos presupuestarios y financieros).
El domingo será laborable en las zonas turísticas del país. Como la mayoría de Grecia es un "área turística" está claro que llevará a la abolición general del domingo como día festivo.
Legislación basada en las recomendaciones de la OCDE sobre la liberalización de los alimentos, las bebidas y el turismo. En los supermercados también se venderán los medicamentos que no necesiten receta.
Durante los acuerdos extra judiciales, en las subastas electrónicas y para proteger a los ejecutivos bancarios, los empresarios pueden utilizar medidas que impidan cualquier acción legal contra ellos.
Aceleración de las privatizaciones.
Estas medidas hundirán los niveles de vida de los trabajadores y las clases medias, profundizando todavía más la crisis.
Declaraciones desafiantes
La cantidad total de dinero que se arrebatará a los presupuestos de las familias trabajadoras con estas nuevas medidas de austeridad corresponde a 4.100 millones de euros en los próximos tres años (de 2018 a 2020). Y todavía hay dirigentes de Syriza como el europarlamentario Papadimoulis que hacen declaraciones provocadoras: "… Este acuerdo es la nota del alta de la unidad de cuidados intensivos del memorándum…"
Incluso el primer ministro Tsipras en una entrevista reciente en ANT1 TV Channel, tuvo la audacia de decir que si el pueblo griego no estaba tomando las calles para protestar era porque ¡comprendía y aceptaba la política de su gobierno!
¡Es una actitud vergonzosa! Las masas de la clase obrera apoyaron a Syriza por su promesa de acabar con la austeridad. En su lugar han cruzado una "línea roja" tras otra, causando un profundo descontento entre la clase obrera, la juventud y las capas medias empobrecidas. ¡Ahora el líder de Syriza pretende que esta desmoralización es en realidad un "apoyo a su política"!
Deficiencias de la izquierda, la necesidad de un "frente único"
Al mismo tiempo, los partidos de izquierdas de masas o semi-masas como el KKE (partido comunista) y ANTARSYA (izquierda anticapitalista) parecen incapaces de dar los pasos necesarios para organizar la resistencia contra esta ofensiva a los derechos sociales y la continuación de los ataques. Muy característico de esta incapacidad es que son ¡incapaces incluso de organizar una manifestación conjunta! ¡Y esto no sólo se aplica al sospechoso habitual, el KKE, también sucede con LAE (Unidad Popular) y ANTARSYA!
Sin embargo, la lucha unificada y común de todos los partidos y organizaciones de la izquierda es una de las cuestiones más importantes del presente período. Contra los ataques constantes del gobierno y la Troika, es absolutamente vital la unidad más amplia en la acción, la cooperación de toda la izquierda y todas las organizaciones implicadas en el movimiento de masas.
… y una izquierda revolucionaria que arrolle
Al mismo tiempo, es necesario que coordinen sus esfuerzos aquellas organizaciones que estén de acuerdo en que la respuesta a la crisis que estamos experimentando es la movilización unida contra todos los nuevos ataques y que ésta sólo puede ser parte de la lucha general por el derrocamiento del sistema capitalista. La construcción de una nueva formación de izquierdas, de masas, revolucionaria e internacionalista, apelando a las fuerzas frescas, es la tarea histórica de nuestra época. Esta tarea puede parecer difícil y distante en el tiempo, pero no hay otra salida.
Vivimos en un momento en que pesan mucho las derrotas acumuladas del período anterior, y la posición de los partidos de masas y semi-masas de la izquierda es tan lamentable que la combinación de estos dos factores mantiene al movimiento paralizado. Esta situación es temporal. Tarde o temprano la clase obrera regresará con nuevas oleadas de lucha. Frente a las nuevas batallas que se avecinan, es importante sacar las conclusiones políticas necesarias sobre lo que faltó en el período anterior. La respuesta es nada menos que una izquierda digna de su nombre y las tradiciones revolucionarias de la clase obrera y el movimiento de masas griego.
Special financial appeal to all readers of socialistworld.net

Support building alternative socialist media

---

Socialistworld.net provides a unique analysis and perspective of world events. Socialistworld.net also plays a crucial role in building the struggle for socialism across all continents. Capitalism has failed! Assist us to build the fight-back and prepare for the stormy period of class struggles ahead. Please make a donation to help us reach more readers and to widen our socialist campaigning work across the world.

Donate via Paypal

CWI- Please inform us if you are reproducing any material from this site.