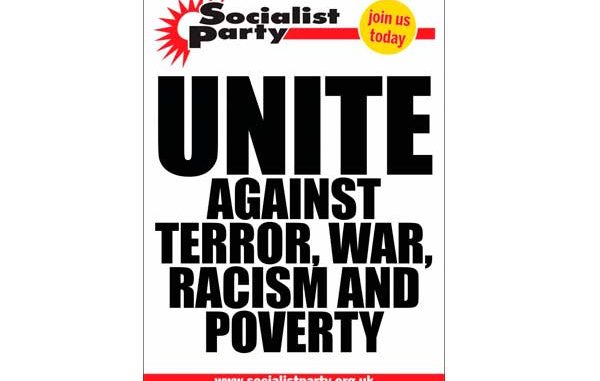 Miles de jóvenes que sólo estaban divirtiéndose se enfrentaron a una de las peores clases de horror imaginables cuando una bomba explotó en el vestíbulo del Manchester Arena, que tiene una capacidad de 21.000 personas. Veintidós muertos y al menos 159 heridos es el resultado de esta explosión al final del concierto de la estadounidense Ariana Grande.
Esta atrocidad, que el Socialist Party condena absolutamente, recuerda al ataque en la sala de conciertos Bataclan de París en noviembre de 2015. En ambos casos gente normal, especialmente jóvenes, fueron masacrados indiscriminadamente.
Los primeros informes sugieren que el causante fue un terrorista suicida que murió en el acto. Se trata del peor ataque terrorista en Gran Bretaña desde los 52 muertos en julio de 2005 a causa de varias bombas en Londres.
La población de Manchester reaccionó rápidamente para ayudar a los que huían de la escena, ofreciendo a través de las redes sociales camas y alojamientos en sus casas, y los taxistas ofrecieron transporte gratuito. Su respuesta solidaria de ayuda, junto con la actuación de los trabajadores de emergencias y hospitales, no tiene nada en común con la reacción hipócrita de los ministros del gobierno tory que se lamentan mientras al mismo tiempo continúan con la política que crea el caldo de cultivo para estas atrocidades.
Los ataques terroristas en ciudades europeas cada vez son más frecuentes. En Gran Bretaña en esta ocasión ha sucedido fuera de Londres y eso hace que ahora la población de todo el país se sienta menos segura. Las razones que detrás de los ataques a menudo presentan con múltiples facetas y los casos no son exactamente lo mismo. Pero una característica común son los vínculos o simpatía ideológica con grupos como el ISIS y la rabia hacia las intervenciones imperialistas occidentales en Oriente Medio.
De la misma forma que nos oponemos a organizaciones reaccionarias como el ISIS, que apoyan y perpetran actos bárbaros contra la población inocente, es esencial oponerse a las guerras imperialistas y defender la retirada inmediata de las fuerzas militares británicas de Oriente Medio. Debemos forjar la unidad de la clase trabajadora frente a los chivos expiatorios, el racismo y la división. Defender un programa auténticamente socialista es la única alternativa a este sistema que no puede ofrecer otra cosa que pobreza, guerra y terrorismo.
La incapacidad de los tories de contrarrestar el terrorismo
Después de la atrocidad de Manchester, Theresa May intentará sin duda recrudecer su postura de fuerza y estabilidad, para presentarse como una firme "anti-terrorista" e impulsar así sus expectativas electorales. No obstante, como reiteradamente ha avisado el Socialist Party que ocurriría, en estas últimas dos décadas se ha aprobado en varias ocasiones diferentes leyes antiterroristas y ninguna ha impedido ataques como los asesinatos de marzo en Westminster o este último terrible acontecimiento en Manchester.
Al mismo tiempo la implacable política de austeridad aplicada por los tories hace que la población sea más vulnerable cuando sucede un ataque. Después del ocurrido en Westminster llamamos la atención sobre la manera en que los recortes en los servicios de emergencia, hospitales y transporte reducirían inevitablemente la rapidez de la asistencia para los que necesitaran ayuda urgente.
Ocho hospitales en el Gran Manchester han tratado a las víctimas del ataque, pero al mismo tiempo algunos de estos hospitales se enfrentan a los recortes e incluso se está considerando eliminar el servicio de emergencia 24 horas. El ataque al Manchester Arena tuvo lugar por la noche y reveló la naturaleza potencialmente desastrosa de los recortes que quieren aplicar los tories.
Durante la campaña de las elecciones generales los tories se han mostrado decididos a continuar con las medidas de austeridad y se han encontrado con una importante reacción a sus intentos de penalizar aún más a las personas que dependen de la asistencia social. Después del ataque en Manchester hay que desenmascarar y rechazar el autorretrato que presentan los tories como los defensores de la gente trabajadora corriente.
Popularidad de la política contra la guerra
Los atentados en los trenes de Madrid en 2004 en el Estado español, en los que murieron 191 personas, se produjeron durante la campaña de las elecciones generales y el Partido Popular, en ese momento en el gobierno, intentó utilizar las atrocidades para incrementar sus perspectivas electorales. Su estrategia falló, la rabia de las masas se dirigió contra ellos después de que intentaran responsabilizar a ETA del ataque. En su lugar, quedó claro que los responsables simpatizaban con Al Qaeda y el ambiente de repulsión hacia el gobierno y su implicación en la guerra de Iraq llevó a que el Partido Socialista ganara las elecciones.
Aunque fue la torpeza del Partido Popular la que ayudó a provocar ese resultado, la campaña actual de las elecciones generales en Gran Bretaña, con la postura contra la guerra de Jeremy Corbyn, puede tener incluso más resonancia y un impacto más fuerte. Corbyn desde hace tiempo es un opositor consistente a la intervención británica y de otras potencias capitalistas occidentales en las guerras de Afganistán, Iraq y Siria. Éstas han causado una devastación masiva y decenas de miles de muertos, creando las condiciones para un nivel horroroso de violencia terrorista en estos países y fuera de ellos.
Desde el Socialist Party siempre nos hemos opuesto firmemente a estas guerras y hemos avisado que sería la población de Oriente Medio y de todo el mundo la que pagaría el precio, tanto económicamente como a causa de la creciente inestabilidad que han provocado.
Al mismo tiempo condenamos (como Corbyn) la ideología y los métodos abominables de las organizaciones reaccionarias de derechas como el ISIS y Al Qaeda que buscan construir un califato semifeudal represivo y capitalista, sin democracia o derechos básicos para los trabajadores.
La tarea de la clase obrera en Iraq y Siria, a través de la creación de sindicatos, de cuerpos de defensa no sectarios y gestionados democráticamente, etc., es encabezar la lucha contra grupos como el ISIS, ayudados por la solidaridad internacional de la clase obrera. Las potencias imperialistas, por su parte, están interviniendo por su propio prestigio e influencia, para el interés de sus principales corporaciones.
Esto incluye al imperialismo británico, ya esté representado por los tories o por los blairistas antes que ellos. Fue una acertada coincidencia que el matinal del periódico The Guardian tras el ataque en el Manchester Arena, después de comenzar con la bomba inmediatamente siguiera con una segunda noticia sobre el "apoyo sin precedentes a la industria de los combustibles fósiles" en el manifiesto electoral tory. El resultado de este apoyo es que los jefes de la industria petrolera han prometido 389.000 libras para la campaña de May.
Las elecciones generales del 8 de junio representan una oportunidad para echar a los tories y dar un paso adelante en la lucha del movimiento obrero contra los blairistas convirtiendo a Jeremy Corbyn en primer ministro. Sería un paso importante en el camino para acabar con la austeridad, la pobreza y la guerra inherentes al capitalismo basado en la división, el racismo y el terrorismo.
Special financial appeal to all readers of socialistworld.net

Support building alternative socialist media

---

Socialistworld.net provides a unique analysis and perspective of world events. Socialistworld.net also plays a crucial role in building the struggle for socialism across all continents. Capitalism has failed! Assist us to build the fight-back and prepare for the stormy period of class struggles ahead. Please make a donation to help us reach more readers and to widen our socialist campaigning work across the world.

Donate via Paypal

CWI- Please inform us if you are reproducing any material from this site.