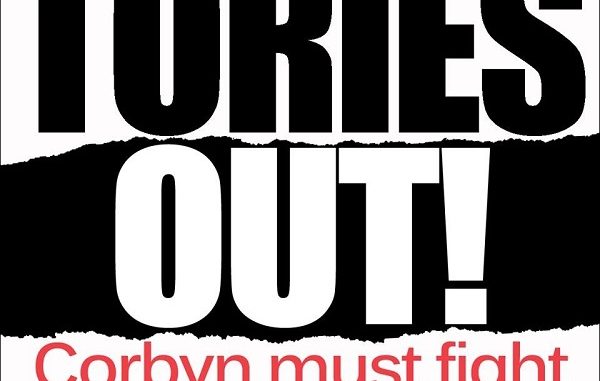 The closing of the opinion polls, even after the horrific Manchester bombing, has confounded all wings of the capitalist establishment. The Blairites in Labour are a key part of this coalition and they are just as terrified of the prospect of Jeremy Corbyn being declared prime minister on 9 June.
The Socialist Party has been an active participant in the campaign to elect a Jeremy Corbyn-led Labour government, elected on his manifesto that gives a real choice to voters for the first time – from one of the main parties – in decades. But the Labour right has seen its role as consciously making the party look divided. Labour MP John Woodcock has made this clear: "I will not countenance ever voting to make Jeremy Corbyn Britain's prime minister."
This was said when that prospect seemed remote. But in two weeks, the Tory lead has been slashed from 22 points to at least one poll showing just a five-point gap [todays You Gov poll puts it as close as 3%). That raises the possibility, even if the trend freezes there, of a hung parliament, which would be a defeat for May and the capitalist establishment. Many Tory MPs would then see the calling of the election as having unnecessarily threatened their careers three years early
Social crisis
The Tories and the Blairites cannot comprehend why Jeremy Corbyn's manifesto has made such a difference to the election. The social crisis that has affected the majority in society, including an ever-increasing layer of the middle-class, is not part of their privileged experience. Corbyn's policies give workers hope of ending the 'lost decade' where the average worker will be earning less in 2021 than they did when the financial crisis struck in 2007 while housing costs have soared and inflation is rising.
Ordinary people can now see the difference the policies would make in their pocket. If Corbyn wins and delivers on his commitments, tuition fees will be scrapped from September and a £10 an hour minimum wage will be implemented. Millions of public sector workers will see the 1% pay cap lifted. Many workers in the NHS could pocket a pay increase of up to £50 a month purely from the scrapping of car parking charges in hospitals. The renationalisation of the railways poses cheaper fares and an improved service for millions of commuters, many of them in Tory constituencies.
The Socialist Party welcomes Jeremy Corbyn's manifesto, although it does not offer the full socialist programme necessary to transform society. It is a mistake that these policies, which Corbyn won huge support for in his leadership campaigns, haven't been made official party policy until this manifesto. It would have cut across much of the doubts about his leadership. But he and his team have had the strategy of too often trying and failing to appease the Blairites and losing time to get his policies out.
Corbyn victory
The capitalist establishment fears a Corbyn victory because of his policies, but even more because of the expectations it could unleash. Jeremy's promise is to renationalise each rail operator when the franchise expires. But would rail workers and commuters be happy to wait years for this date to arrive? If the steelworks in Port Talbot is again threatened by its owner Tata, there would be huge pressure to immediately take it into public ownership. In the same vein, council workers would expect Labour councils to immediately stop cuts. The Socialist Party will certainly be in the forefront of demanding this.
No wonder that the Tory media has stepped up its attack on the Labour leadership as the election nears its end. The Manchester bombing has given the opportunity to attempt to skirt around the disastrous May u-turn on the 'dementia tax,' which risked her campaign unravelling just hours before the terrorist attack. Ex-Murdoch editor Andrew Neil mentioned the IRA nine times in his half-hour grilling of Corbyn.
Notwithstanding Corbyn's incorrect position on the conflict in Northern Ireland, he made it clear that he opposed terrorism from all sides there and elsewhere. We have always argued that workers' unity is necessary to cut across terrorism.
Jeremy Corbyn must continue to go on the offensive and step it up. Like us, he was prominent in the mass campaign against the imperialist wars and occupations in Iraq and Afghanistan, while May voted with Blair. Ordinary people know that these conflicts and many others have alienated many and made some vulnerable to be recruited to the blind alley of terrorism.
Corbyn is accused of speaking to IRA leaders. So did Thatcher and Blair. But they, along with Cameron and May, have at different times supported Pinochet and many other brutal dictators – including those in Saudi Arabia, who they sell billions of pounds worth of arms to.
At the end of his interview with Neil, Jeremy correctly pointed to his manifesto as giving voters a real choice. It is the only way to undermine the media onslaught that will only ratchet up as 8 June nears.
When May tries to act tough on security, he should counter by saying that her government of inequality, austerity and war is totally unable to keep people safe. She is putting 'soldiers on the streets' but we've long grown used to the scandal of homeless and hungry ex-squaddies in many town and city centres – casualties of imperialist adventures abroad and slashed public services and housing at home.
This campaign has at last given radical policies a mass audience. The ideas of public ownership, free education and a restored NHS, among others, are proving incredibly popular. Whatever the result, there should be no going back. Jeremy must stand firm against any attempt by the Blairites to use a defeat to topple him and take the party back to the right. But as Woodcock's comments show, they will be just as determined to act against him if he wins outright or becomes the biggest party in a hung parliament.
The Labour right will be acting in concert with the Tories and Lib Dems to try and prevent a Corbyn-led government. Mass pressure would have to be mobilised through demonstrations and even strikes to ensure that it is his programme that is implemented. In 2010, there were ten days before Cameron walked into Downing Street to lead the Con-Dem coalition with Nick Clegg. The labour and trade union movement would have to act to ensure that a political vacuum couldn't be created. It couldn't be ruled out that under the direction of the establishment, the Queen calls for a Labour government led by the likes of Keir Starmer or Yvette Cooper.
Trade union action
At the conference of the PCS civil servants' union, its general secretary Mark Serwotka stated that the Trade Union Congress has organised a meeting of public sector unions on 14 June to discuss resurrecting the public sector pay campaign. Correctly, Mark called for that to be a 'council of war' in the event of a Tory victory to prepare seriously for coordinated strike action. But the meeting should also be utilised in the case of a Labour victory. For example, if there is any attempt to derail a Corbyn government, whether from inside or outside Labour, the meeting has to call immediate action to ensure the implementation of the policies that challenge the pro-market consensus of the last 38 years, from Thatcher and Blair to Cameron and May.
Whatever the outcome, all those who support Jeremy's campaign must prepare for the struggle to come. The Tories and the media have the illusion that a May victory would bring in social peace. This is echoed by the pessimism of some on the left. But on the contrary, the volatility of the election campaign is a reflection of the instability to come. Almost unheard of, there have been significant strikes during the election. A new Tory government could provoke an explosive movement as workers and young people are forced to fight. But such a movement would also be necessary if Corbyn wins.
And the battle within Labour between the 'two parties' must be brought to its conclusion. To carry that out effectively, Jeremy must open up Labour to all socialist fighters, such as the Socialist Party, to help remove the Blairite pro-capitalist agents from the party.
With a week to go, all is still to play for. Jeremy is leading among young people because they see his manifesto commitments of the scrapping of tuition fees, a £10 minimum wage and ending of zero-hour contracts as making a massive difference to their lives. In the remaining days, he should especially campaign boldly for these policies in order to get their vote out, which could make all the difference.
Special financial appeal to all readers of socialistworld.net

Support building alternative socialist media

---

Socialistworld.net provides a unique analysis and perspective of world events. Socialistworld.net also plays a crucial role in building the struggle for socialism across all continents. Capitalism has failed! Assist us to build the fight-back and prepare for the stormy period of class struggles ahead. Please make a donation to help us reach more readers and to widen our socialist campaigning work across the world.

Donate via Paypal

CWI- Please inform us if you are reproducing any material from this site.