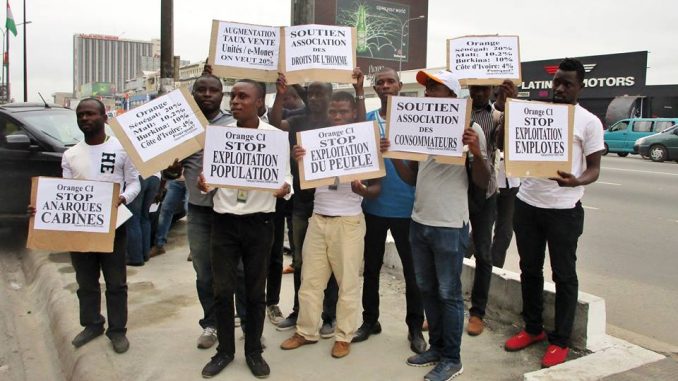 On Friday morning, members of Militant-CI (CWI sympathisers in Côte d'Ivoire) helped phone booth sellers (known in local French as « cabiniers » or « gérants de cabine ») to stage a protest in front of the main office of the private company Orange, in Abidjan.
The cabiniers protest against the fact that their share of the phone credits they sell to cellphone users is only 4% compared to 10-20% for their colleagues in other West African countries. Cabiniers in Côte d'Ivoire are typically university students working to pay for their studies or ex-students who, despite having got a degree, did not manage to get a decent salaried job.
We have also encouraged them to add to their demands a lower cost of phone fares for customers and the re-nationalisation of the telecommunication infrastructure and of Orange's assets.
In France, the same company is notorious for having pushed a hundred of its employees to commit suicide. It is present in 29 countries including Belgium, Spain, the Netherlands, Poland, Morocco…
The cabiniers have been trying to organize a boycott of Orange for the last weeks. Leaders of the protest have suffered all sorts of pressure, including death threats.
On Friday, in an attempt at building support for their struggle among a broader audience and at putting pressure on Orange, a protest was organized nationally in front of Orange offices everywhere in the country.
The group who protested in front of the main office in Abidjan was sprayed with tear gas and nine of their leaders were treacherously arrested after being invited in Orange office for "talks", while their comrades were chanting "Orange = thief!" in front of the main gate.
While three of them have been released yesterday, six others are still currently being detained in different police departments in Abidjan.
We are calling on all our supporters to call the police station and demand their immediate release:
(+225)20.21.09.61
(+225)20.21.09.59
The phone booth sellers are members of Agect-CI (Association des gérants de cabines téléphoniques de Côte d'Ivoire) :
– KAMA Jean-Luc
– AMIAN Franck Romeo
– TOH Emmanuel
– GUÉI Franck
– KOUASSI Jésus
– KAMELAN Elvis